If you're an adventurer who thirsts for affordable flight options to satisfy your wanderlust, your search may lead you to Kiwi, a well-established flight search engine that's been making waves in the travel industry. This comprehensive Kiwi review will delve into the platform's intricacies, legitimacy, operational mechanics, etc.
You'll clearly understand whether Kiwi is the right tool to help you discover exciting new destinations at wallet-friendly prices, allowing you to plan your next adventure with confidence and ease. Whether you're a seasoned traveler or embarking on your first journey, Kiwi has something to offer for every explorer.
What is Kiwi?
Founded in 2012 by Oliver Dlouhý and Jozef Képesi, Kiwi.com has revolutionized travel with its cutting-edge virtual interlining technology. At its core, Kiwi's proprietary algorithm, "Virtual Interlining," seamlessly merges flights from airlines that typically don't collaborate, offering travelers an expanded array of route possibilities and frequently more cost-effective fares. 
With a robust network encompassing over 750 carriers, including unconventional partnerships not commonly found in online bookings, Kiwi has become the go-to choice for more than 10 million global travelers, unlocking hidden travel opportunities often unnoticed by other travel agencies. Kiwi's dedication to innovation and affordable travel solutions has solidified its position as an industry pioneer.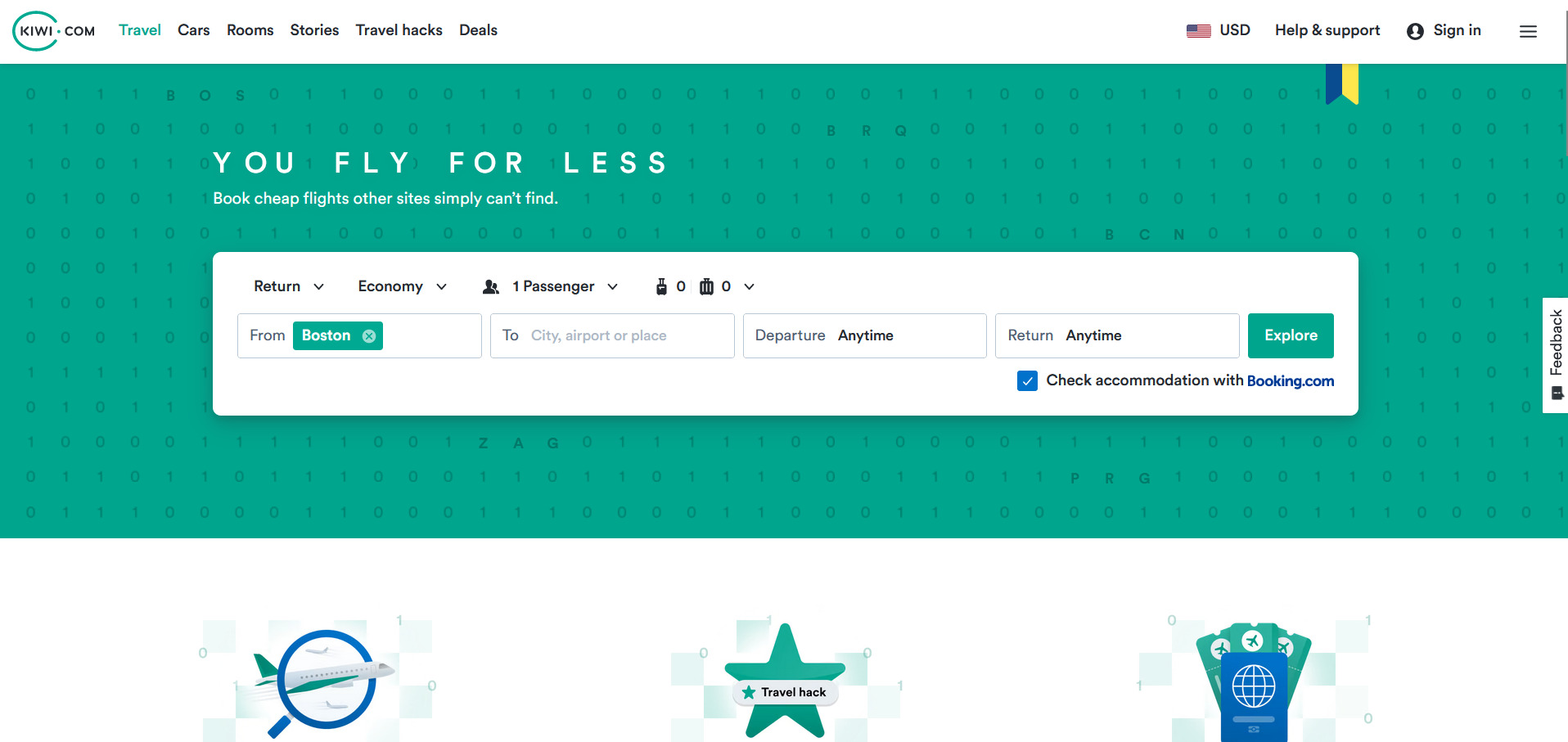 Best Features for Kiwi
Kiwi is renowned for its user-friendly and innovative features that enhance the flight booking experience and make it more intuitive and efficient for all travelers. From cost-saving tools to comprehensive search options, Kiwi's features are designed to cater to various travel needs and preferences.
These include:
Price Alert: This feature sends timely notifications to users when a price drops for a specific route, ensuring they can book flights at the most economical rates. It's especially beneficial for those with flexible travel dates actively looking for the best deals.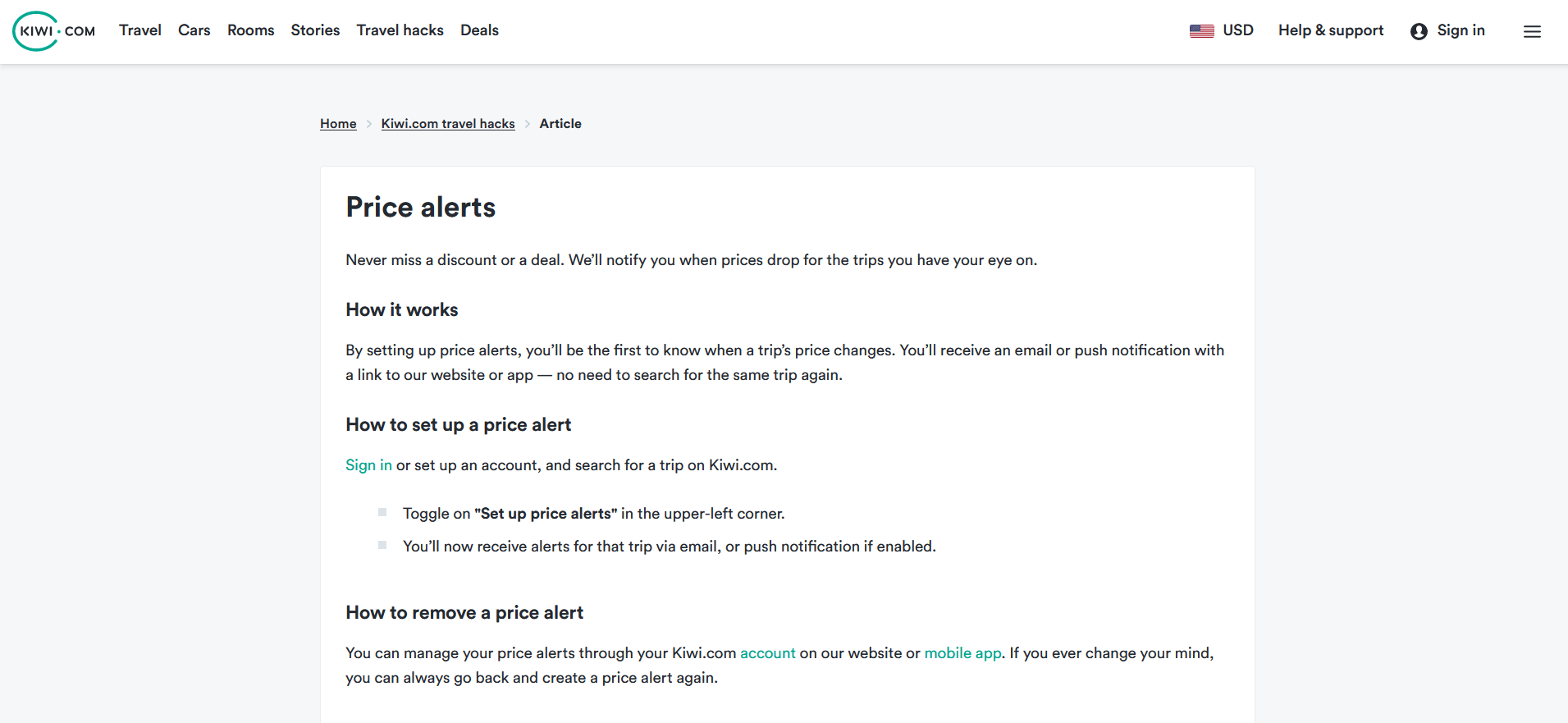 Flexible Dates: Kiwi's flexible date feature is handy for travelers with adaptable plans, as it displays the most affordable dates to fly, potentially leading to significant savings. It also offers insights into how shifting travel dates can impact costs, empowering users to make informed decisions.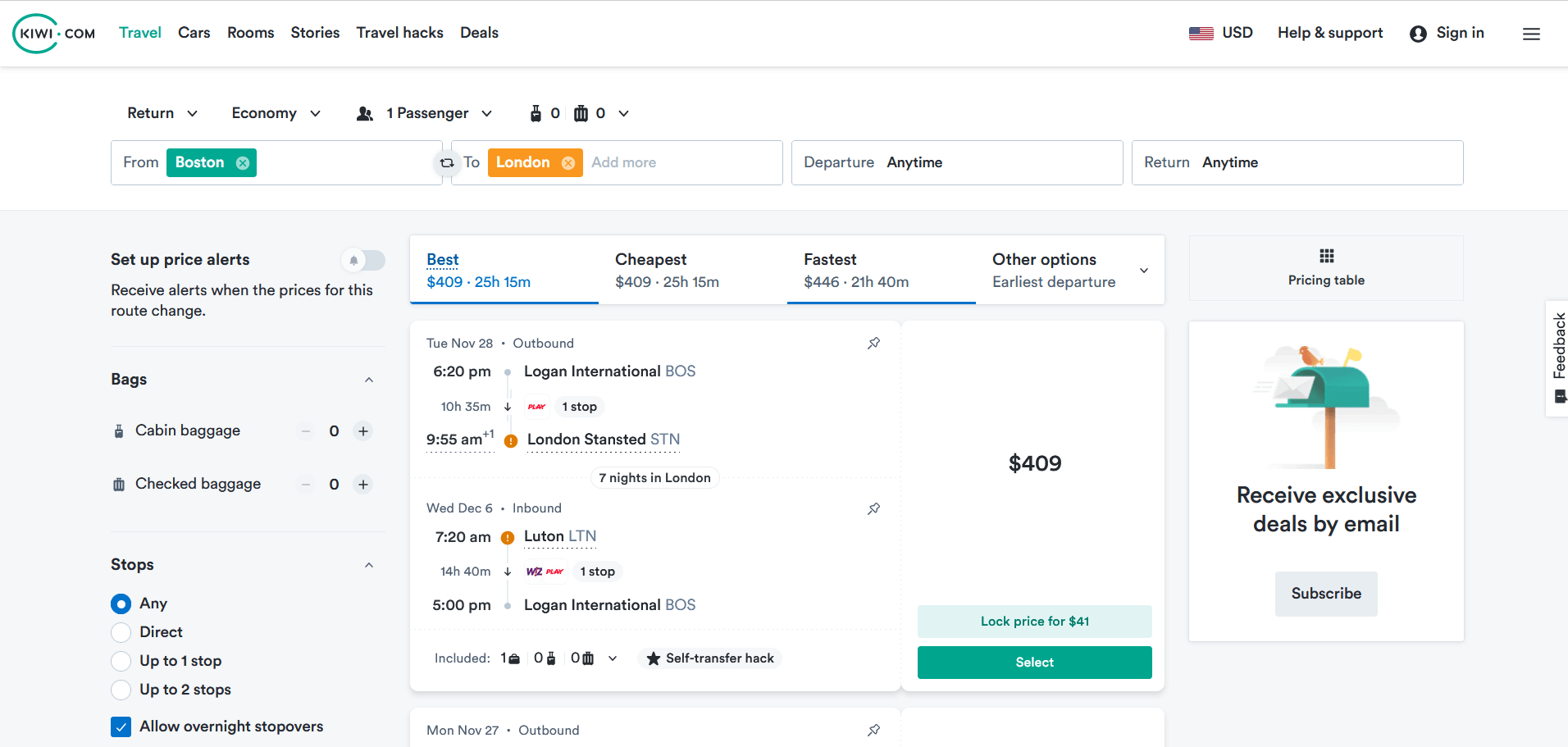 Interactive Map: The interactive map is an engaging tool that allows users to visually explore potential destinations within their budget, making it easier to plan trips that align with their financial goals and constraints. This feature is perfect for spontaneous travelers seeking inspiration for their next adventure.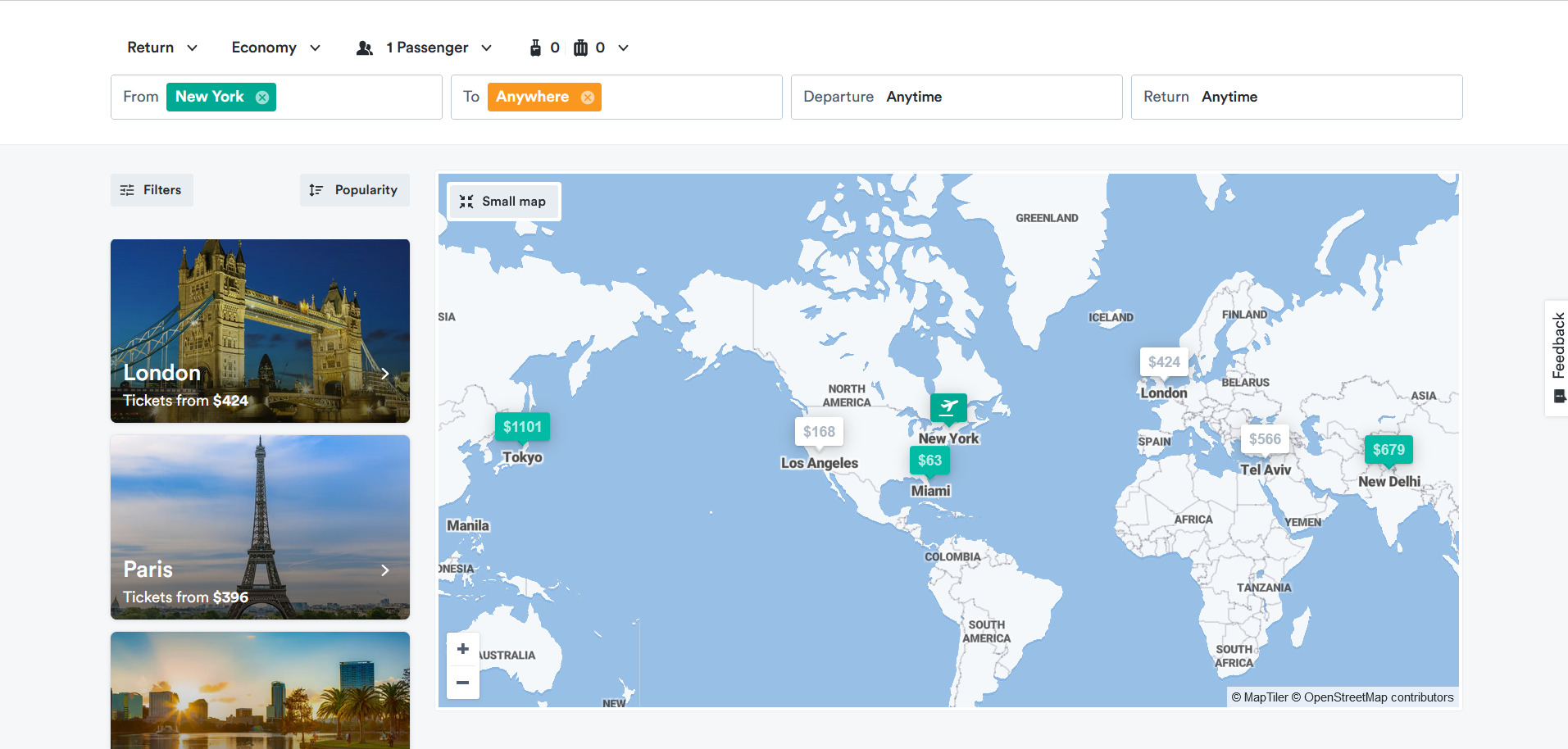 Multi-City Search: Another valuable feature is the multi-city search option, enabling travelers to plan complex itineraries involving multiple destinations in a single booking, simplifying organizing extensive trips. This tool is ideal for globe-trotters looking to maximize their travel experiences across different locations.

How Does Kiwi Work?
Utilizing a unique approach, Kiwi employs its innovative Virtual Interlining technology, seamlessly integrating flights, trains, and buses. This advanced system is adept at uncovering routes that might elude traditional booking platforms, often leading to more efficient or cost-effective travel options. It simplifies the booking process, allowing for a smoother travel planning experience.
Kiwi broadens travelers' horizons, offering a more comprehensive array of travel combinations. This feature is particularly beneficial for those looking to explore multiple destinations or requiring complex itineraries. It caters to adventurous travelers seeking off-the-beaten-path destinations or unusual travel routes. You can visit the Kiwi platform to reserve your flight tickets.
Kiwi's Destination Discovery
Kiwi's Destination Discovery tool is a standout feature that significantly differentiates it from traditional travel search engines. This innovative and user-friendly tool caters to the adventurous spirit of modern travelers by enabling them to effortlessly discover new and exciting travel destinations that align with their specific interests, budgets, and available time.
Whether it's a quick weekend getaway, an extended vacation, or a unique, off-the-beaten-path adventure, this feature offers tailored suggestions that open a vast world of possibilities. It's perfect for those who love to explore but may not have a fixed destination in mind, offering inspiration and practical options that fit various diverse travel preferences and constraints.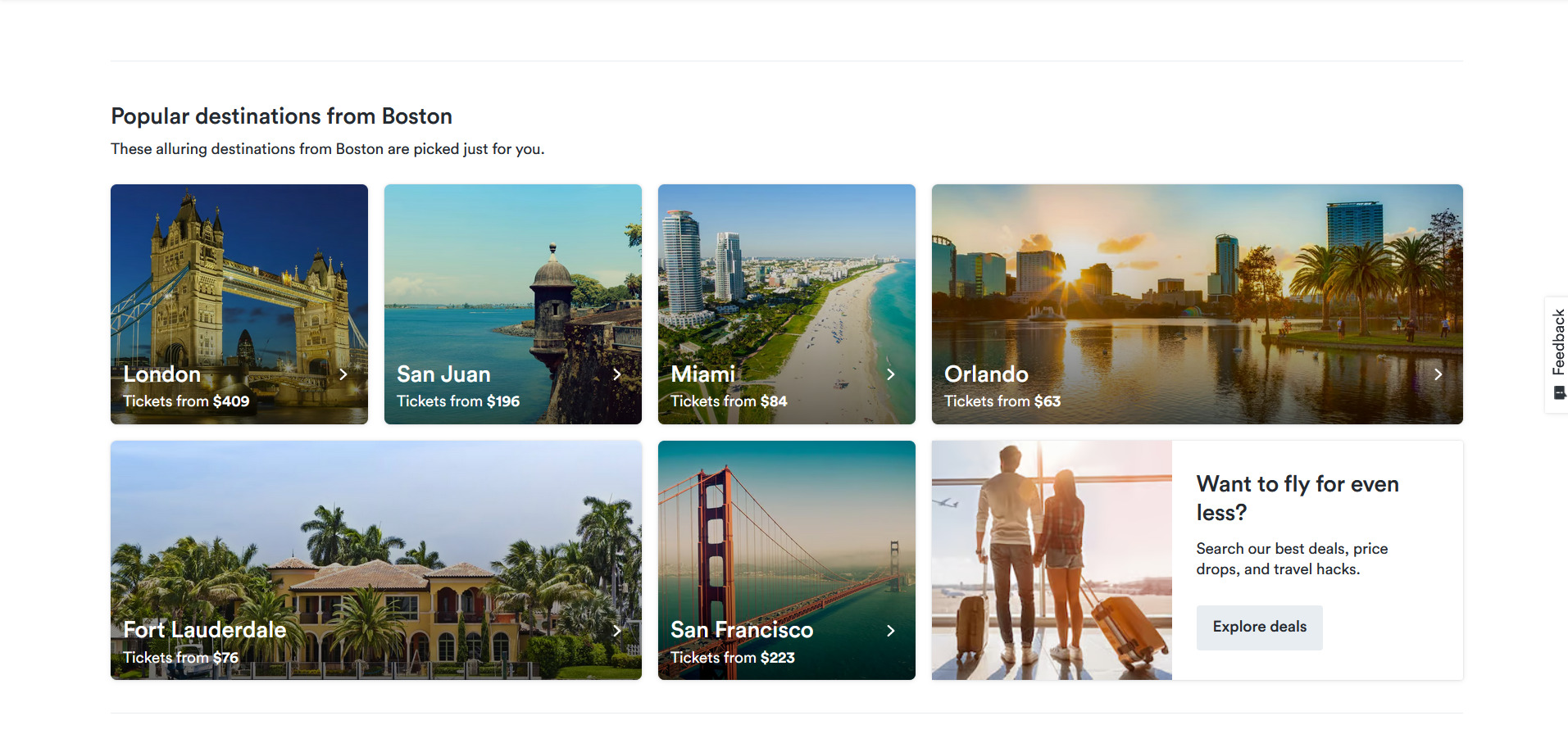 Recommended read: Can I Buy Travel Insurance After Departure?
Pricing and Fees
Kiwi's pricing structure is dynamic and depends on various factors, including the route, airlines involved, and travel dates. Unlike other online travel agencies that charge a flat booking fee, Kiwi's fees are embedded in the ticket price. It means that the total price you see upfront includes all applicable fees.
According to a recent study, Kiwi.com's booking fees, on average, range from 5% to 10% of the total ticket price. It compares favorably to other online travel agencies, whose fees can sometimes reach up to 20%.
Here's a breakdown of Kiwi's fees for different ticket value ranges:
| | |
| --- | --- |
| Ticket Value Range | Estimated Fee |
| Up to $23 USD | 100% of Carrier Reservation Price |
| $23 USD to $114 USD | 20% to 50% of Carrier Reservation Price |
| Over $114 USD | 5% to 10% of Carrier Reservation Price |
It's important to note that these are just estimates, and the actual fee may vary depending on the specific booking.
Is Kiwi's Application Available?
Yes, Kiwi has successfully embraced mobile technology by offering a dedicated mobile application for both iOS and Android devices, effectively putting all the robust functionalities of its website into the palms of its users. This app, designed for convenience and efficiency, allows travelers to book and manage their entire travel itinerary seamlessly.
With features like flight searches, bookings, real-time notifications, and customer support, the app ensures that users have continuous access to Kiwi's services no matter where they are. The interface is user-friendly, making navigation and operation smooth, thus enhancing the overall experience of planning and managing travel in a streamlined, mobile-centric manner.

Travel Hacks of Kiwi
Kiwi offers several travel hacks that can significantly enhance your travel experience. Utilize the flexible date search to find the cheapest flying days, saving you considerable money. The price alert feature is a game-changer, notifying you about price drops for your desired routes, ensuring you never miss out on the best deals. Their user-friendly interface makes planning your travels a breeze.
Explore the interactive map to discover new, budget-friendly destinations that might have been off your radar. The multi-city search feature is invaluable for more complex trips, allowing you to book an entire itinerary involving multiple destinations in one go. Plus, our user-friendly interface makes planning your travels a breeze, providing a seamless experience from start to finish.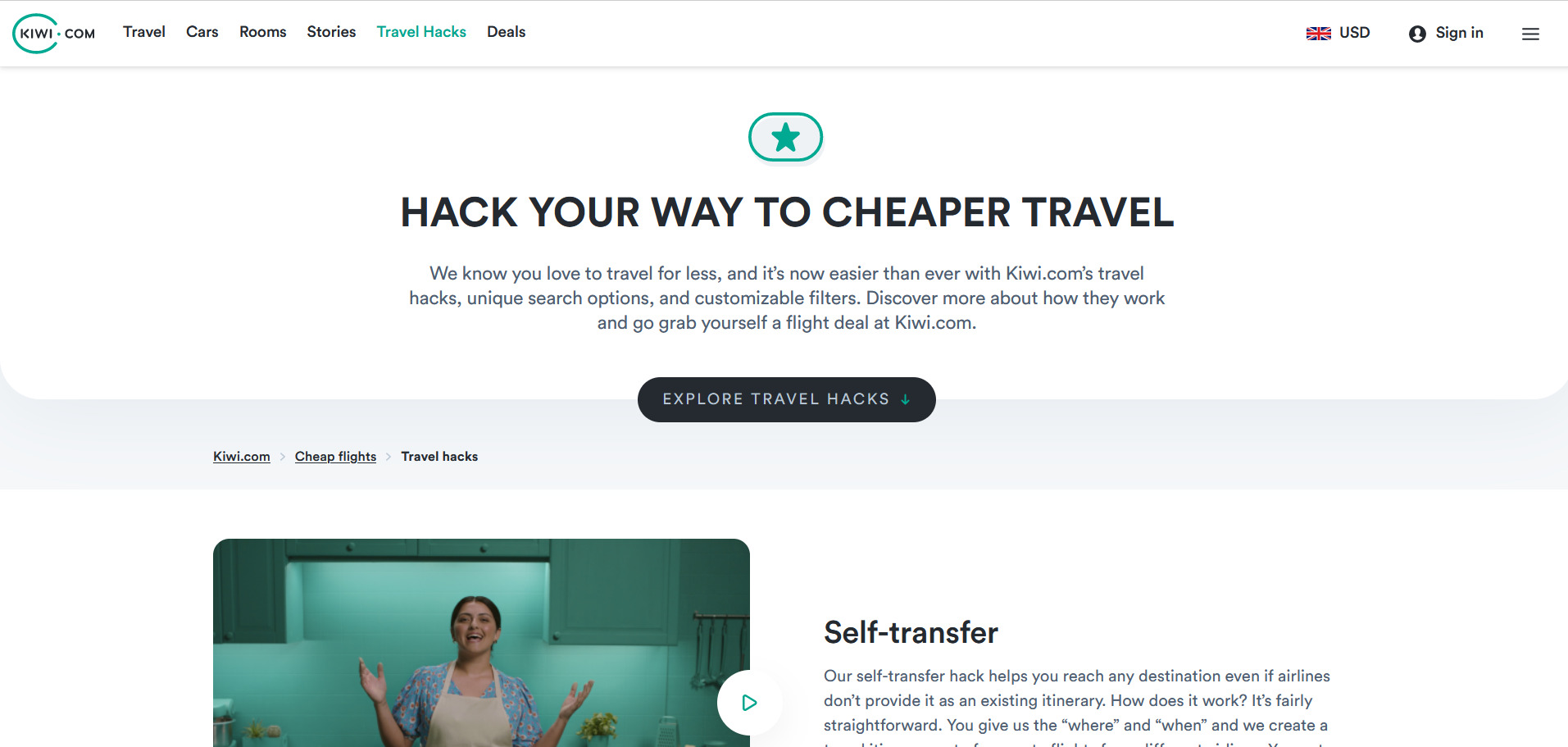 Also read: Escape the Ordinary: Top 10 Cities for Remote Workers in Cool Places to Work Remotely
Safety and Security
Prioritizes the safety and security of its users with stringent measures of Kiwi. The platform employs advanced encryption technologies to safeguard personal and financial information, ensuring all transactions are secure. Regular security audits, compliance with international data protection regulations, and continuous monitoring reinforce its commitment to user safety.
Kiwi offers a booking guarantee, providing support and alternatives in case of unforeseen travel disruptions. This comprehensive security approach protects user data and instills confidence in the booking process, making Kiwi a reliable choice for worry-free travel planning. Their customer service team is also available 24/7 to assist with queries or concerns, enhancing the overall travel experience.
Comparing Kiwi to Other Flight Search Engines
When comparing Kiwi to other flight search engines and platforms, Kiwi distinguishes itself with its unique route combinations and the potential for lower prices. Platforms like Skyscanner and Google Flights are famous for their comprehensive airline coverage and user-friendly interfaces. Kiwi's Virtual Interlining technology offers more varied and often less expensive travel options. 
Kiwi might not always provide the same level of airline loyalty perks. Direct airline customer service benefits such as booking directly with airlines or using more traditional flight aggregators. This lack of integration with airline-specific loyalty programs could be a significant factor for frequent flyers. Travelers should weigh this trade-off to balance cost savings against loyalty and service benefits.
Experience a Smooth Relocation and Travel Journey with Relo.AI! 🚚
Enhance your relocation adventure with Relo.AI's extensive travel and relocation services. Our dedicated team is ready to address all your travel requirements, ensuring a hassle-free transition.
Whether planning your flights ✈️ or preparing for a new beginning in a different city. Our specialized relocation services and expert guidance will guide you throughout life's various journeys.
Book an appointment today to access personalized relocation and travel solutions perfectly tailored to your goals.
Final Note
Kiwi is a legitimate and innovative flight search engine that can help you find affordable flights and explore exciting new destinations. Its ability to mix and match flights from different airlines. Along with features like Destination Discovery and price alerts, sets it apart from traditional booking platforms.
Travelers should know potential fees and read the fine print before confirming bookings. When used wisely, Kiwi can be a valuable tool for budget-conscious adventurers seeking memorable travel experiences. So, if you're ready to embark on your next adventure without breaking the bank, try Kiwi and see where it takes you!
Affiliate Disclosure: This article contains affiliate links. We may earn a small commission at no additional cost if you purchase them. Please be assured that we only recommend products and services that meet our quality standards.