The digital nomad lifestyle is gaining immense popularity. More people are leaving behind traditional office jobs and embracing a life of remote work and travel. While this lifestyle offers incredible freedom and flexibility, it also presents challenges, including securing adequate healthcare coverage while living on the move. This is where the SafetyWing nomad insurance review comes into play.
In this comprehensive review, we'll delve into the key features and benefits of SafetyWing Nomad Insurance to help you understand how it can safeguard your nomadic lifestyle. Whether you're a seasoned digital nomad or just starting your journey, reliable health coverage is essential, and SafetyWing aims to provide it.
What is SafetyWing?
SafetyWing revolutionizes insurance for digital nomads and remote workers by offering Nomad Insurance that delivers comprehensive global coverage for medical expenses and travel emergencies. Range spanning 175+ countries provides up to $250,000 for medical costs and safeguards against travel mishaps.
From ages 10 to 69, everyone can access this budget-friendly insurance starting at $45/month. In 2019, the company secured $3.5 million in funding. SafetyWing Nomad Insurance provides financial protection and offers round-the-clock support in multiple languages, along with straightforward claims processing and coverage without waiting periods for pre-existing conditions.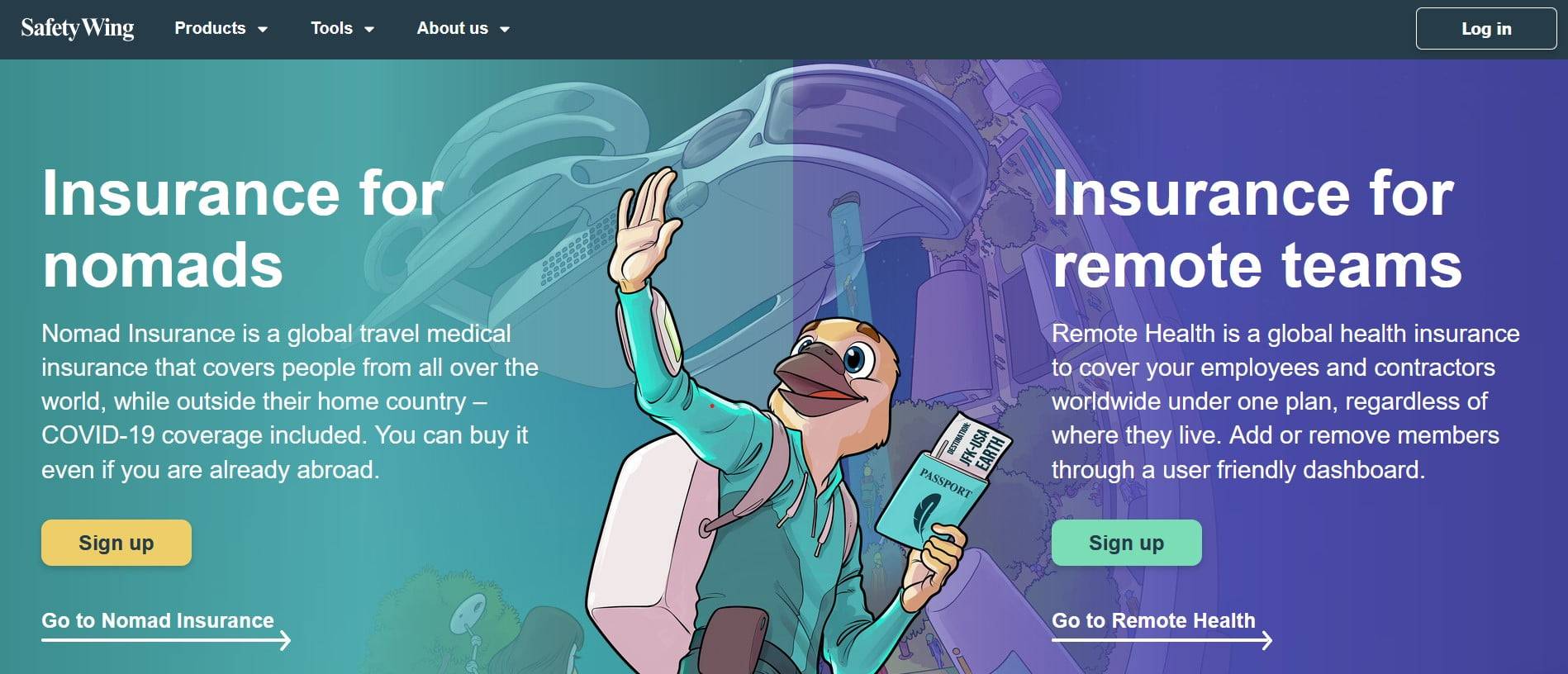 Can SafetyWing be trusted?
SafetyWing has earned a solid reputation in the realm of travel insurance. With a track record of providing comprehensive coverage tailored to the needs of digital nomads and travelers, the company has garnered trust from a global community. Its commitment is to offering cost-effective plans that encompass medical emergency trip disruptions.
The reliability of SafetyWing is truly underscored by its transparent policies, positive customer reviews, and swift assistance in times of need. While, like any insurance, individual experiences may vary, the consensus points toward SafetyWing being a trusted choice for those seeking reliable travel coverage.
SafetyWing's Nomad Insurance Pricing – August 2023
Embarking on a journey elicits excitement and new experiences while prioritizing safety is essential. SafetyWing Nomad Insurance offers a means to find peace of mind through a simple online process. This insurance plan is designed to safeguard adventures, offering comprehensive coverage at an affordable rate.
Get SafetyWing Nomad Insurance for Only $45/Month!
Here's how to get started:
Click the link provided to access the official 

SafetyWing website

.

Look for the "

Sign me up

" button and give it a click.

Fill out 

the simple form and carefully follow the instructions by clicking "

Next

."

That's it

! Upon completing the registration process, you'll receive your travel insurance promptly.
Additional Information:
Pricing

: Starting at just $45.08 for four weeks.

Coverage

: Includes travel within the US.

Features: $250 deductible, $250,000 maximum limit, designed for 18-39-year-olds. For pricing details for other age groups, please refer to the website.
Invest in your journey's safety today with SafetyWing Nomad Insurance!
Who Can Benefit from SafetyWing Insurance?
SafetyWing Insurance serves a diverse range of individuals who are looking for dependable coverage that goes beyond borders. If you're a digital nomad who embraces a location-independent lifestyle, SafetyWing's insurance is designed to protect your health, belongings, and travel experiences. Freelancers, remote workers, and travelers will find value in the offerings provided by SafetyWing.
Its affordability makes it an appealing choice for those who are conscious of their budget but don't want to compromise on quality coverage. SafetyWing's comprehensive insurance benefits various individuals, including globetrotters undertaking extended journeys, families exploring new horizons, and expatriates transitioning to new countries.
Travel Insurance for Digital Nomads
In the dynamic landscape of digital nomadism, where work and wanderlust intersect, prioritizing the appropriate travel insurance holds immense significance. Travel insurance tailored for digital nomads represents a specialized solution that recognizes the distinctive lifestyle of individuals who roam the world while working remotely.
This insurance covers an array of scenarios. From unexpected medical emergencies in foreign lands to the loss of valuable work equipment, digital nomad insurance is designed to cushion the impact of these disruptions. It addresses the conventional aspects of travel insurance, such as medical expenses and trip cancellations.
Also read: 10 Must-Have Budgeting and Expense Tracking Apps for Digital Nomads
The Range of Insurance Types Offered by SafetyWing
In a world of constant change and relocating talent, reliable insurance coverage is essential to ensure peace of mind and security. SafetyWing, a pioneering player in the insurance industry, offers a variety of insurance types tailored to the needs of modern travelers, remote workers, and digital nomads. 
1. Nomad Insurance
SafetyWing's flagship product, Nomad Insurance, is designed for digital nomads, remote workers, and frequent travelers. This insurance type encompasses a range of coverage, including medical expenses, travel delays, trip interruptions, and more. 
Key Features
Global Coverage:

Nomad Insurance provides coverage in over 180 countries.

Affordable Premiums:

Nomad Insurance aims to be affordable for budget-conscious travelers. 

Remote Work Coverage: SafetyWing nomad insurance acknowledges the importance of work equipment for digital nomads and provides coverage.
2. Remote Health
As remote work becomes increasingly prevalent, individuals are no longer confined to a single location. SafetyWing's Remote Health insurance is tailored to meet the health needs of those working remotely or living in different countries. Explore engaging podcasts about building remotely on SafetyWing for both enjoyment and learning.
Key Features:
Global Coverage:

 Stay protected anywhere with Remote Health insurance.

Direct Care:

 Access primary care and specialists for comprehensive support.

Medication Coverage:

The insurance covers costs for regular medications, even abroad.
3. Global Travel
Global Travel insurance is suitable for individuals who engage in short-term travel for leisure or business purposes. This insurance protects you against travel-related risks like cancellations, delays, and lost luggage. it offers medical coverage, ensuring you receive necessary care during your travels. 
Key Features:
Trip Cancellation/Interruption: 

Get reimbursed for non-refundable expenses in case of trip disruptions.

Travel Delay:

 Receive coverage for unexpected delays, including accommodation and meals.

Lost Luggage:

Protect your lost or damaged luggage with coverage for replacement items.
SafetyWing Insurance Plans: Nomad, Remote Health, and Global Travel
Here's a detailed comparison that outlines the key features of SafetyWing's nomad insurance, remote health, and global travel insurance.
It will help you make an informed decision about which insurance type best suits your needs:
| | | | |
| --- | --- | --- | --- |
| Insurance Type | Nomad Insurance | Remote Health | Global Travel |
| Coverage Focus | Comprehensive coverage tailored for digital nomads, remote workers, and frequent travelers | Healthcare coverage for individuals working remotely or living in different countries | Coverage for short-term travel-related risks |
| Medical Expenses | ✓ (Including hospitalization, doctor visits, prescription medications) | ✓ (Including primary care, specialist visits, prescription medications) | |
| Emergency Medical Evacuation | ✓ | | |
| Dental Coverage | ✓ | | |
| Travel Delays | ✓ | | ✓ |
| Trip Cancellation/Interruption | ✓ | | ✓ |
| Lost/Delayed Luggage | ✓ | | ✓ |
| Work Equipment Coverage | ✓ | | |
| Primary Care Visits | | ✓ | |
| Coverage Duration | 4 days to 364 days (can be extended to 730 days) | 1 month to 1 year (renewable) | Up to 90 days per trip |
| Renewable | ✓ | ✓ | |
| Global Coverage | ✓ | ✓ | ✓ |
| Pre-Existing Conditions | ✓ (Limited coverage after 180 days) | | |
| Purchase While Abroad | ✓ | | |
| Remote Work Focus | ✓ | ✓ | |
| Affordability | ✓ | | ✓ |
| Ideal For | Digital nomads, remote workers, frequent travelers | Remote workers, individuals living abroad | Short-term travelers, vacationers |
| Additional Notes | Suitable for those needing long-term coverage and specialized protection for remote work equipment | Focuses on health coverage for remote workers, offering primary and specialist care support | Geared towards covering travel-related risks for short-term trips |
| Price Range | Starting from $37 per 4 weeks | Starting from $153 per month | Starting from $12 per week |
What does SafetyWing Insurance Cover?
SafetyWing Nomad Insurance offers travelers a comprehensive remote work safety net, providing coverage that addresses various facets of their journey. This coverage includes medical expenses to ensure that unforeseen illnesses or injuries do not interrupt their plans. It covers doctor's appointments, hospital stays, and emergency evacuation, enabling them to receive proper care regardless of their location.
SafetyWing not only covers healthcare but also addresses travel-related concerns like trip cancellation and interruption. If you have to change your plans due to unforeseen circumstances, SafetyWing can reimburse you for non-refundable expenses such as flights and accommodations.
How much are you covered for?
| | | | |
| --- | --- | --- | --- |
| Plan Details | Basic Coverage | Comprehensive Coverage | Premium Coverage |
| Medical Expenses | Up to $50,000 | Up to $100,000 | Up to $250,000 |
| Emergency Evacuation | Up to $100,000 | Up to $150,000 | Up to $300,000 |
| Trip Cancellation | $1,000 | $3,000 | $5,000 |
| Trip Interruption | $1,000 | $3,000 | $5,000 |
| Baggage Loss/Delay | $1,000 / $250 | $2,000 / $500 | $3,000 / $750 |
| Travel Delay | $250 (6 hrs delay) | $500 (6 hrs delay) | $750 (6 hrs delay) |
| Dental Coverage | $500 | $1,000 | $1,500 |
| Pre-Existing Conditions | Limited coverage | Enhanced coverage | Comprehensive |
| Remote Work Equipment | Not covered | Up to $1,000 | Up to $2,500 |
| Lost Passport Assistance | Included | Included | Included |
| 24/7 Assistance | Included | Included | Included |
| Price (1-month coverage) | $50 | $80 | $120 |
| Price (3-month coverage) | $120 | $180 | $250 |
| Price (6-month coverage) | $200 | $300 | $400 |
Note: Prices are for illustrative purposes only and may vary based on insurance provider, coverage options, and individual factors.
Choose a travel insurance plan and assess your specific needs, travel destinations, and the activities you'll engage in during your journey. The above displays various coverage tiers and their corresponding prices, assisting you in making decisions based on your budget and requirements.
Embrace Smart Nomadic Lifestyle with Digital Nomad Insurance! 
💻
At RELO.ai, we're dedicated to equipping digital nomads with the protection they need for a confident lifestyle. Our comprehensive insurance decisions are tailored to the unique needs of remote workers and adventurers. 
Become a part of our community of digital nomads prioritizing security and a seamless lifestyle.
Take advantage of exploring insurance options and arranging a consultation to find out how we can provide you peace of mind throughout your global journey.
Join us today and unlock a realm of worry-free exploration! 🛡️
As a Final Note
SafetyWing Nomad Insurance review addresses a crucial void in the insurance world by catering to the unique needs of digital nomads and remote workers. With its global coverage, digital nomad benefits, and affordable pricing, it has become a trusted choice for individuals, redefining how we work and travel. 
If you're undertaking a journey between a nomadic life vs. settled life, SafetyWing nomad insurance can provide you with the peace of mind to fully enjoy your adventures. You can leave behind the worries of navigating healthcare complexities in different countries and concentrate solely on embracing new horizons and experiences.