Digital nomads, the adventurous souls working remotely while exploring the world, often find themselves in unique situations requiring specialized insurance coverage. From medical emergencies to lost or stolen equipment, having the privilege of insurance can provide peace of mind and protect against unforeseen circumstances. We will explore the top 7 digital nomad insurance providers who offer comprehensive coverage tailored to the needs of modern nomads. 
Whether embarking on a short-term trip or embracing the nomadic lifestyle long-term, these providers offer flexible plans to safeguard your global adventures. So, let's dive in and find the best digital nomad insurance options available today!
1. Travelex Insurance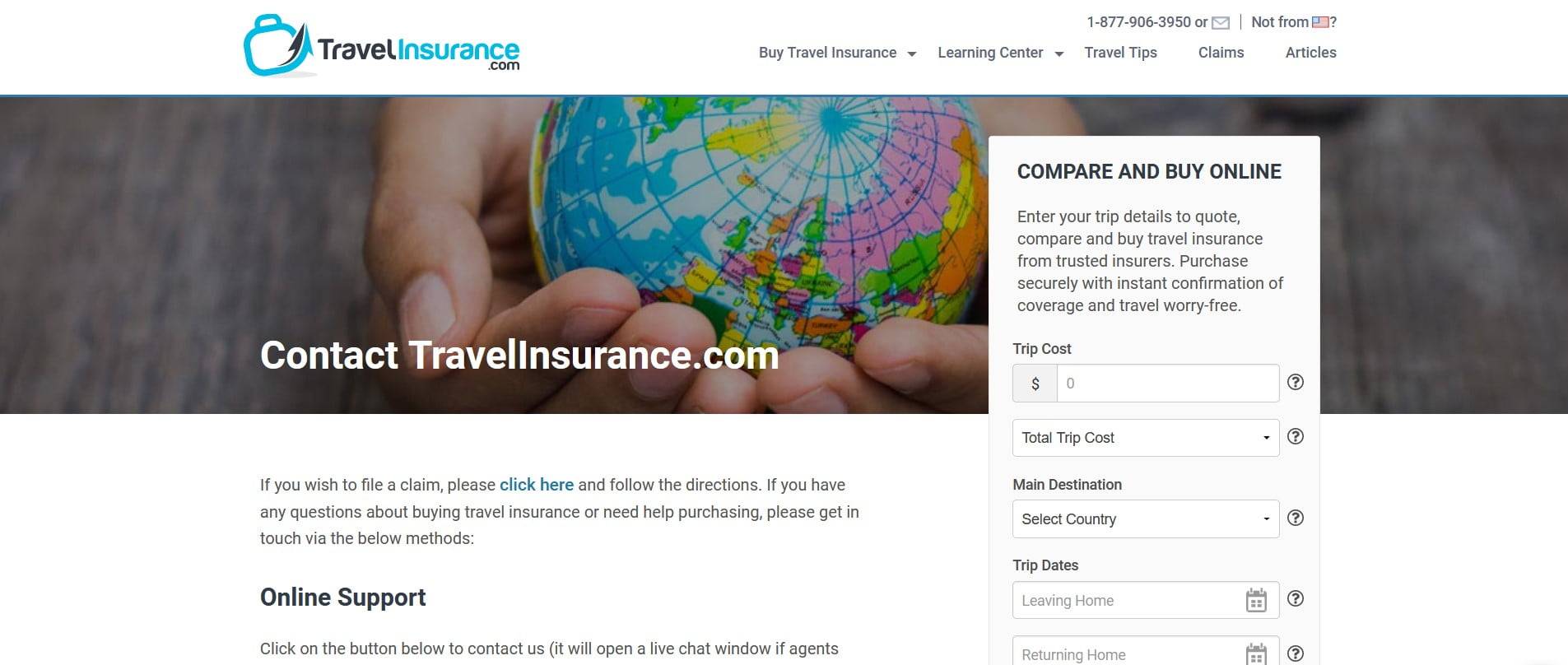 Travelex Insurance is a well-established provider offering a range of digital nomad insurance options. Their plans protect against medical emergencies, trip cancellation or interruption, lost or delayed baggage, and emergency medical evacuation. Travelex Insurance offers coverage for both U.S. and international citizens with policies that suit the individual needs of digital nomads.
Strengths of Travelex Insurance 
Travelex Insurance allows digital nomads to tailor their insurance coverage based on their specific requirements, supplying they only pay for the guard they need.

Their policies cover many potential risks, such as medical expenses, trip interruptions, and baggage loss, promoting

digital nomad mental health

and granting them peace of mind throughout their travels.

Travelex provides round-the-clock support for their policyholders, offering emergency help and guidance.
Limitations of Travelex Insurance 
Travelex Insurance plans may restrict the maximum coverage period, which can disadvantage long-term digital nomads who require continuous insurance protection.

Travelex may have restrictions or exclusions for pre-existing medical conditions like many insurance providers, so it's essential to carefully review the policy details before purchasing.
2. SafetyWing Insurance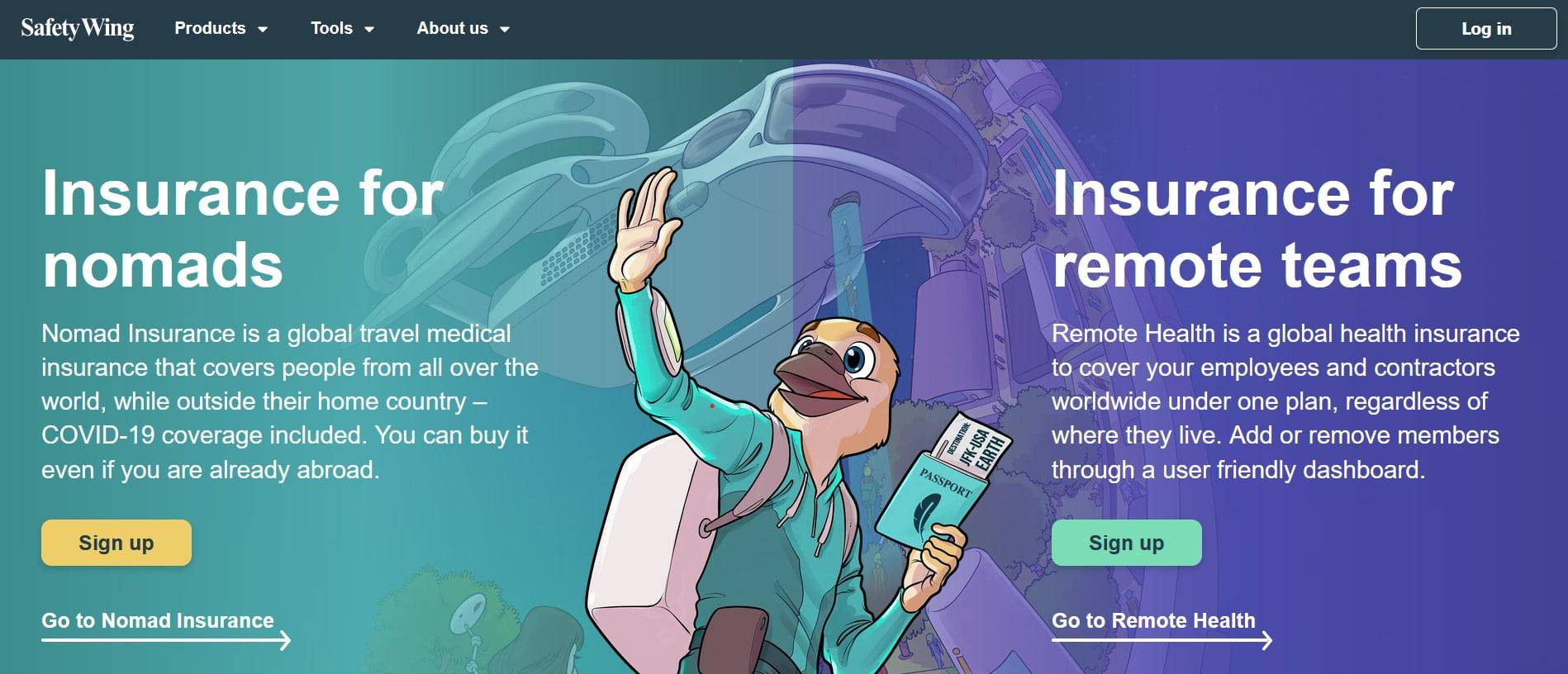 SafetyWing Insurance is a specialized provider catering to digital nomads and remote workers. They offer comprehensive insurance coverage designed to meet the unique needs of nomadic lifestyles. SafetyWing Insurance provides medical coverage, emergency medical evacuation, travel assistance, and coverage for lost or stolen belongings. They offer flexible monthly subscription plans that can be canceled as needed, making it ideal for nomads requiring ongoing coverage.
Strengths of SafetyWing 
Insurance provides coverage worldwide, allowing digital nomads to travel and work in multiple countries without purchasing separate policies for each location.

Competitive pricing, making its insurance plans accessible to a wide range of digital nomads, including those on a tight budget.

Understands the unique healthcare needs of remote workers and offers scope for telemedicine services, allowing nomads to consult with doctors online from anywhere in the world.
Limitations of SafetyWing 
SafetyWing Insurance may have limitations or exclusions for high-risk activities such as extreme sports or adventure activities. 

Some benefits, such as coverage for pre-existing conditions, may have to wait before they become effective. 
3. Insured Nomads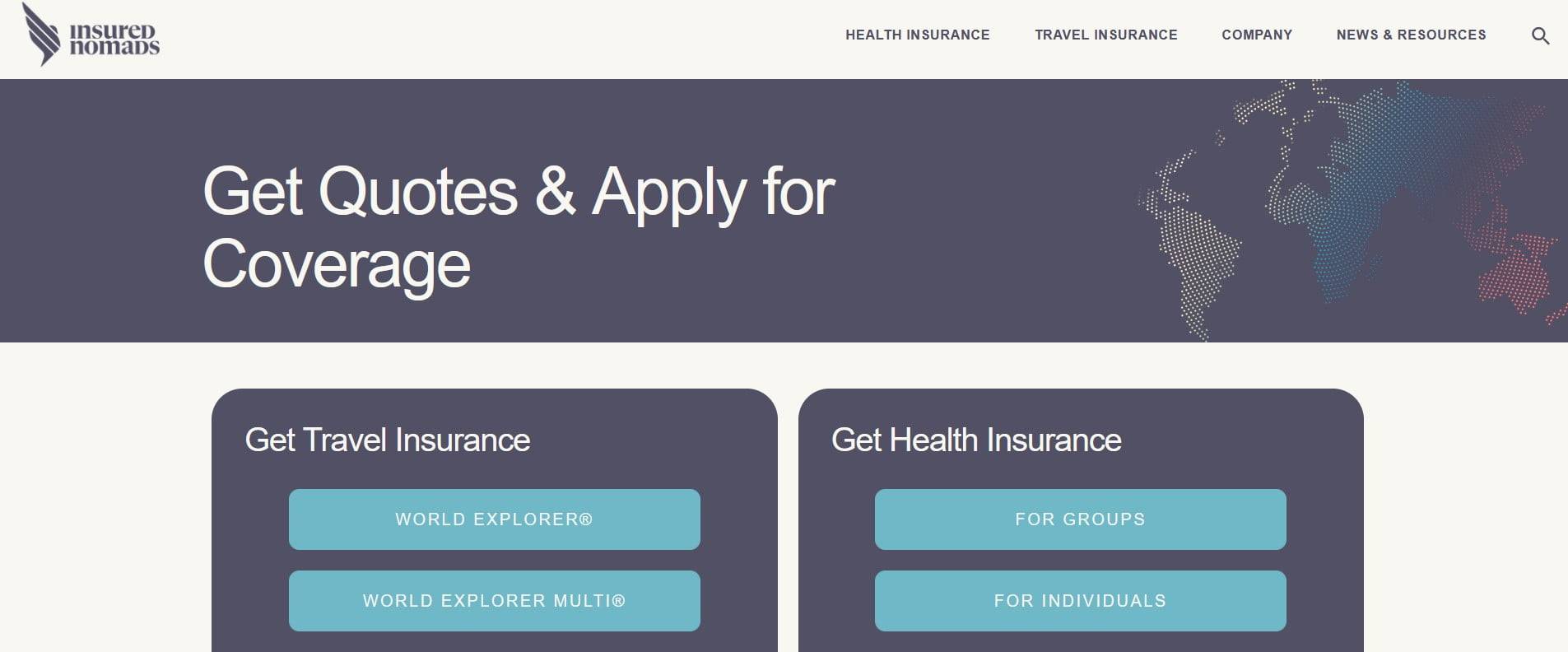 Insured Nomads is a reputable insurance provider especially designed to cater to the exceptional needs of digital nomads. Their comprehensive coverage options offer a range of benefits tailored to protect remote workers on their global adventures. Insured Nomads aims to provide peace of mind for digital nomads worldwide, from medical emergencies to travel disruptions and equipment theft. 
Strengths of Insured Nomads
Customized insurance options designed specifically for the needs of digital nomads.

Global and perfect for digital nomads who are always on the relocate.

Comprehensive benefits, including medical emergencies, evacuation, and lost belongings.

Flexible plans to adapt to changing travel arrangements.
Limitations of Insured Nomads
Relatively higher cost compared to basic travel insurance.

A limited selection of insurance plans is available.
4. AARDY Travel Insurance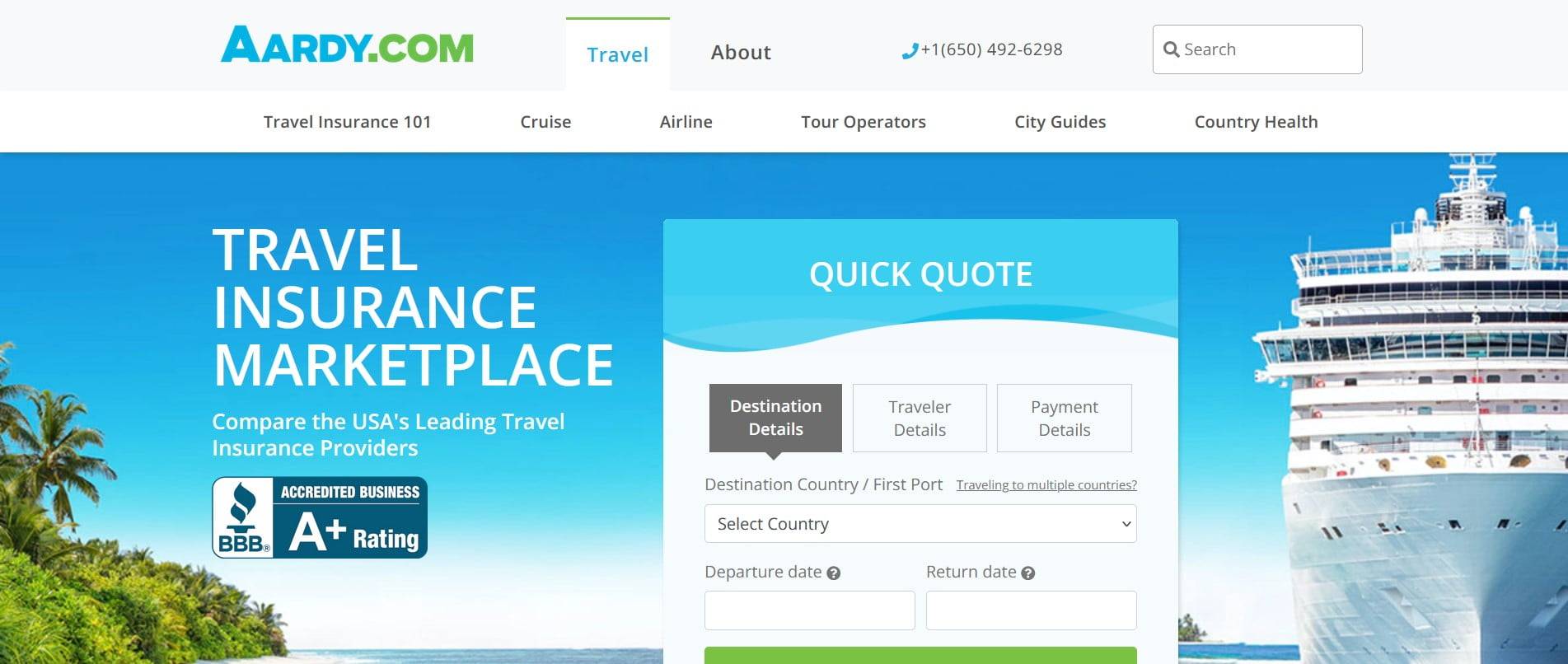 AARDY Travel Insurance is a reputable insurance provider that caters to the specific needs of digital nomads. With comprehensive plans, they offer coverage for medical emergencies, trip cancellations, lost baggage, and more, ensuring that nomads during their global adventures. At AARDY, we understand that digital nomads have different lifestyles, and we offer flexible policies tailored to suit their needs and travel plans.
Strengths of AARDY Travel Insurance
AARDY offers many coverage options, including medical expenses, emergency evacuation, trip interruption, and baggage loss.

Understands that digital nomads have different travel patterns and requirements. 

The offers competitive rates for its insurance plans, making it a reasonable choice for digital nomads. 

The has a dedicated team of professionals available round-the-clock to provide assistance and support. 
Limitations of AARDY Travel Insurance
Like many insurance providers, AARDY may have limitations on coverage for pre-existing medical conditions. 

AARDY may have a minimum trip duration requirement to be eligible for coverage. 

AARDY provides plans tailored to individual needs, although the selection of additional options may be narrower than other providers.
5. InsureMyTrip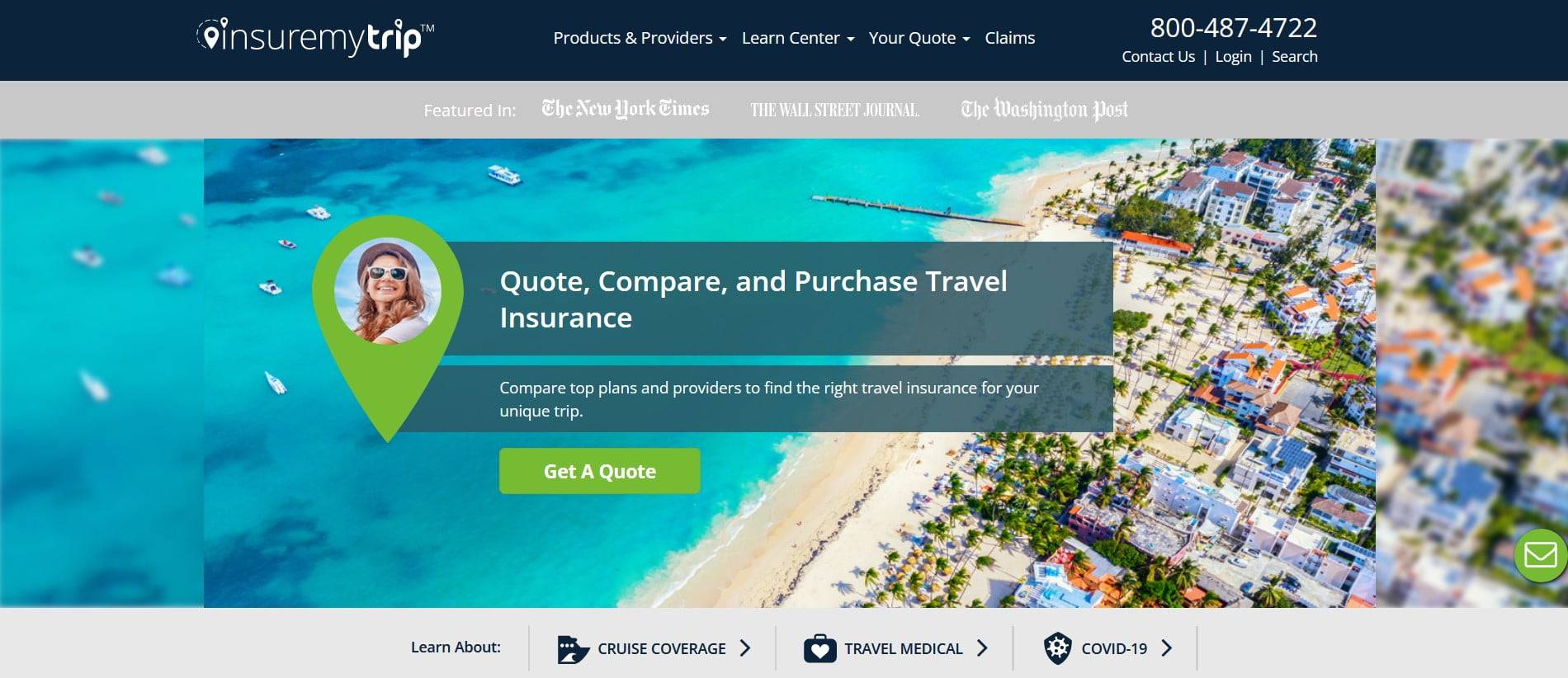 InsureMyTrip is an online insurance comparison website allowing digital nomads to compare and choose from various insurance providers and plans. As a digital nomad insurance, you can input your travel details and preferences, and InsureMyTrip will nourish you with a list of options that match your requirements. They offer coverage for medical emergencies, trip cancellation or interruption, baggage loss, and other travel-related risks.
Strengths of InsureMyTrip 
InsureMyTrip partners with numerous reputable insurance companies, giving digital nomad insurance a wide range of options. InsureMyTrip enables you to customize your insurance coverage by selecting specific benefits and coverage limits according to your preferences and budget.

Their website is intuitive and effortless, making it convenient for digital nomads to compare and purchase insurance plans quickly.
Limitations of InsureMyTrip 
Since InsureMyTrip works with multiple insurance providers, the specific information and terms of coverage can vary from one plan to another. 

InsureMyTrip is a platform for comparing and purchasing insurance, but they do not handle claims directly.
6. Integra Global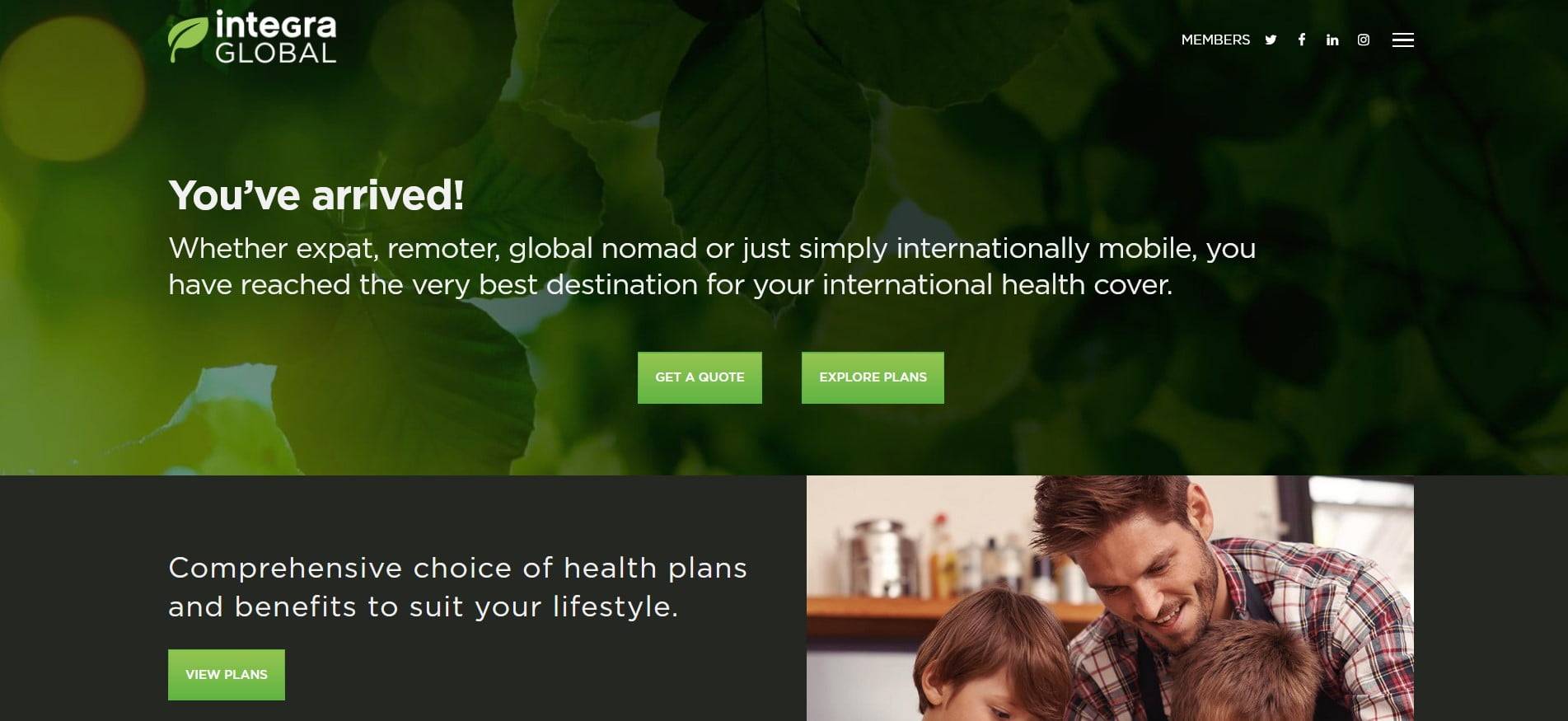 Integra Global is a specialized insurance provider that caters to the unique needs of digital nomads and expatriates. They offer comprehensive health insurance plans to provide worldwide coverage, ensuring nomads can access quality healthcare wherever their adventures take them. At Integra Global, we prioritize providing personalized service and flexible options that cater to the unique needs of digital nomads.
Strengths of Integra Global
Integra Global's insurance plans offer a range worldwide, including access to an extensive network of healthcare providers in various countries. 

They understand digital nomads' challenges and offer programs that address their unique requirements, such as coverage for emergency medical evacuation, preventive care, mental health services, and more.

Integra Global prides itself on providing exceptional customer service, offering dedicated support and assistance to policyholders. 
Limitations of Integra Global
The comprehensive coverage and personalized service offered by Integra Global may come at a higher cost than other insurance providers.

While Integra Global specializes in health insurance, their offerings may be limited in terms of other types of coverage that digital nomads may require, such as trip cancellation or baggage protection. 
7. IMG Global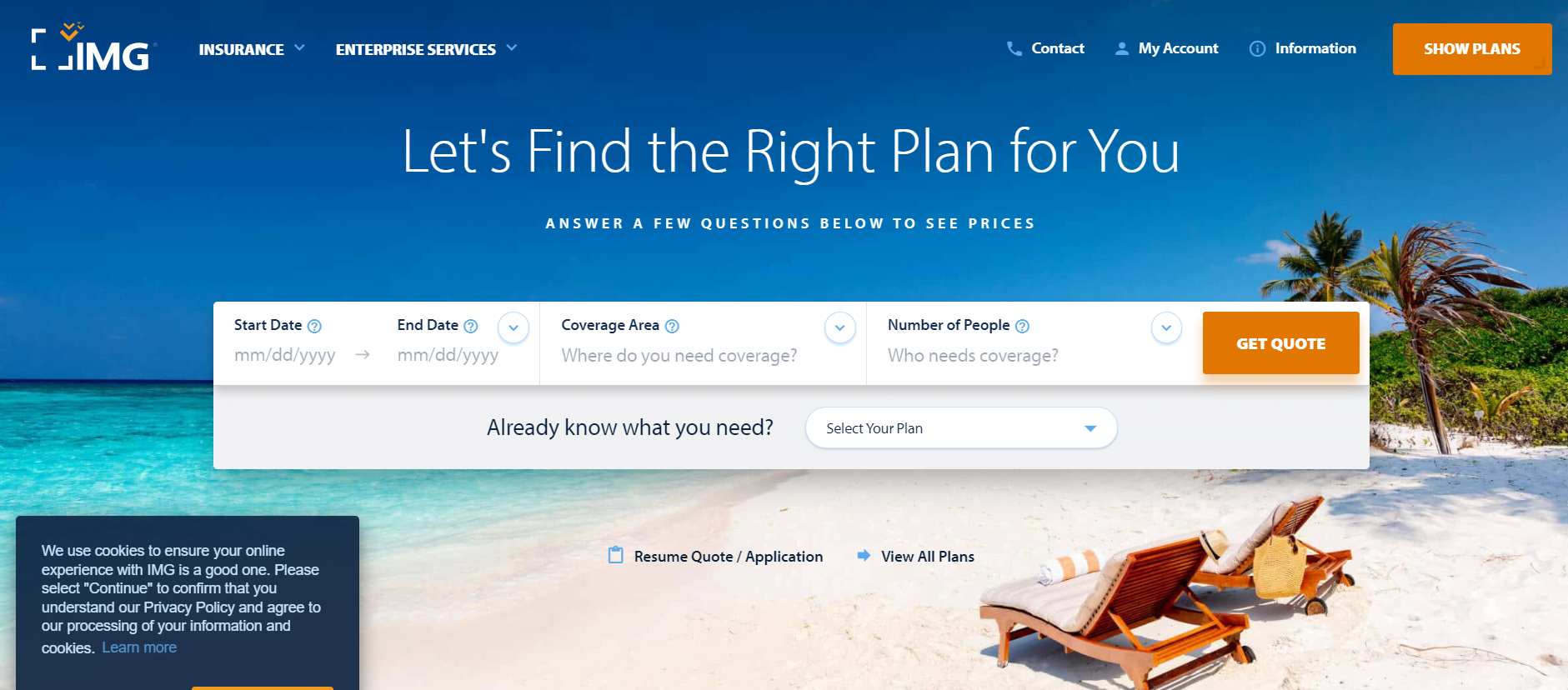 IMG Global (International Medical Group) is a leading provider of digital nomad insurance known for its extensive coverage options tailored to the needs of global adventurers. They offer a variety of plans, including medical insurance, trip cancellation/interruption coverage, emergency medical evacuation, and baggage protection. IMG Global's policies cater to individuals, families, and groups, providing comprehensive protection during international travels.
Strengths of IMG Global
IMG Global offers a wide range of insurance plans to accommodate the diverse needs of digital nomads. 

With a vast network of healthcare providers and emergency assistance services worldwide, IMG Global ensures that nomads can receive prompt medical attention wherever possible.

In addition to medical coverage, IMG Global provides extras such as coverage for adventure sports, maternity benefits, and emergency medical evacuation, making them an attractive choice for adventurous nomads.
Limitations of IMG Global
IMG Global has specific exclusions and limitations in its policies. It's crucial for digital nomads to thoroughly review the terms and requirements to comprehend what is covered and what is not.

IMG Global's comprehensive coverage can come with higher premiums than other providers. Nomads on a tight budget may need to consider their pricing structure. 
Simplify and Optimize Your Digital Nomad Insurance Decision with Relo.ai✨
Relo.ai is a valuable tool to help decide on digital nomad insurance. Our services assist in streamlining the insurance application process and help you make informed decisions about digital nomad insurance. Relo.ai prioritizes addressing your specific needs, whether you have questions, require personalized guidance, or want to discuss you're unique circumstances. 
Feel free to fix a meeting today to discuss and address your insurance needs.
We are here to provide comprehensive support tailored to your digital nomad lifestyle.
At Long Last
With customizable plans, extensive coverage options, and international networks, these providers ensure digital nomads can work and explore peacefully. It's essential for individuals to carefully consider their specific needs and preferences when choosing an insurance provider to ensure they receive the necessary protection while traveling. Investing in digital nomad insurance is essential to minimizing risks and enjoying a worry-free nomadic lifestyle.