Choosing the right web hosting service can make or break your online presence. Whether you're a budding entrepreneur, a remote worker, or simply someone looking to make their mark online, the platform you choose to host your website can greatly influence your success. The InterServer web hosting service promises to simplify your digital journey.
In this comprehensive review, we will delve deep into what InterServer is, its working mechanism, pricing structures, and its suitability for remote workers. By the end, you'll have a clear understanding of the features and benefits it offers, its customer service quality, and whether it's the right choice for you.
What Is InterServer?
InterServer, a respected web hosting company established in 1999, boasts over two decades of experience and a strong reputation for reliability and affordability. Catering to individuals, small businesses, and remote workers seeking dependable hosting solutions. The company has amassed a significant customer base, hosting over 2 million websites for more than 250,000 customers. 
Backed by a robust 99.9% uptime guarantee and 24/7/365 customer support, InterServer offers a diverse range of hosting services, including shared hosting, VPS hosting, dedicated hosting, and colocation. With state-of-the-art infrastructure and data centers spread across multiple locations, InterServer ensures optimal performance and security for its clients.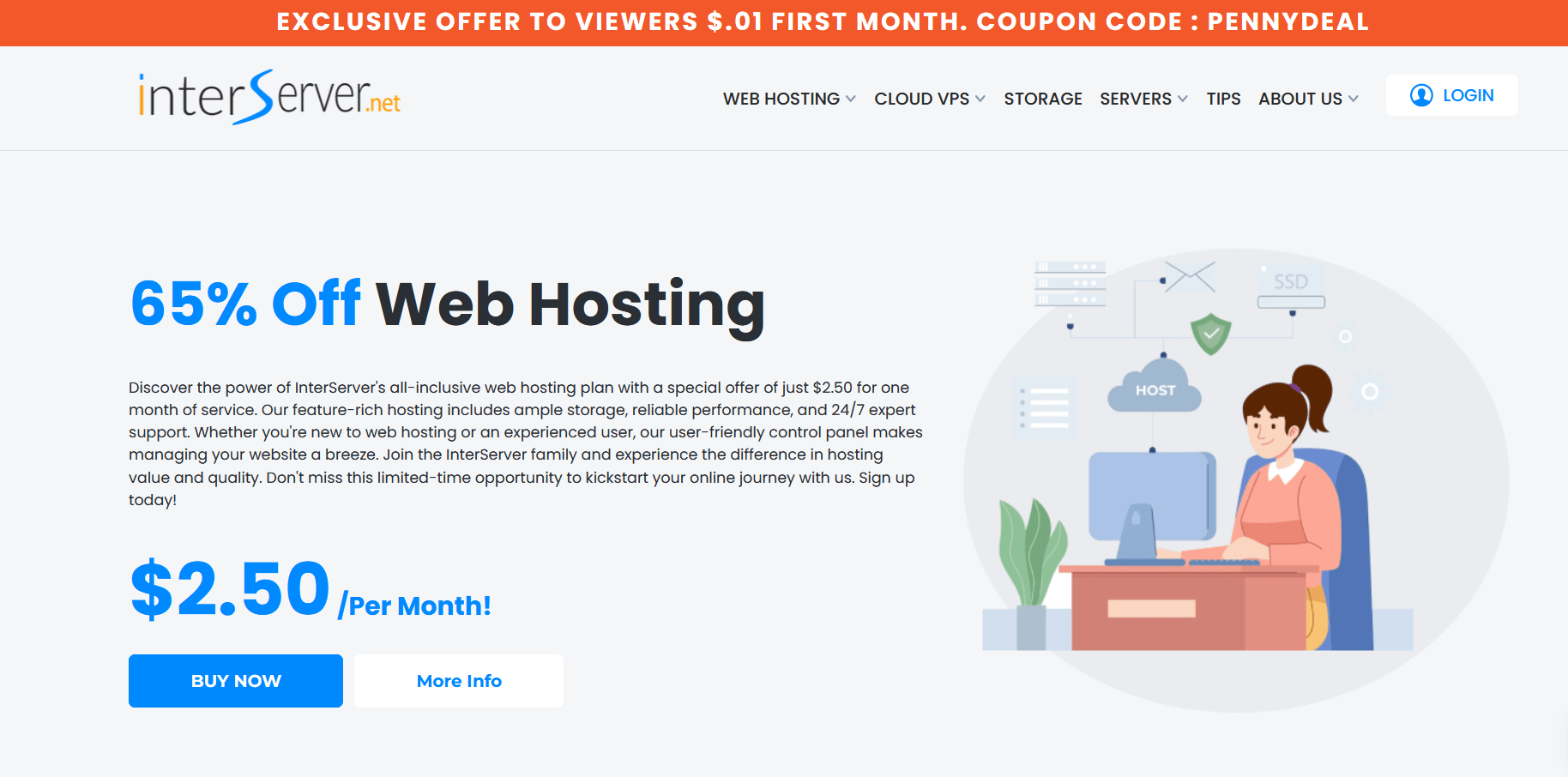 How InterServer Works
InterServer offers a variety of hosting services catering to diverse user needs, from novices to seasoned developers. These services include shared hosting, VPS hosting, dedicated hosting, and cloud hosting, ensuring flexibility and adaptability. A key distinguishing feature of InterServer web hosting is its unwavering commitment to top-tier hardware and infrastructure. 
The company takes pride in owning and operating its data centres, giving them full control over service quality and performance. This dedication to maintaining high-quality infrastructure ensures that your websites and applications operate smoothly, delivering an exceptional user experience to your site visitors. With InterServer web hosting, you can trust in the promise of exceptional reliability.
Features of InterServer 
InterServer web hosting truly distinguishes itself by providing a diverse range of features designed to meet the needs of users at every level, whether you're just starting or a seasoned webmaster. Their unwavering dedication to user-friendly solutions and top-notch security.
Here are some of the standout features that make InterServer an appealing choice for hosting your online presence:
Unlimited Storage and Bandwidth: InterServer's shared hosting plans come with the advantage of unlimited storage and bandwidth. This means you won't be constrained by data limits, allowing you to expand your website content and handle increased traffic without worry.
Free Website Migration Service: Switching to InterServer is a breeze, thanks to their complimentary website migration service. They take the hassle out of transferring your existing website, ensuring a seamless transition with minimal downtime. This service is a boon for preserving online assets during the switch.
cPanel Control Panel: Managing your hosting environment has never been easier, thanks to the user-friendly cPanel control panel provided by InterServer. Whether you're configuring email accounts, monitoring website statistics, or managing databases, the intuitive interface simplifies the process.
Free SSL Certificates: Security is paramount in today's digital landscape, and InterServer understands this. They offer free SSL certificates for your websites, safeguarding sensitive data and building trust with your visitors. SSL encryption is essential for protecting online transactions login credentials.
One-Click Installer: InterServer streamlines the process of setting up popular applications like WordPress, Joomla, and Drupal with their one-click installer. This feature saves you time and effort, allowing you to quickly launch and manage your preferred content management system.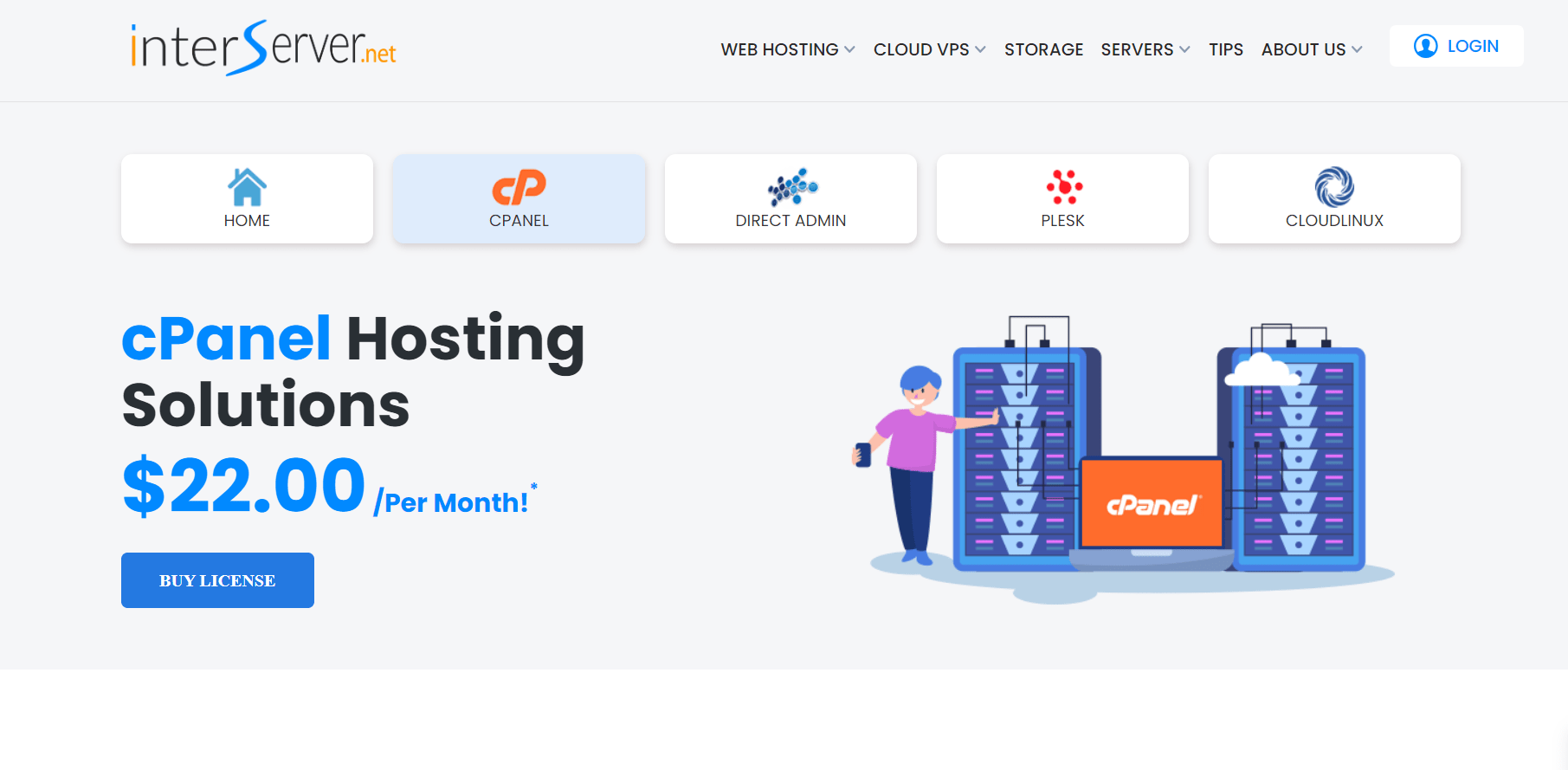 InterServer Pricing and Plans
InterServer's pricing strategy stands out with its straightforward and transparent approach. With their shared hosting plans starting at an attractive monthly rate of just $2.50 for one month, they offer affordability without hidden costs. This commitment to transparent pricing extends to their VPS hosting options, ensuring you know what you're getting. 
What makes InterServer even more appealing is their promise that your initial price will remain unchanged for as long as you're their customer, a refreshing departure from providers who frequently hike prices after the first year. This ensures long-term value and stability for your hosting needs. Sign up now at just $2.50 per month!
Here's a summarisation of the hosting plans offered by InterServer:
| | | |
| --- | --- | --- |
| Plan | Features | Price per Month |
| ASP.NET | Easy to use Control Panel, Speed Optimization, Unlimited Storage Space, Free Website Migration, and Unlimited Support. | $8.00/month |
| VPS Special | 2GB RAM + 30GB SSD Storage, Multiple Operating Systems, Instant Activation, cPanel or Direct Admin, and Unlimited Support. | $6.00/month |
| Dedicated | Xeon E3-1230, Memory – 32 GB, Hard Drive – 2000 GB, Hardware Replacement Guarantee, and Unlimited Support. | Custom Pricing |
Please note that the dedicated plan has custom pricing, so you'll need to contact InterServer for specific details on this plan.
Is InterServer Right For Remote Workers?
If you're a remote worker or a freelancer, having a reliable web hosting service is essential to your online presence and productivity. Your website is your virtual office, and InterServer web hosting ensures it remains accessible and performs optimally.
InterServer is an excellent choice for remote workers for several reasons:
Performance and Reliability: Remote workers depend on their websites and online tools to be accessible at all times, with InterServer's commitment to high-quality hardware and a 99.9% uptime guarantee.
Affordability: As a remote worker, managing costs is often a priority. InterServer's competitive pricing ensures that you get excellent value for your money without compromising on quality. This frees up your budget for your work and business growth.
Scalability: Your hosting needs may evolve as your remote work projects expand. InterServer offers scalable hosting solutions, allowing you to seamlessly upgrade your plan as your online presence and client base grow.
Security: Remote workers often deal with sensitive client data and information. InterServer's focus on security, including free SSL certificates, helps safeguard your online assets and communications, giving you and your clients peace of mind.
Customer Support: In the remote work environment, quick and reliable customer support is vital. InterServer offers 24/7/365 customer support via live chat, email, and phone, ensuring that any issues or inquiries are promptly addressed, minimizing downtime.
How Does InterServer Perform in Terms of Speed?
InterServer's performance in terms of speed is a critical aspect of its web hosting service. The company prides itself on delivering reliable and fast hosting solutions to meet the diverse needs of its users. InterServer's use of high-quality hardware, ownership and operation of its data centres, and commitment to a 99.9% uptime guarantee all contribute to ensuring swift and consistent website loading times. 
InterServer's dedication to optimizing performance means your online projects will benefit from responsive and efficient speed, providing a seamless experience for your website visitors. Count on InterServer to ensure that your web presence operates at peak performance, helping you engage and retain your audience effectively.
Customer Service and Support
Whether you're running a personal blog, e-commerce site, or enterprise-level application, inter server's dedication to optimizing performance means your online projects will benefit from the responsive and efficient speed, providing a seamless experience for your website visitors, with their commitment to high-quality hardware, state-of-the-art data centres, and round-the-clock support. 
You can trust that your website will perform at its best, even during traffic spikes. InterServer's speed isn't just about loading pages quickly; it's about ensuring your online presence is a competitive edge, delivering content swiftly and reliably to your audience, ultimately contributing to your digital success. Join satisfied InterServer users and experience top-notch website speed and performance.
Related Post: How to Choose a Web Host: 12 Key Factors to Consider
Is InterServer Worth It?
InterServer Web Hosting is a reliable, affordable, and feature-rich hosting provider suitable for remote workers, small businesses, and individuals alike. With a commitment to high-quality hardware, and transparent pricing. With excellent customer support, InterServer makes it easier to navigate the digital landscape with confidence. Their versatile hosting solutions include shared hosting and VPS hosting. 
Dedicated InterServer web hosting perfectly caters to a wide range of online needs, ensuring there's an ideal plan for everyone. By choosing InterServer, you gain access to a trusted partner in your online journey. Backed by years of industry experience, unwavering dedication, and a commitment to your success. Explore their offerings and empower your robust digital presence today.
The Bottom Line
If you're looking for a web hosting service that simplifies your digital journey, InterServer should be on your radar. With a reputation built over two decades, a range of hosting options, and a commitment to customer satisfaction. InterServer web hosting could be the solution you've been searching for. Explore their offerings and discover the ease of hosting with a trusted partner.
Don't take our word for it—give them a try and experience the benefits firsthand. Your online presence will thank you, and you'll join the ranks of satisfied customers who have found InterServer to be a reliable partner in their online endeavors. With InterServer, your web hosting experience will reach new heights of convenience, reliability, and success. Empowering you to achieve your digital transformation goals with confidence.