Digital nomads are a growing breed of professionals who have harnessed the power of technology to work remotely while exploring the world. These modern wanderers need a trusty digital nomad backpack on their journeys – a backpack that not only carries their essentials but also helps them stay organized and secure.
In this article, we've curated a list of the ten best digital nomad backpacks that offer versatility, durability, and convenience. Whether you're a seasoned nomad or just beginning your remote work adventure, these backpacks are sure to meet your needs, providing the perfect blend of style and functionality for your globetrotting lifestyle.
1. NOMATIC Travel Pack
The NOMATIC Travel Pack is the ultimate choice for digital nomads, crafted with precision to cater to the demands of professionals who are always on the go. This dedicated digital nomad backpack boasts expandable capacity, secure anti-theft pockets, and a range of well-organized compartments, ensuring your belongings are safe and within easy reach.
What sets the NOMATIC Travel Pack apart is its stylish design and innovative features. It's not merely a regular backpack; it's your trusted companion throughout your thrilling digital nomad adventure. Whether you're navigating bustling airports or settling into coworking spaces, this backpack will keep you organized and confidently on track every step of the way.
Features:
Versatile Straps:

 Easily transform it from a briefcase to a backpack.

Expandable Capacity: 

Adjusts from 20 to 30 liters.

Organized Pockets: 

Includes RFID lockable security pocket, notebook pocket, and more.

Convenient Accessories:

 Cord pass-through holes for device charging.

Keep Your Belongings Safe: 

Anti-theft pockets are highly water-resistant.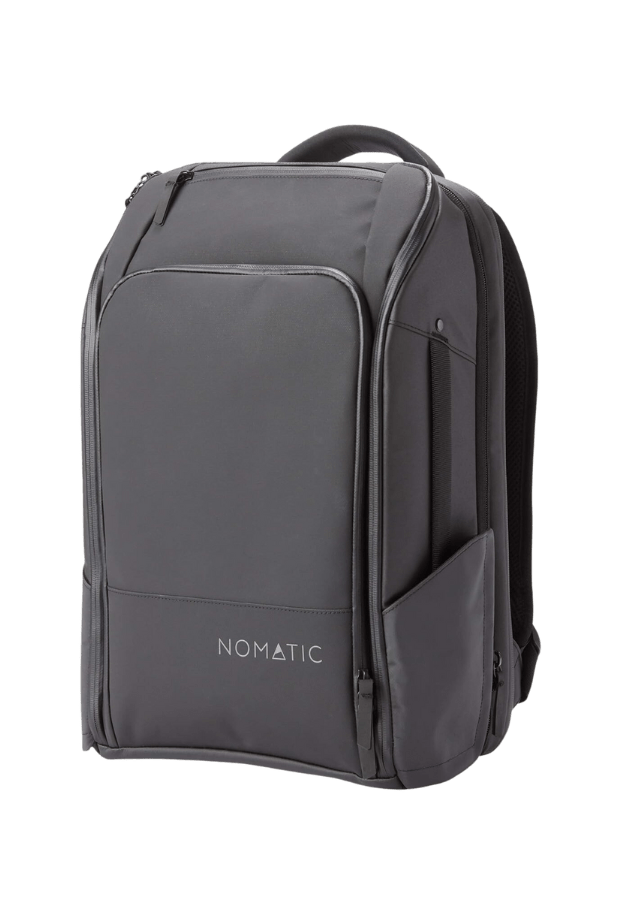 Buy Now
2. MOKOBARA The Transit Backpack
The MOKOBARA Transit Backpack combines vegan leather and nylon fabric to create a stylish and functional digital nomad companion designed to accommodate travel laptops for digital nomads. With its thoughtful design and eco-conscious materials, it boasts numerous pockets, including a padded laptop compartment, making it perfect for tech-savvy travelers who value style and sustainability.
This backpack not only offers a sleek design but also embodies eco-consciousness with its use of vegan materials. It's not just a fashion statement; it's a commitment to sustainability. With ample storage and durable construction, the MOKOBARA Transit Backpack ensures you're well-prepared for your nomadic adventures, effortlessly blending fashion and functionality.
Features:
Premium Materials:

 Vegan leather and durable nylon.

Industry Best Functional Backpack:

 Features multiple pockets and compartments.

Maxed Out Storage: 

With a capacity of 24 liters.

Water Resistant:

 Designed to protect your belongings.

Enhanced Security: 

Lockable laptop compartment for tech gear safety.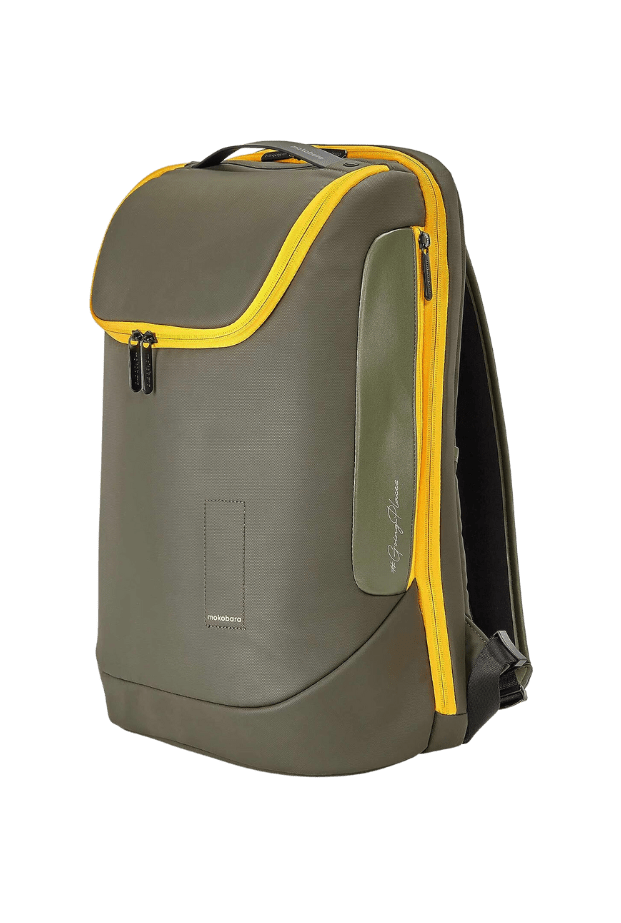 Buy Now
3. BANGE Anti-Theft Business Backpack
The BANGE Anti-Theft Business Backpack seamlessly combines security and style, making it the ideal choice for business travelers and digital nomads. It features a smart, secure lock mechanism, ensuring your belongings are safe wherever you roam. This digital nomad backpack doesn't just prioritize security; it also expertly caters to your tech needs.
With multiple compartments designed to accommodate laptops and electronics, your devices will stay organized and protected on the go. Plus, the USB 3.0 fast-charging port adds a convenient touch, allowing you to power up your devices while you're on the move. Stay secure, stay organized, and stay charged – all in one backpack designed for the modern digital nomad.
Features:
Anti-Theft Design:

 Equipped with a high-strength zinc alloy lock.

Laptop Compartment:

 Fits up to a 15.6-inch laptop and 11-inch iPad.

Waterproof Design:

 Features waterproof Oxford material and zippers.

USB 3.0 Fast Charging: 

Stay connected on the go.

Comfortable and Breathable:

 Designed for extended wear.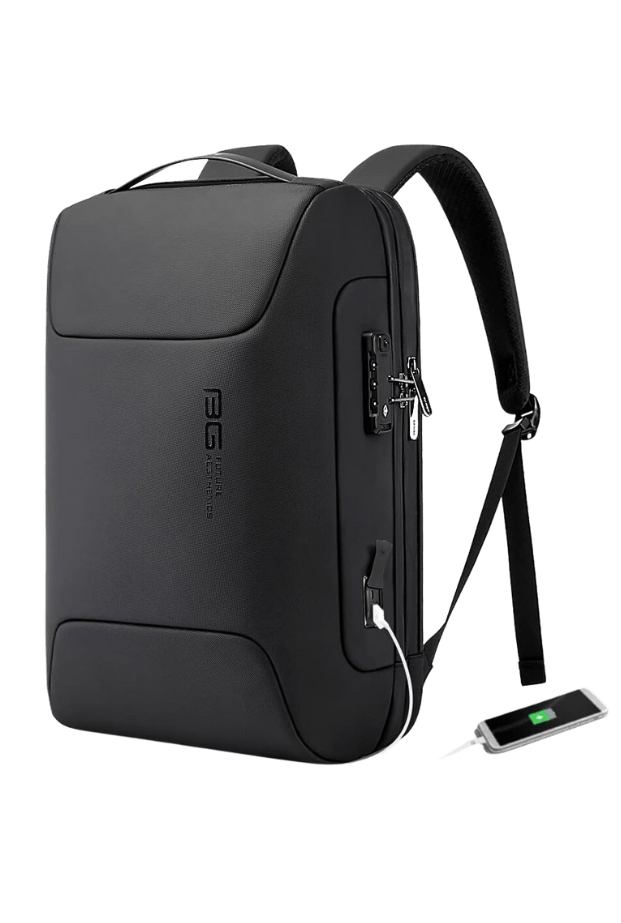 Buy Now
4. BOPAI Business Backpack
The BOPAI Business Backpack is renowned for its intelligent increase design, invincible water bottle pocket, and anti-explosion double zipper, making it an excellent choice for the modern digital nomad. Its innovative design offers increased capacity when needed, making it versatile for both work and travel, whether you're commuting to the office or embarking on an international adventure.
This backpack boasts an invincible water bottle pocket, ensuring you stay hydrated on the go without worrying about leaks. Whether you're headed to the office or embarking on a journey, the BOPAI Business Backpack combines sleek design and durable materials to offer a practical and stylish solution for your daily commute or travel needs. Stay organized, stay stylish.
Features:
Intelligent Increase Design:

 Expands for extra space.

Invincible Water Bottle Pocket: 

Protects against spills.

Convenient Structure: 

Multiple pockets and compartments.

Waterproof and Durable: 

Made from water-resistant microfiber leather and ballistic nylon.

Modern Styling: 

Sleek, minimalistic design for a professional look.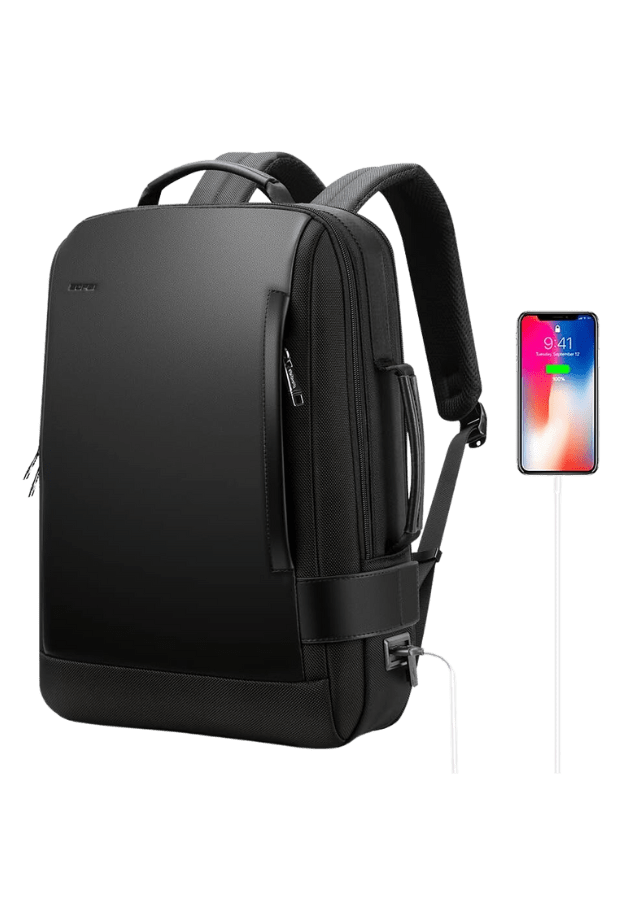 Buy Now
5. NST BOX Business Smart Backpack
The NST BOX Business Smart Backpack combines England-style sophistication with a generous 25-liter capacity, making it the perfect choice for the discerning digital nomad. It's not just about looks; this backpack is designed for both elegance and functionality, with its thoughtfully designed multiple compartments, including a dedicated laptop pocket. 
It ensures your belongings are well-protected and neatly organized. Whether you're headed to remote work communication or excitedly exploring new horizons, this backpack effortlessly combines style, space, and security. Elevate and streamline your travel and work experiences with the NST BOX Business Smart Digital Nomad Backpack, where your essentials are safeguarded in elegant English style.
Features:
England-Style Design: 

Elegant and functional.

Large Capacity: 

Ideal for daily use and office essentials.

Waterproof Design:

 Protects against water damage.

Ergonomic and Comfortable: 

Designed for long-lasting comfort.

Versatile Compartments: 

Thoughtfully designed pockets for easy organization.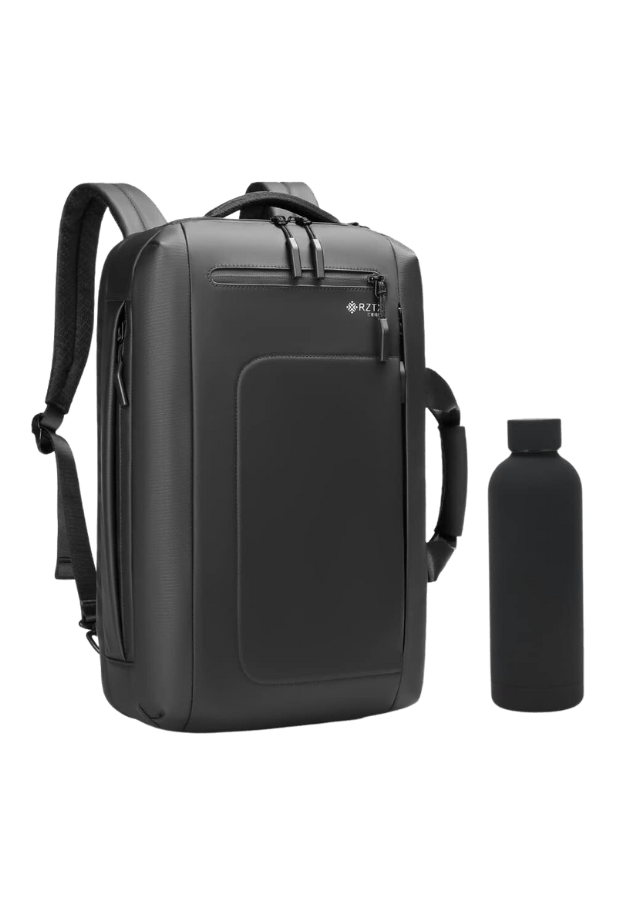 6. NOBLEMAN Backpack
The NOBLEMAN Backpack stands as a unisex testament to versatility and durability. Crafted from high-quality polyester, it doesn't just meet expectations; it exceeds them. This backpack is your go-to choice, whether you're embarking on a rugged outdoor adventure or a bustling urban excursion, with its waterproof, tear-resistant, and scratch-resistant properties. 
Any journey can challenge this digital nomad backpack, but it can withstand them all. It's not just about durability; it's about being prepared for whatever comes your way. The NOBLEMAN Backpack is more than a bag; it's your ultimate travel companion, ready to adapt to your needs and protect your essentials in style. Elevate your travels with a backpack that's as tough as it is stylish.
Features:
Unique Design:

 Spacious and organized with a laptop compartment.

Ergonomic Design: 

Comfortable padded shoulder straps.

Wide Range of Uses:

 Suitable for various occasions.

Durable and Stylish: 

Ideal for both men and women.

Quality Materials:

 Crafted from high-quality, waterproof, tear-resistant, and scratch-resistant polyester for lasting durability.
Buy Now 
7. BANGE Expandable Travel Backpack
The BANGE Expandable Travel Backpack is your ultimate travel companion, offering unmatched versatility with its innovative design. Whether you're planning a 3-5 day adventure or tackling your daily commute, this backpack has got you covered. Its expandable design effortlessly adjusts from 22 to 35 liters, providing the perfect amount of space for your needs. 
The compartments keep you organized for work or leisure. But that's not all – this digital nomad backpack prioritizes security, too, with anti-theft features to keep your valuables safe. It's not just versatile; it's also built to last, making it suitable for various activities. The ergonomic design with padded straps ensures comfort during long journeys so that you can explore the world with confidence.
Features:
Expandable Design: 

Adjusts from 22 to 35 liters.

Large Capacity:

 Multiple compartments for organization.

Waterproof and Anti-Theft:

 Protects your belongings.

Durable and Multipurpose:

 Built for various activities.

Comfortable Carry:

 Ergonomic design with padded straps for extended comfort.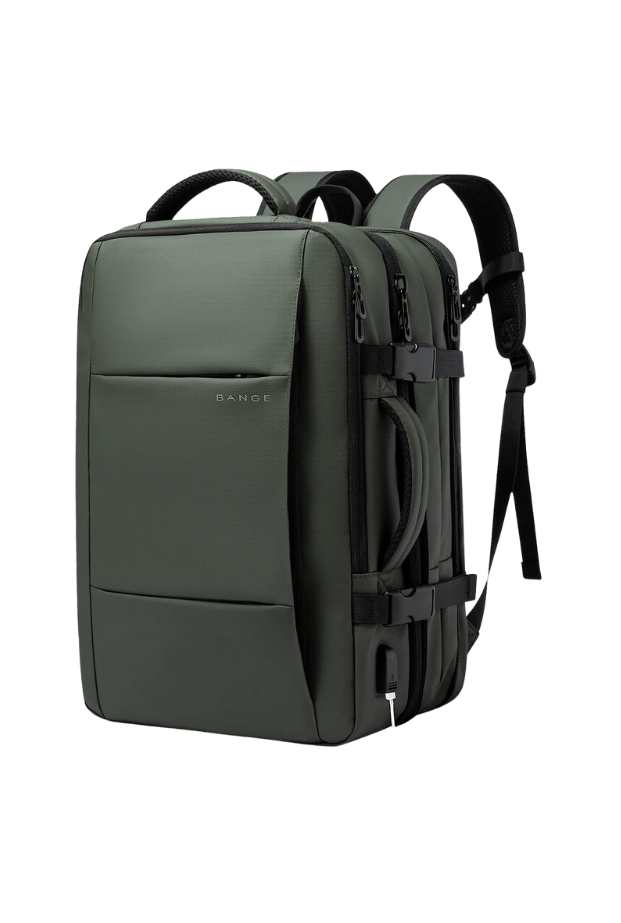 Buy Now
8. Peak Design Everyday Backpack
The Peak Design Everyday Backpack isn't just a backpack; it's a photographer's dream come true. With unparalleled access, customization options, and expandability, it's designed to meet the unique needs of photographers. But don't be fooled – this backpack isn't limited to photography enthusiasts. It's equally perfect for your everyday work and travel needs. 
Its adaptability and innovation make it a top choice for those who demand more from their backpacks. Experience a backpack that's in a league of its own, where innovation and versatility effortlessly converge to meet your photography and daily life demands. Elevate your gear-carrying experience to new heights with the Peak Design Everyday Digital Nomad Backpack.
Features:
Unbeatable Access:

 Lightning-fast, strong, and quiet access.

Customize Your Setup:

 Configurable dividers and pockets.

Expands to Fit More: 

Provides 3L internal expansion.

Adapts to Your Needs:

 Ideal for various gear and environments.

Lifetime Guarantee:

 Built to last.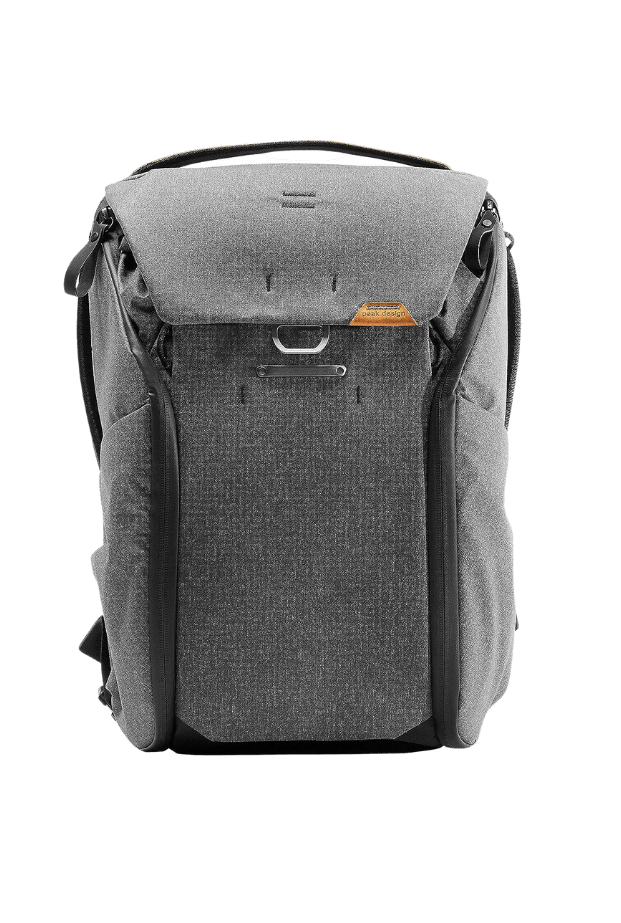 Buy Now 
9. Adidas Iconic 3 Stripe Backpack
The Adidas Iconic 3 Stripe Backpack combines style and sustainability, as it's crafted with recycled materials, making it an eco-friendly choice. Furthermore, it comes with a lifetime warranty, ensuring its long-lasting performance. The LoadSpring shoulder straps are designed for comfort, making it easier to carry your essentials with its removable pouch for small item storage.
Plus, it boasts multiple zippered pockets, providing for your belongings. With the Adidas Iconic 3 Stripe Backpack, you not only make a fashion statement but also contribute to a more sustainable future, all while enjoying the peace of mind that comes with a lifetime warranty. It's the ideal companion for the environmentally-conscious and style-savvy traveler.
Features:
Eco-Friendly: 

Made with recycled content.

Lifetime Warranty: 

Built to last.

LoadSpring Shoulder Straps:

 For comfortable carrying.

Padded Compartment: 

Fits up to a 15″ laptop.

Multiple Zippered Pockets:

 Ample storage space.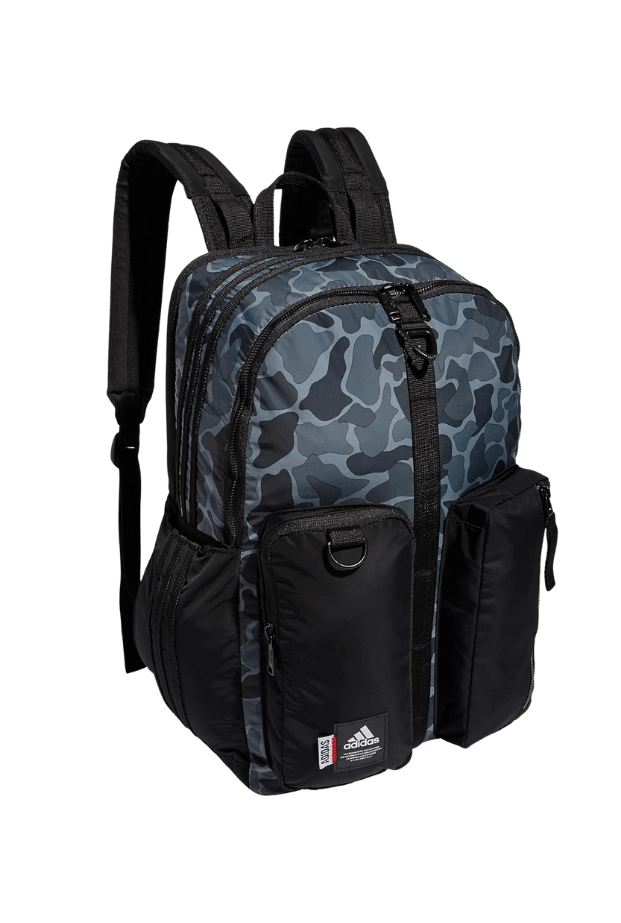 Buy Now 
10. Knack Series 1 Laptop Backpack
The Knack Series 1 Laptop Backpack stands out with its unmatched flexibility, superb organization, and peace of mind features. It's thoughtfully designed to serve as your dependable everyday office backpack, keeping you organized and efficient in your professional life. What truly sets it apart is its ability to transform into a spacious travel companion whenever you need it to. 
With ample room for your travel essentials, it seamlessly transitions into a digital nomad backpack fit for your globetrotting adventures. So, whether you're hustling at the office, exploring new horizons, or embracing a combination of both, the Knack Series 1 Laptop Backpack is the versatile solution that effortlessly adapts to your ever-changing lifestyle.
Features:
Unmatched Flexibility:

 Expandable hidden compartment.

Superb Organization:

 Numerous pockets and compartments.

Peace of Mind: 

Theft-proof features and durable materials.

Comfortable Carry:

 Lightweight and ergonomically designed.

Reassuring Quality:

 Built to last with premium materials.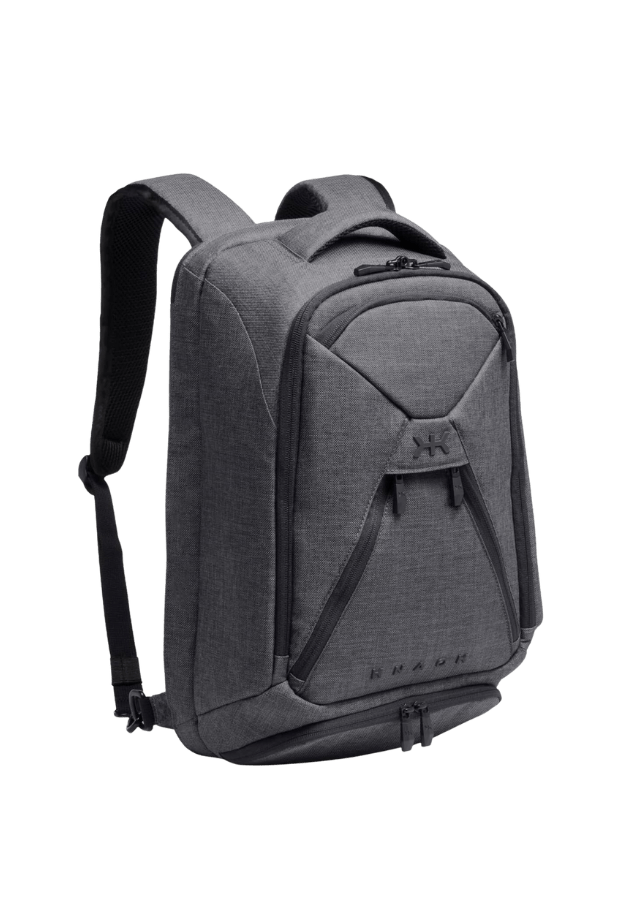 Buy Now
Wrapping Up
Choosing the right digital nomad backpack is essential for staying organized, secure, and efficient while working and traveling. Each of these backpacks offers unique features to cater to the needs of modern nomads. Whether you prioritize security, style, versatility, or any combination thereof, there's a backpack on this list that's perfect for you. 
So, as you embark on your digital nomad journey with confidence, remember that your choice of digital nomad backpack can make all the difference. Invest in the one that aligns with your needs and preferences, and let it be your reliable partner as you explore the world and conquer your remote work gadgets and adventures.
Start an exciting journey as a nomadic, where the perfect digital nomad backpack, as suggested by relo.ai, effortlessly blends with the extensive virtual realm. 🎒
If you're a digital nomad, relocation, and travel are a part of life. For digital nomads, our dedicated relocation services are therefore designed to simplify your transition. 🧑‍💻 
Feel free to schedule a meeting with us today to obtain more information!