Digital nomad podcasts have become a go-to resource for individuals diving into remote work As they seek valuable advice, encouragement, and knowledge. These audio series serve up priceless wisdom and guidance. Narratives from seasoned digital nomads, aid listeners to steer through the obstacles and benefits of this distinctive lifestyle.
In this blog post, we will delve into seven motivational digital nomad podcasts offering crucial information for those searching for support. Podcasts impart wisdom and guidelines for those who adopt the nomadic lifestyle, capitalizing on technology to work from anywhere.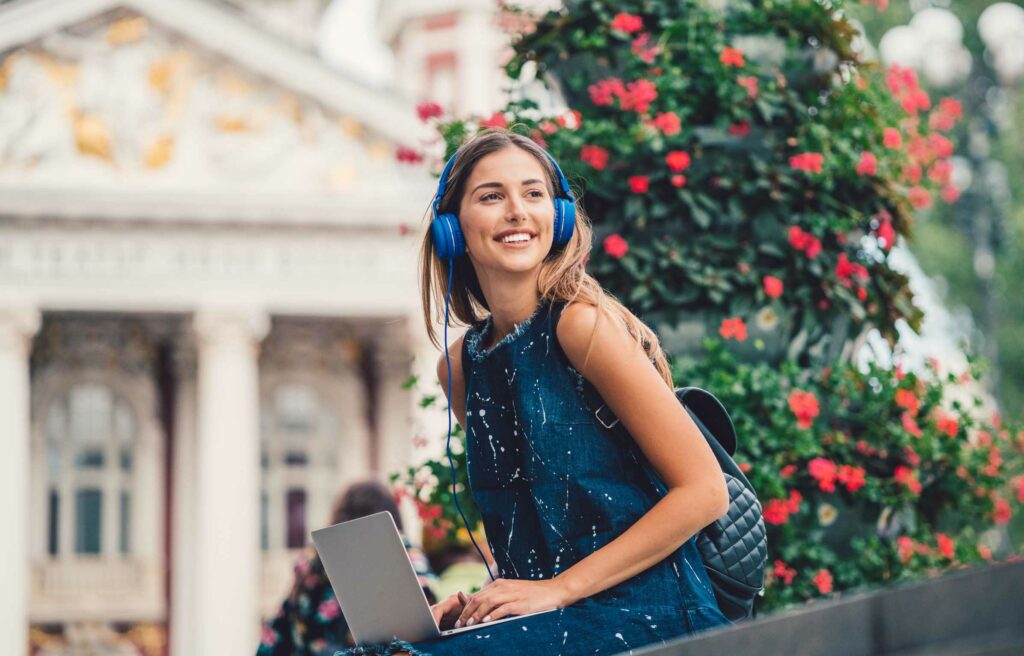 1. Digital Nomad Daily: Real Digital Nomads Sharing Daily Tips & Inspiration
Digital Nomad Daily is your supreme podcast ally, loaded with inspiration and hands-on advice for your nomadic expedition. Presented by the perceptive Nienke Nina, this podcast dives into a range of subjects, from savvy travel advice and destination suggestions to intriguing discussions with seasoned nomads. 
Make a habit of tuning in daily to discover new outlooks, uncover useful information, and maintain your motivation as you traverse the thrilling landscape of digital nomadism. With Digital Nomad Daily, you can tap into a resource of inspiration. Applicable guidance to enrich your remote work and travel adventures. This podcast is a top choice for all digital nomad podcasts striving to optimize their venturesome lifestyle.
Instagram: @nienkeninatravels
2. Badass Digital Nomads: Boosting the Potential of Nomadic Entrepreneurs
Hosted by the vibrant Kristin Wilson, Badass Digital Nomads aims to empower its audience with exclusive insights into the realm of remote entrepreneurship. The show accomplishes this by featuring expert-led interviews, and exciting destination chats. Actionable advice on creating successful online businesses, sparking the inner powerhouse in every digital nomad.
Suppose it's inspiration, pragmatic advice, or strategies to unleash the ultimate nomadic capabilities that you're after. In that case, Badass Digital Nomads stands ready to arm you with the necessary knowledge and drive to thrive in the lifestyle of remote work and travel. The podcast guarantees a constant source of motivation and encouragement, promising to be your reliable companion on this digital nomadic journey.
Instagram: @travelingwithkristin
3. Remote Work Bestie: How to Travel with a Full-Time Job
Remote Work Bestie, hosted by the familiar Ilene, is more than just a podcast; it positions itself as your dependable ally in the realm of digital nomadism. Its undivided attention is on job prospects, productivity tricks, and the equilibrium between work and life. This show offers priceless insights for both budding and seasoned digital nomad podcasts.
Accompany Ilene as she imparts practical advice, resources, and personal anecdotes to ensure your seamless transition into the remote work lifestyle. With the support of Remote Work Bestie, you will find yourself feeling emboldened and bolstered as you commence your journey into the world of digital nomadism.
Instagram: @iliketodabbleblog
4. Digital Nomad Stories
Digital Nomad Stories is not merely a podcast; it's a portal to an inspiring universe. By presenting compelling personal narratives, this show grants listeners invaluable perspectives on the hurdles and resolutions intrinsic to the nomadic lifestyle. As you follow each transformative story, Digital Nomad Stories will surely spark the spirit of adventure in you.
Make sure to listen as actual digital nomad podcasts narrate their journeys. Encompassing the exhilarating moments of immersing in different cultures and the daunting tasks of managing remote work. Every episode unveils digital nomads' unique opportunities and challenges, showcasing their triumphs in finding work-travel balance.
Instagram: @annes_nomadstory
5. Digital Nomad Life Podcast
Digital Nomad Life Podcast stands as the ideal podcast for those desiring to plunge headfirst into digital nomadism. Steered by the captivating Christa Bella, this show features an appealing mix of intriguing interviews, compelling tales, and actionable advice. As a guide, mentor, and friend in your ear, the Digital Nomad Life podcast is set to invigorate your remote work and travel dreams.
By indulging in stimulating dialogues with experienced digital nomad podcasts. Audiences acquire precious insights into the expansive universe of remote work possibilities. Breathtaking travel locales, and priceless tactics to uphold a harmonious work-life equilibrium. It caters to those dipping their toes into the nomadic way of life or those aiming to enrich their ongoing journey in remote work.
Instagram: @christabellatravels
6. The Digital Nomad Quest Podcast
Digital Nomad Quest leads its listeners on an exhilarating journey, revealing the roadmap to nomadic victory. Under the stewardship of Sharon Tseung, this podcast mentors those with aspirations to live a digital nomad life, serving up priceless advice and hands-on tips. Sharon delves into the core components of establishing a life free from geographical constraints, through insightful dialogues and real-world experiences.
From tackling the hurdles associated with remote work to optimizing productivity and formulating a sustainable routine for remote work. Digital Nomad Quest furnishes its listeners with the necessary understanding and resources to flourish on their voyage into nomadism. Equipping you with actionable strategies ensures you're well-prepared to embrace the Freedom and rewards of the digital nomad lifestyle.
Instagram: @sharontseung
7. Location Indie Podcast
Location Indie transcends the realm of ordinary podcasts to become a beacon for digital nomads navigating the complex terrain of the nomadic lifestyle. With Jason Moore and Travis Sherry at the helm, this show delivers practical tips and tactics for flourishing within the digital nomad podcasts realm. 
Enriching its listeners with each episode, Location Indie is the perfect blend of inspiration and practicality. A must-have resource for every digital nomad seeking to thrive in their remote work and travel journey. It covers many topics, from establishing businesses on the go and connecting with fellow nomads to achieving a balanced work-life equilibrium. 
Instagram: @locationindie
Embrace Digital Nomad Freedom with RELO.ai
At RELO.ai, we aim to empower digital nomads by providing them with all the essential resources for a seamless travel experience. We offer a comprehensive platform that caters to the unique needs of remote workers on the move. 
So don't hesitate to schedule a meeting for assistance in finding the perfect places for your digital nomad journey. 
Tune in to these podcasts and level up your digital nomad lifestyle!👩‍💻
Wrap it Up!
Digital nomad podcasts are an abundant source of inspiration, knowledge, and insights for those embracing the remote work lifestyle and travel enthusiasts alike. These podcasts serve as your guide to navigating through the nuances of the nomadic lifestyle, providing real-life experiences and expert recommendations. 
Get ready to plug in, gain knowledge, and let the transformative power of podcasting invigorate your remote work and travel ambitions. Welcome the liberty and thrill of the digital nomad lifestyle, amplified by the wisdom shared on these motivating broadcasts.