For travelers seeking the best platform to book excursions, activities, and experiences, Viator stands out as a popular choice. Based in San Francisco, Viator is a global tour and attraction booking company that attracts both seasoned explorers and first-time adventurers. Choosing a travel booking platform requires research, and this Viator Tours review helps travelers make informed trip decisions.
Leveraging a booking company's services is the ideal approach to ensure a stress-free exploration of unfamiliar destinations. Companies like Viator simplify trip planning and execution, catering to solo travelers, couples, and families, enhancing the overall travel experience. Their expertise and wide range of options make it easier for travelers to create unforgettable memories on their journeys.
What is Viator?
Viator, established in 1999, has become a well-known and trusted online platform where travelers from all around the world can access a vast array of tours and activities. Whether you're interested in guided tours, attraction tickets, or unique adventures, Viator has earned its reputation as the go-to platform for planning your dream trip. With a staggering 300,000 experiences in over 3,000 destinations globally. 
Viator, a subsidiary of Tripadvisor, has won the trust of more than 10 million travelers every year. Impressively, over 90% of Viator's customers have recommended the company to their friends, highlighting its reliability and convenience. Viator's eight consecutive "World's Leading Tour and Activities Website" awards from the World Travel Awards solidify its status as a top choice for unforgettable journeys.
The Benefits of Using Viator
When you're gearing up for your next adventure, having a dependable and user-friendly platform at your fingertips can significantly elevate your planning experience. Viator, a well-established name in the travel industry, provides many advantages for travelers in pursuit of unforgettable experiences. 
Let's dive deeper into how Viator can elevate your travel adventures:
Wide Selection of Experiences: Viator boasts an extensive catalog of experiences, ensuring something to captivate every traveler's interest. Whether you're an art enthusiast, an adventure seeker, or simply looking to unwind, Viator's diverse range of options has you covered.
Quality Assurance: Prioritizes quality by collaborating only with reputable tour operators and experiences. Rest assured that when you book through Viator, you're investing in a well-vetted and high-quality product. This commitment to excellence ensures that your travel experiences meet or exceed your expectations.
Exclusive Deals and Discounts: Frequently presents exclusive deals and discounts on its experiences. It means you can not only find the perfect adventure but also save money in the process, making your trip even more budget-friendly. With Viator's special offers, you can make the most of your travel budget.
Personalized Recommendations: Viator goes the extra mile by utilizing machine learning on its website and app to provide personalized recommendations based on your interests and travel history. This feature simplifies the discovery of exciting new experiences you may have missed.
How Does Viator Work?
Viator's user-friendly platform makes planning your travel experiences a breeze. To start, visit their website and explore tours and activities categorized by destination or interest. Once you've pinpointed a tour that piques your curiosity, delve into its detailed description, ensuring it aligns with your preferences. Then, effortlessly select your preferred date and time, confident that Viator's intuitive interface ensures a seamless booking process
Next, confirm its availability and effortlessly select your preferred date and time slot. Upon completing the secure payment process. Viator promptly sends you a comprehensive confirmation email packed with all the essential details needed to embark on your upcoming adventure, ensuring a seamless and convenient booking experience from start to finish.
Features of Viator 
Viator, a renowned platform for travelers seeking unforgettable experiences, offers many features to cater to diverse interests and destinations. Whether you're an art enthusiast, an adventurer, or simply looking for a relaxing getaway in a warm and exotic locale, Viator has you covered. 
Let's delve into the enticing features of Viator:
Top Tours: Viator's extensive tour offerings encompass many experiences. From exploring the art and history of the Vatican Museums to ascending the iconic Eiffel Tower or embarking on a picturesque Tuscany Day Trip. There are options to captivate every traveler's curiosity.

Top Attractions: Viator brings you up close to world-famous attractions. Enabling you to immerse yourself in the grandeur of places. Like the Colosseum, marvel at the mystery of Stonehenge, appreciate the artistry of the Louvre Museum, and embark on a journey through history and culture like never before.

Top Destinations Covered: Viator spans the globe, making it possible to discover the unique charms of destinations. Like vibrant Las Vegas, culturally rich Chicago, and the laid-back beauty of Key West. An array of other captivating locations ensures that your travel experiences are as diverse as the world itself.

Warm Destinations: For those yearning for sun-kissed adventures, Viator offers a selection of warm destinations. The enchanting beauty of Bali, experience the samba rhythms of Rio De Janeiro, or relax on the pristine beaches of Cancun. Viator's warm destinations offer a refreshing escape from daily life.

Pricing and Fees
Pricing for Viator tours is diverse and influenced by factors like destination, activity type, and duration. From budget-friendly options to exclusive experiences with higher price tags, there's a wide range to consider. Before booking, it's crucial to examine each tour's pricing details to ensure it fits your budget. Remember that while price is a factor, the value and experience offered by Viator can often justify the cost.
On average, a Viator tour falls from $100 to $200, with more affordable options like walking and food tours often costing less than $100. At the same time, multi-day, small-group, and VIP experiences typically exceed $200 in price. Among the most popular Viator tours are skip-the-line tickets, sightseeing tours, and road trips, known for their high demand among travelers. 
Here is an example of a Viator tour:
| | | | |
| --- | --- | --- | --- |
| Destination | Tour | Duration | Price |
| Paris | Skip-the-Line Eiffel Tower Tour | 2 hours | $120 |
| Rome | Colosseum and Roman Forum Tour | 3 hours | $150 |
| New York City | Statue of Liberty and Ellis Island Tour | 4 hours | $180 |
| London | Buckingham Palace Tour | 2 hours | $100 |
Please note: These prices are indicative and can vary based on the best time to book, group size, and any optional add-ons. It's essential to check the specific pricing for each tour on the Viator website before making a reservation.
Viator's Cancellation and Refund Policy
Viator's cancellation and refund policies can vary among tour operators. So it's essential to thoroughly review the terms and conditions of each tour before booking. Some tours may have stringent cancellation policies, while others offer greater flexibility. Viator consistently strives to provide precise and transparent information regarding cancellation fees and refund eligibility.
But it ultimately depends on the specific policies of the tour provider you choose. It's advisable to consider your travel plans and circumstances carefully before booking to ensure you are comfortable with the cancellation terms. If you have any questions or concerns, Viator's customer support is available to assist you in making the best choice for your trip.
Also read: How to Avoid Baggage Fees: 7 Strategic Tips for the Savvy Flyer
Is Viator's Application Available?
Absolutely! Viator provides a handy mobile app designed for both iOS and Android devices. This app is a travel enthusiast's dream as it enables you to effortlessly browse and book exciting tours, access your bookings, and stay in the know while you move. It's like having a helpful travel buddy in your pocket, ensuring that your adventures are as convenient as they are memorable.
Imagine wandering through a new city or embarking on an adventure, and all the essential travel information you need is correct at your fingertips. Viator's mobile app is tailored to make your travel experience smoother and more enjoyable. It boasts user-friendly features and a straightforward interface, ensuring you have everything you need to explore stress-free and make the most of your journey.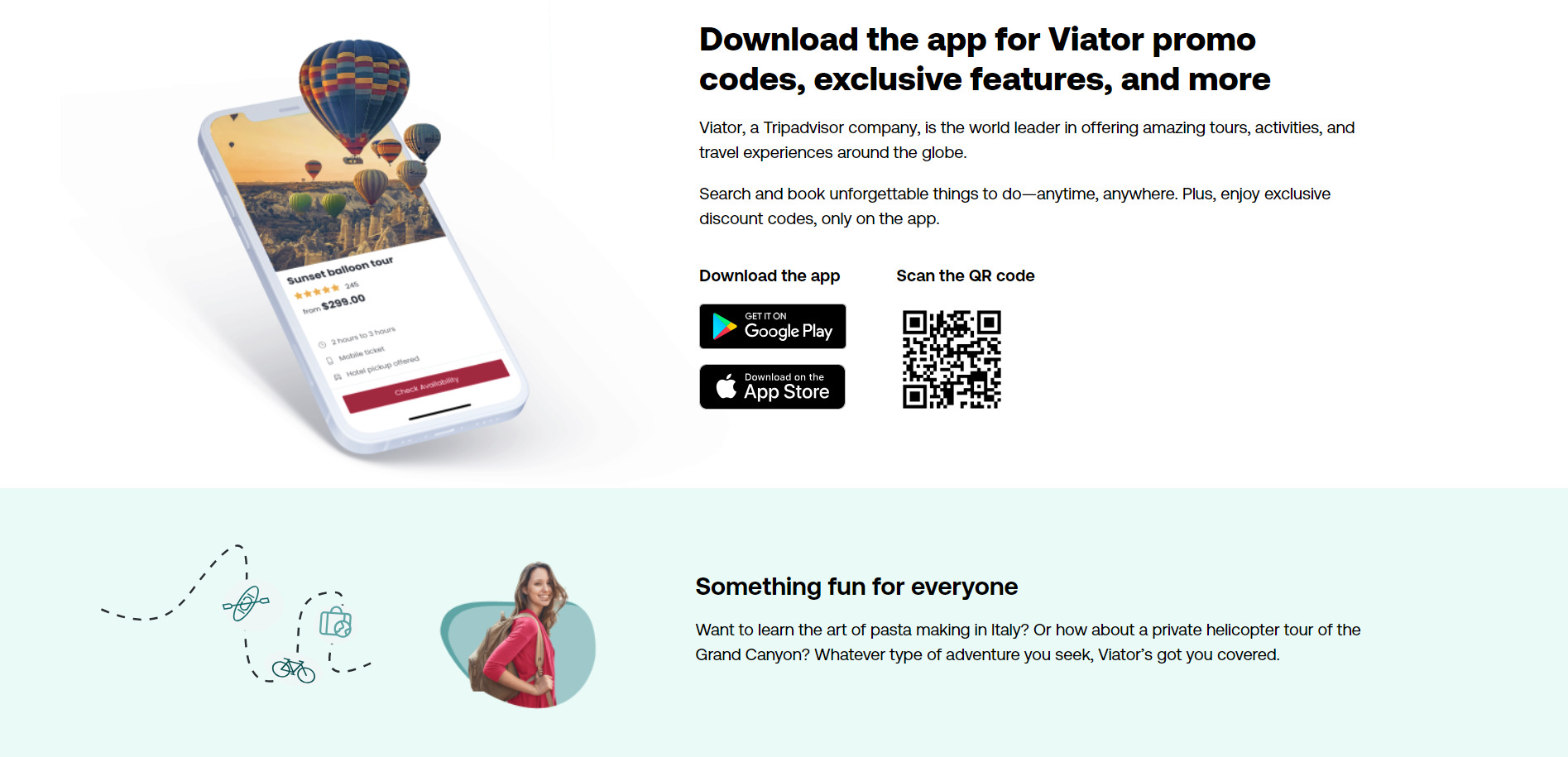 Is Viator Tours Safe?
Viator Tours is generally considered safe for travelers. The company has established itself as a reputable platform for booking tours and activities worldwide. Viator partners with trusted tour operators and adheres to industry safety standards. They provide customer reviews and ratings, allowing travelers to make informed choices. With these measures in place, Viator prioritizes safety and transparency for its customers.
While no travel activity is entirely risk-free, Viator takes steps to ensure the safety and satisfaction of its customers. Travelers must exercise personal responsibility, follow safety guidelines provided by tour operators, and read reviews to assess the suitability of specific tours for their preferences and needs. Being proactive and informed enhances safety and enjoyment when booking with Viator.
Customer Support
Viator is renowned for its exceptional customer support, ensuring travelers have a seamless experience. They go above and beyond in assisting customers with inquiries or issues, with an impressive 95% resolution rate within 24 hours. Viator offers a comprehensive support system, including 24/7 phone support in multiple languages, live chat during business hours, and round-the-clock email support. 
Even assistance through social media platforms like Facebook and X. These diverse support channels underline Viator's commitment to ensuring travelers receive timely and effective assistance throughout their booking process and tours, enhancing the overall quality of their travel experiences. With Viator, you can have peace of mind knowing that help is readily available whenever needed.
Start Your Smooth Relocation Journey with Relo.AI
Elevate your relocation journey by harnessing the extensive travel and relocation solutions offered by Relo.AI. Our seasoned team is dedicated to managing your travel arrangements, ensuring a seamless transition every step of the way. 🛫
Whether you're coordinating destinations or planning a move to a new city, our specialized relocation services and expert guidance will accompany you through various life transitions.
Don't hesitate to schedule a consultation with us today to access personalized relocation and travel solutions that perfectly align with your unique goals. 🚚
Contact us now and start your relocation journey confidently, equipped with informed decisions to guide you.
The Bottom Line
In this Viator Tours review, we've explored what Viator is, how it works, and cancellation and refund policies. Availability of the Viator application, customer service, and the benefits of using Viator. Viator can be a valuable tool for travelers seeking to enhance their travel experiences by booking tours and activities tailored to their interests.
To determine if Viator tours are worth your specific trip, research and read reviews. Carefully consider your preferences and budget before booking, and take advantage of exclusive deals and discounts offered by Viator. With the right choices, Viator can help you create unforgettable memories on your next adventure while saving you extra money.
Affiliate Disclaimer: This article contains affiliate links. If you decide to purchase through these links, we might earn a small commission at no additional cost to you. Please know that we only endorse products and services that pass our high-quality standards.