Whether you're a seasoned traveler or an occasional explorer, loyalty programs have become an essential part of the travel experience. For those who have amassed miles and points, AwardLogic has emerged as a valuable tool to help travelers make the most of their hard-earned rewards. In this AwardLogic review, we will explore what AwardLogic is, how it works, and whether it's worth considering for your travel needs.
What is AwardLogic?
AwardLogic is a web-based platform designed to simplify the process of redeeming miles and points from various loyalty programs for flight bookings. It serves as a one-stop shop for travelers looking to utilize their rewards effectively and efficiently. Whether you've collected miles from airlines, credit card points, or hotel loyalty programs, with its user-friendly interface and advanced features.
The platform offers features such as displaying point costs and estimated taxes and fees for each award flight. Setting up flight alerts for desired routes and searching for the best time to book flights across multiple markets. With over 500,000 users having booked over $100 million in award flights and saving an average of 30%. AwardLogic is a powerful tool for maximizing the value of miles and points.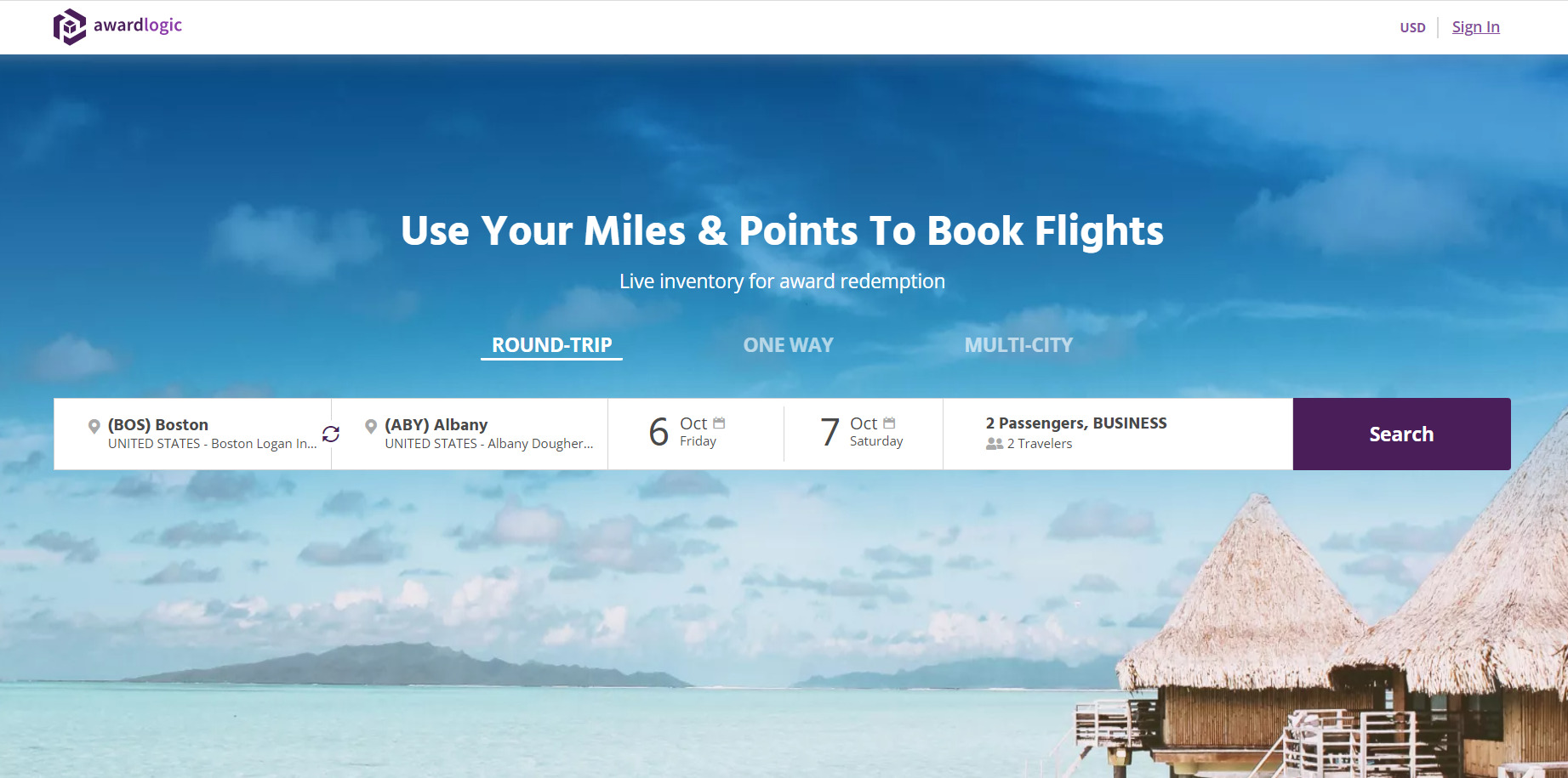 How Does AwardLogic Work?
AwardLogic operates by connecting with airlines, credit card companies, and hotels' loyalty programs. It gathers data on available reward flights and presents it all in one place, making it easy for users to search, compare, and book their flights. The platform offers insights into award availability, transfer, and options. Any associated fees provide travelers with the information they need to make well-informed choices.
By accessing a vast network of loyalty programs, AwardLogic ensures that users can explore a broad spectrum of flight possibilities, including various routes and airlines. This diversity allows travelers to pinpoint the most suitable and budget-friendly options for their specific travel requirements. AwardLogic's holistic approach empowers travelers to extract the utmost value from their rewards.
Also read: Wise Online Money Transfer Review: The Ultimate Resource for Digital Nomads
How To Use AwardLogic
One of the standout features of AwardLogic is its user-friendly interface. It boasts a familiar and intuitive design similar to other flight search engines you may have encountered before. It allows users to effortlessly navigate its features without any significant learning curve, enabling immediate benefit from its comprehensive functionality for flight booking.
Beyond this, it offers the convenience of conducting flexible date searches and setting alerts for future award space availability. It also guides point transfers to other programs, among other functions. With support for real-time searches across more than 40 frequent flyer and travel credit card programs, AwardLogic delivers quick and efficient search results in just a few seconds.
How to Register and Sign Up for AwardLogic?
To register and sign up for the AwardLogic, visit their official website and follow the registration process. You will need to provide some personal information and link your loyalty accounts to get started.
Here's a step-by-step on how to sign in AwardLogic:
Sign Up: The first step is to register for an AwardLogic account. You can do this by visiting their website and providing the necessary information.
Link Loyalty Accounts: Once registered, you'll need to link your various loyalty accounts to AwardLogic. It allows the platform to access your rewards balances.
Search for Flights: After linking your accounts, you can start searching for flights. AwardLogic will display available flight options that can be booked using your miles and points.
Compare Options: AwardLogic provides a comprehensive list of flight options, including the number of miles or points required for each booking.
How To Search for Award Redemptions on AwardLogic
Searching for award redemptions on AwardLogic is a straightforward process. You can enter your departure and destination cities, travel dates, and the number of travelers. AwardLogic then displays a list of available flights and their corresponding mileage or point requirements. Users can sort the results to find the best options based on their preferences.
Here is an example of how to use AwardLogic to search for award redemptions:
Let's say you want to book a round-trip economy class flight from New York City (JFK) to London (LHR) in December. You have 50,000 Chase Ultimate Rewards points, so you're looking for a flight that can be booked with Chase points.
To search for award redemptions on AwardLogic, go to the website and enter the following information:
Departure city: JFK

Destination city: LHR

Departure date: December 10, 2023

Return date: December 17, 2023

Number of travelers: 1

Cabin class: Economy
Click the "Search" button, and AwardLogic will display a list of available flights.
You can see that the cheapest option is a round-trip flight on British Airways for 34,000 Chase points. If you're flexible with your travel dates, you can find even cheaper flights. For example, if you fly on a weekday, you can find flights for as low as 25,000 Chase points.
Once you've found a flight you're interested in, click on the "View Details" button to learn more about the redemption. You'll see the following information:
Airline: British Airways

Flight number: BA112

Departure date and time: December 10, 2023 at 10:00 AM

Arrival date and time: December 10, 2023 at 1:00 PM

Total mileage required: 34,000 Chase points
To book the flight, you'll need to transfer your Chase points to the British Airways Executive Club program. AwardLogic will provide you with step-by-step instructions on how to do this.
AwardLogic Destination Comparison
Where we unveil the mileage or point requirements for some of the most popular travel destinations in the United States. Whether you're planning a getaway to the vibrant streets of New York, the sunny shores of Miami, or the picturesque landscapes of Seattle, this comparison will help you make informed decisions about how to make the most of your loyalty program rewards. 
| | |
| --- | --- |
| Destination | AwardLogic Price (in miles/points) |
| New York, NY | 25,000 miles |
| Los Angeles, CA | 30,000 miles |
| Miami, FL | 20,000 miles |
| Chicago, IL | 28,000 miles |
| Las Vegas, NV | 35,000 miles |
| San Francisco, CA | 32,000 miles |
| Orlando, FL | 18,000 miles |
| Boston, MA | 27,000 miles |
| Seattle, WA | 34,000 miles |
| Denver, CO | 29,000 miles |
How To Search for Hotel Stays on AwardLogic
While AwardLogic primarily focuses on flight bookings, it also provides users with the option to search for hotel stays using their points and miles. Users can enter their destination and travel dates to explore available hotel options and make bookings accordingly. This feature adds a layer of convenience to your travel planning, as you can seamlessly coordinate both your flights and accommodations in one platform. 
By offering access to a wide array of the biggest hotel chains, AwardLogic ensures that travelers can find the perfect place to stay, making their entire travel experience smoother and more enjoyable. Whether you're a jet-setter or a leisure traveler, this added functionality can enhance your overall journey. Providing you with flexibility and choice when it comes to selecting accommodations that suit your preferences and budget.
How Much Does AwardLogic Cost?
AwardLogic offers a range of pricing options to cater to different user preferences. They provide a free basic plan, which includes fundamental features like searching for award flights. For those seeking more advanced capabilities, This AwardLogic
offers premium plans, including a single-day pass at $4.99, a monthly subscription at $19.99 (with the flexibility to cancel anytime), and an annual plan priced at $199.99.
These premium plans grant users access to an array of benefits, including a flexible 3-day search, coverage across multiple markets (United States, Australia, United Kingdom), real-time availability across 35+ booking programs, detailed point transfer and booking instructions, and exclusive point redemption offers. Detailed pricing and plan information can be found on their website.
Is AwardLogic Worth It?
If you've accumulated a substantial reserve of points and miles and are eager to unlock your full redemption potential, consider the flexibility offered by AwardLogic's day pass or monthly subscription options. While the annual subscription might appear excessive for occasional travelers, it can prove a lucrative choice for avid globetrotters who anticipate frequent point redemptions throughout the year. 
For a cost equivalent to, or even less than, what some airline programs charge for checking a bag, the monthly plan empowers you to uncover superior point redemptions, enabling you to travel more extensively without significantly increasing your expenditure, making it an attractive proposition for those seeking to maximize the value of their loyalty rewards and indulge in more memorable journeys without breaking the bank.
Travel and Relocation Guidance with Relo.AI
Excel in your relocation journey with Relo.ai's extensive travel and relocation services. Entrust your travel arrangements to our seasoned team, dedicated to ensuring a smooth transition.  
Whether you're booking flights or relocating to another city, our dedicated relocation services and expert guidance support you at every life stage. Schedule an appointment with us today for insightful relocation and travel solutions tailored to align with your objectives. 🛫
Contact us now to confidently step forward on your relocation path, making enlightened choices all the way. 🚚
Closing Remarks
AwardLogic is a promising platform for travelers looking to make the most of their miles and points. It streamlines the process of redeeming rewards for flights and hotel stays, making it a valuable resource for frequent flyers and travel enthusiasts. To determine if it's right for you, consider your travel habits, the loyalty programs you participate in, and your willingness to invest in a premium plan.  It can help you turn your hard-earned rewards into unforgettable travel experiences, ensuring that your adventures are as memorable as the destinations themselves.
It is not just about saving money; it's about unlocking new travel possibilities. Whether you dream of that exotic vacation, a luxury business class flight, or a spontaneous weekend getaway.