The need for efficient and cost-effective international money transfers has never been greater in today's interconnected world. For digital nomads and global citizens, wise online money transfer review managing finances across borders requires a reliable solution that offers transparency, convenience, and security.
Enter Wise is a pioneering online money transfer service that is transforming how people send and receive money internationally. This comprehensive review will delve into the features, benefits, and safety aspects of Wise's services, focusing on their revolutionary money transfer platform and their game-changing borderless bank card.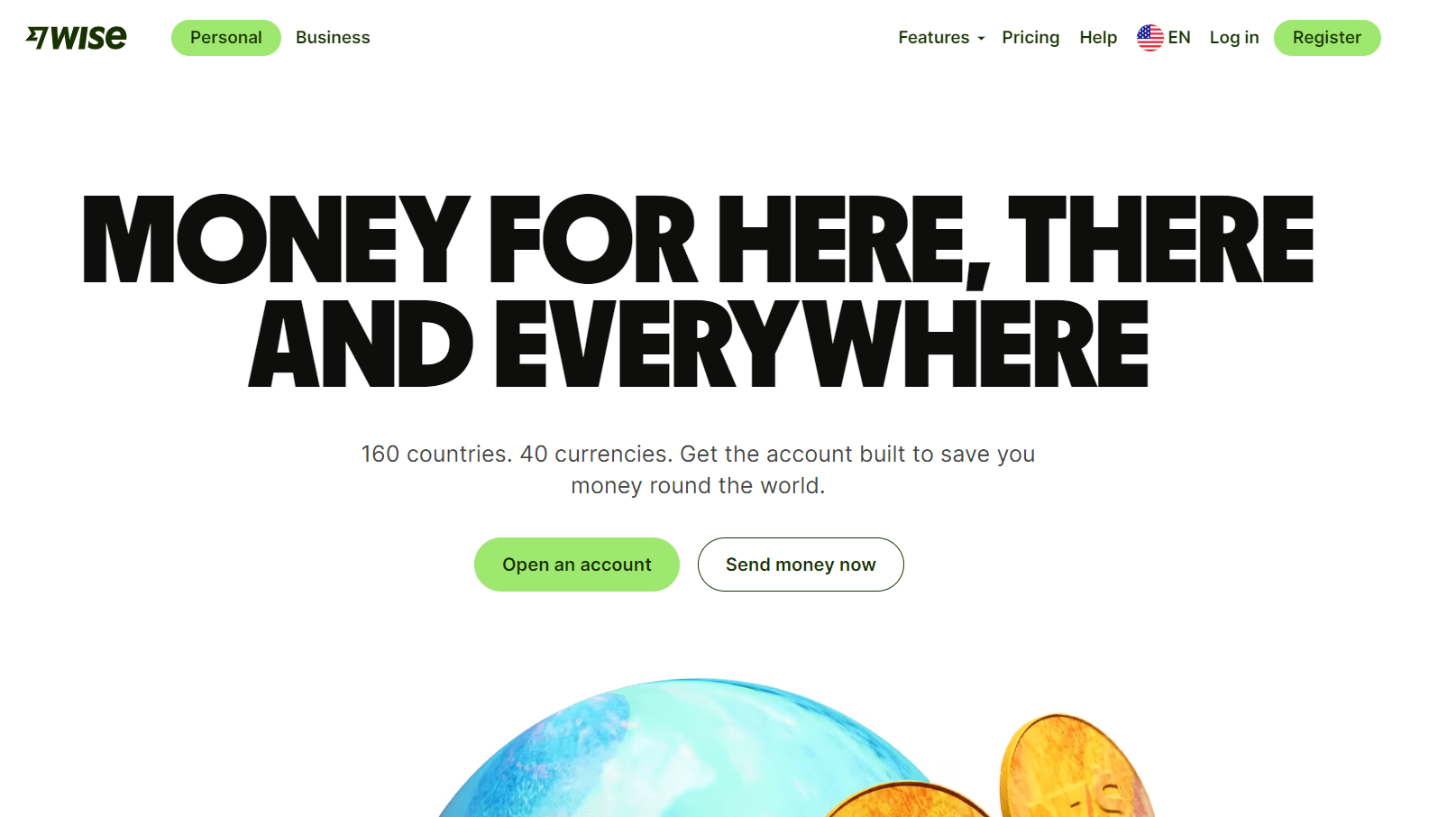 What is Wise Online Money Transfer?
Wise, previously known as TransferWise, emerged in 2011 with a mission to transform global money transfers. This wise online money transfer review addresses drawbacks in traditional banking and remittance services, highlighting Wise's reliable exchange rates – akin to Google's – and upfront, transparent fees. This innovative approach has established Wise as the go-to option for individuals and businesses seeking efficient cross-border financial solutions.
Wise Online Money Transfer is an industry leader, processing £100 billion in transfers and boasting 16 million customers across 80 countries. The platform's commitment to user savings is evident, having helped customers avoid over £1 billion in fees. With its presence in 40+ currencies and the ability to transfer funds globally, Wise's impact is substantial. With notable investors and regulatory oversight from entities like FCA and FSC, Wise prioritizes security. 
Beyond its core transfer services, Wise offers a multi-currency account and a versatile debit card that functions in 200+ countries. 
For a comprehensive understanding, individuals can explore the website www.wise.com.
How Does Wise Online Money Transfer Work?
Navigating the landscape of Wise's online money transfer process is a breeze. The initial step involves a quick and uncomplicated sign-up procedure. Within a matter of minutes, you'll gain access to your personalized Wise account, complete with the following features:
A UK account number and short code, facilitating seamless transactions within the UK.
A US account number, routing number, and wiring number, ensuring efficient transactions within the United States.
An Australian account number and BSB (Bank State Branch) number, enabling hassle-free transfers within Australia.
This streamlined process empowers users with diverse account details, allowing them to conduct transactions seamlessly across different regions. Wise online money transfer commitment to simplicity and accessibility shines through in this intuitive setup.
The Benefits of Wise for Digital Nomads
For digital nomads, a lifestyle characterized by constant movement across borders demands a reliable and efficient financial solution. Wise, formerly known as TransferWise, has positioned itself as an invaluable tool for individuals leading this nomadic way of life. 
Here are the benefits that make Wise a game-changer for digital nomads:
Accurate Exchange Rates: Digital nomads can trust Wise to offer real mid-market exchange rates, ensuring they receive fair value for their money. By mirroring rates on platforms like Google, Wise eliminates the worry of overpaying for currency conversion.
Transparent Fees: Transparency is crucial for digital nomads managing their finances. With Wise's upfront and transparent fee structure, nomads can make informed decisions about their transfers, avoiding unexpected charges and maintaining control over their financial plans.
Cost-Efficient Transfers: Financial efficiency is paramount for digital nomads, and Wise excels. With competitive rates and minimal fees, Wise online money transfer helps digital nomad income and save money on each transaction, allowing them to allocate funds to their journeys and experiences.
Multi-Currency Solutions: Digital nomads encounter a multitude of currencies, and Wise's multi-currency account and Borderless Bank Card streamline these complexities. It allows nomads to hold and manage emergency funds in various currencies within a single account, enabling easy cross-border financial management.
Wise Account Plans: Finding the Right Fit for Your International Transactions
Managing finances across borders requires a tailored approach that suits your needs. Wise offers a range of plans to cater to various usage patterns, ensuring you get the most value out of your international money transfers. 
| | | | |
| --- | --- | --- | --- |
| Plan | Free transfers | Monthly price | Monthly ATM withdrawals |
| Free | Up to $500 | $0 | 1 free withdrawal per month |
| Standard | Up to $25,000 | $9.99 | Unlimited free withdrawals in Europe |
| Premium | Up to $1 million | $14.99 | Unlimited free ATM withdrawals worldwide |
Additional Insights:
Average Monthly Transfer Amount: Users typically transfer around $1,000 per month.
Average ATM Withdrawals: The average user makes about 2 ATM withdrawals monthly.
Popular Choice: Over 50% of Wise users opt for the Standard plan, appreciating its balance between features and cost.
Free Plan: The Free plan is ideal for users with more minor transfer needs who infrequently withdraw cash from ATMs.
Standard Plan: The Standard plan is well-suited if you often
When considering a Wise money transfer review, it's crucial to factor in your transfer frequency, amounts, and ATM withdrawal needs. It will allow you to make a well-informed decision about which Wise plan best suits your cross-border financial management needs. Wise's inherent versatility ensures that you're equipped with the appropriate tools.
The Wise Bank Cards Features and Benefits
| | |
| --- | --- |
| Feature | Benefit |
| No Annual Fee | Enjoy the convenience of the Wise Bank Card without any annual fees. |
| No Hidden Fees | They guarantee transparent transactions, offer you mid-market exchange rates, and ensure there are no hidden costs. |
| Low ATM Withdrawal Fees | Access cash from ATMs worldwide with a minimal withdrawal fee of 2% (minimum fee of $2.50). |
| No Minimum Balance Requirements | Experience flexibility without worrying about maintaining a minimum balance. |
| Multi-Currency Account | Hold and exchange over 50 currencies within a single Wise account. |
| Free International Money Transfers | Effortlessly send money across borders to over 80 countries without incurring fees. |
| Mobile App | The Wise mobile app allows you to manage your account and card on the go. |
| 24/7 Customer Support | Access round-the-clock customer support for all your inquiries and assistance needs. |
It has always posed a challenge to manage international transactions, but the Wise Borderless Card turns it into a breeze. Whether you identify as a digital nomad, freelancer, or business professional, this credit card provides unmatched convenience and savings. The reviews of users who have utilized online money transfers through Wise demonstrate its effectiveness in streamlining cross-border financial interactions.
The Wise Bank Card serves as a potent instrument for contemporary global citizens who desire an astute evaluation of money transfers. It provides seamless financial solutions and comes with round-the-clock customer support, guaranteeing that your international transactions proceed effortlessly, securely, and according to your preferences.
Wise Borderless Bank Card
The Wise Borderless Bank Card revolutionizes global financial dynamics, granting unmatched flexibility. As a boon for freelancers, businesses, and digital nomads engaged in cross-border activities, it offers local bank details in 70+ countries for a localized payment experience. It's a cost-efficient gem with access to 50+ currencies sans foreign exchange fees, plus ATM cash withdrawals at mid-market rates. 
As a crucial component of the Wise online money transfer review, this card offers local bank details across 70+ countries, facilitating a revolutionary localized payment experience. The card's feature set includes holding and spending over 50 currencies without incurring foreign exchange fees and the convenience of mid-market rate ATM withdrawals.
The Benefits of Wise Borderless Bank Card
The Wise Borderless Bank Card stands as a beacon of financial empowerment. This card transcends traditional limitations, offering many benefits that redefine how you manage and access your funds across borders. 
Let's delve into these advantages that make the Wise Borderless Bank Card an indispensable tool for global financial navigation:
Global Banking: With local bank details available in numerous countries, the Wise Borderless Bank Card simplifies receiving payments and navigating finances worldwide. Seamlessly embrace international transactions without the hassle of cross-border obstacles.
Savings: Bid farewell to exorbitant currency conversion fees. The card allows you to accept payments in your client's currency, preserving the funds you've earned instead of losing them to unnecessary charges. Maximize your earnings by eliminating unnecessary financial drains.
Simplicity: The Wise Borderless Bank Card empowers you to effortlessly manage funds across borders, all from a single, centralized Wise account. Enjoy the convenience of easily tracking and overseeing your financial activities through intuitive tracking apps for digital nomads.
Security: Protect your finances with Wise's robust security measures. Your funds are held in segregated accounts, and Wise is regulated by financial authorities, ensuring the safety of your money as you navigate global transactions. Focus on your endeavors with the confidence that your economic well-being is safeguarded.
How To Order The Wise Borderless Card?
The Wise Borderless Card takes the hassle out of handling international transactions, making it a must-have for anyone looking for an intelligent online money transfer review. Whether you're a digital nomad, freelancer, or business owner, this card brings unmatched convenience and savings to your fingertips.
Ready to unlock a world of hassle-free global financial management? Here's a simple step-by-step guide to ordering your very own Wise Borderless Card:
Log In or Sign Up: Begin by logging into your Wise account. If you don't have one, signing up is a breeze and takes only a few minutes.
Navigate to "Cards": Navigate to the "Cards" section within your Wise account dashboard.
Request Your Card: In the "Cards" section, you can request your Wise Borderless Card. Click on it to initiate the card ordering process.
Provide Details: You'll be prompted to provide some necessary information, including your shipping address and other relevant details.
Await Delivery: After confirming your details, your Wise Borderless Card will be processed and shipped to your designated address.
Which Countries Wise Card is Available?
Are you curious about the countries where the Wise Card is accessible? Look no further for a comprehensive breakdown:
Europe: Present in European Union member states, the United Kingdom, Norway, and Switzerland.
Asia: Catering to financial needs in Singapore, Malaysia, and Japan.
The Americas: Making its mark in Brazil, Canada, and the United States (except Nebraska residents).
Oceania: Facilitating transactions in New Zealand and Australia.
But that's not all! Wise's reach extends to numerous smaller countries, encompassing British and French overseas territories. 
To explore further the Wise Card section for detailed insights.
Is Wise Safe, and Will Money be Deposited?
Ensuring the safety of your funds is a paramount concern when considering financial services, and Wise takes this responsibility seriously. As a reputable and regulated financial technology company, Wise adheres to stringent security measures to safeguard your money. Your funds are stored in segregated accounts with established financial institutions, providing additional protection.
Wise's commitment to security is further demonstrated by its compliance with the regulations of various financial authorities, depending on the jurisdictions in which it operates. This meticulous approach to security is especially noteworthy when considering a comprehensive wise online money transfer review. These regulations serve to monitor and audit the company's activities, promoting transparency and accountability.
Experience the Future of Online Money Transfer Banking! 💰
At Relo.ai, we're committed to empowering individuals with the financial tools they need for a secure and efficient money transfer experience. Our cutting-edge banking solutions are designed to cater to the diverse needs of online money transfer users.
Elevate your online money transfer experience with our services:
Expert advice for optimized online money transfer strategies.

Hassle-free, secure cross-border money transfers.

Tailored banking solutions for modern digital lifestyles.

Confidently navigate the digital age with comprehensive financial management support.
Explore our banking guidance and schedule a consultation to discover how we can enhance your financial journey in the digital age.
Contact us today and open the door to a world of hassle-free financial management! 
The Bottom Line
Wise is a revolutionary solution for digital nomads and anyone who needs to manage their finances across borders. This Wise online money transfer review highlights its transparent fees, actual exchange rates, and innovative Borderless Bank Card, establishing Wise as a trusted and efficient platform for international money transfers. 
Whether sending money to family abroad, freelancing for international clients, or exploring the world as a digital nomad, Wise offers the tools to manage your cash confidently. Rest assured, with Wise's focus on safety and secure fund management, you can navigate global transactions with peace of mind.