If you've ever experienced the frustration of a delayed flight, you know how it can disrupt your travel plans and leave you stranded at the airport. Claimcompass can help ease some of that frustration – it offers a solution for travelers to get compensation for flight delays. In our in-depth Claimcompass review, we'll find out what it is and what role it plays in flight delay compensation.
What is Claimcompass?
Established in 2015, Claimcompass, a prominent online platform, simplifies the process of securing compensation for flight delays, cancellations, and overbookings, ensuring passengers receive their due rights under European Union Regulation 261/2004. Offers an uncomplicated compensation claim process – passengers just input their flight details, and the platform handles the rest.
The company negotiates with airlines on your behalf and stands ready to represent you in court if necessary. With an exceptional track record, they have helped over 2 million passengers recover more than €100 million in compensation. Their over 90% success rate ranks them as Europe's most trusted and successful flight compensation company, earning an impressive average customer rating of 4.8 out of 5 stars.
Here are some examples of how Claimcompass has assisted passengers:
| | | | |
| --- | --- | --- | --- |
| Case Description | Compensation Amount (€) | Claim Resolution Method | Time to Receive Compensation |
| Flight delay of over 3 hours | 600 | Successful negotiation with the airline | Within 2 weeks |
| Flight cancellation | 400 | Representation in court and case won | Within 6 months |
| Flight overbooked | 250 | Claim filed with the airline | Within 1 month |
If you have questions about your flight compensation eligibility or wish to initiate a claim, please visit Claimcompass's website or contact their customer support team for assistance.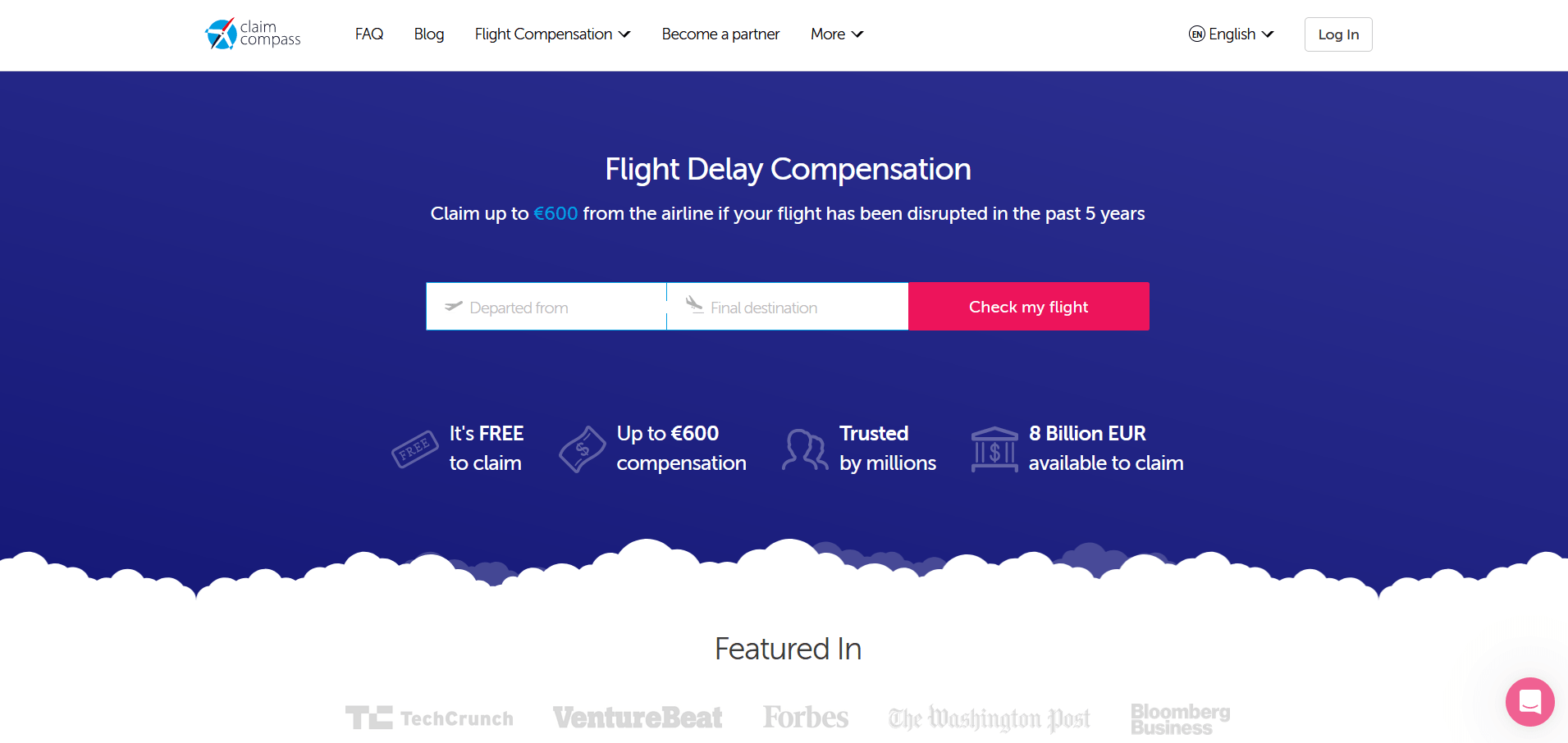 How Does Claimcompass Work?
Claimcompass is a service that helps air passengers get compensated for delayed, canceled, or overbooked flights. It operates on a "no win, no fee" basis, meaning you only pay if ClaimCompass successfully gets you compensation. To use ClaimCompass, go to their website and enter your flight details. They will then assess whether you are eligible for compensation, and if so, they will file a claim on your behalf. 
Claimcompass actively communicates with airlines and tries to negotiate an out-of-court settlement. If the airline refuses to pay, they will escalate the claim and represent you in court, ensuring your rights are protected throughout the legal proceedings. You can rely on Claimcompass to be your dedicated advocate until you receive the compensation you deserve.
Also read: How to Avoid Baggage Fees: 7 Strategic Tips for the Savvy Flyer
Benefits of Using Claimcompass
ClaimCompass is notably passenger-friendly due to its streamlined handling of flight disruption claims. It offers a straightforward and user-friendly platform, enabling passengers to easily file claims for delayed, cancelled, or overbooked flights. This service reduces the hassle and confusion often associated with seeking airline compensation.
Here are some of the benefits of using Claimcompass:
Expertise: Claimcompass boasts a team of highly experienced professionals well-versed in aviation law and regulations. They expertly and diligently handle the complex process of filing claims with airlines and authorities, ensuring you have the best chance of success.
Convenience: Filing a compensation claim can often be time-consuming and daunting. Claimcompass significantly simplifies the process by providing an easy-to-use online platform where you can effortlessly and efficiently submit your claim with minimal effort and hassle.
Higher Success Rate: Claimcompass proudly boasts an exceedingly impressive success rate for securing passenger compensation. Their remarkable expertise and unwavering dedication to customer service help maximize your chances of receiving compensation.
No Upfront Costs: One of the critical benefits of Claimcompass is that they operate on a reassuring "no win, no fee" basis. It means you only pay a fee if they successfully and effectively secure compensation, making it a highly advantageous and risk-free option for travelers.
Pricing and Fees
Operating under a unique fee structure, Claimcompass ensures passengers only incur charges when they successfully secure compensation. It means you won't have to worry about upfront costs. The fee itself is a percentage of the compensation amount, with the exact percentage varying based on factors such as the complexity of your case. This option minimizes the financial future and barriers for compensation seekers.
To provide further clarity, here's a breakdown of Claimcompass's fee structure:
| | | | |
| --- | --- | --- | --- |
| Compensation Amount (€) | Claimcompass Fee (incl. VAT) | Compensation Amount (€) | Claimcompass Fee (incl. VAT) |
| Up to €1,000 | 35% | Up to €1,000 | 35% |
| €1,000 – €2,000 | 30% | €1,000 – €2,000 | 30% |
| Over €2,000 | 25% | Over €2,000 | 25% |
Please Note: If legal action is required and passengers receive compensation, Claimcompass charges a 15% legal action commission (incl. VAT) to cover additional legal costs. If you've agreed to a partner, such as a travel agency, the fee structure may differ based on the agreed-upon terms. For ticket refund claims, an upfront fee of €19.99 applies if you opt to pay when submitting the claim.
Airline Ratings on Claimcompass
ClaimCompass is a website that helps passengers claim compensation for delayed or canceled flights. The company also provides airline ratings based on customer feedback. These ratings can help you make informed decisions when booking flights, as they give you insight into the performance and reliability of different airlines.
ClaimCompass's airline ratings are based on several factors, including:
On-time performance:

 This metric measures the percentage of flights that arrive on time.

Cancellation rate:

 This metric measures the percentage of flights that are canceled.

Customer service:

 This metric measures the quality of customer service provided by the airline.

Compensation success rate:

 This metric measures the percentage of claims that ClaimCompass has successfully won for its customers.
Here are the top five airlines with the highest ratings on ClaimCompass: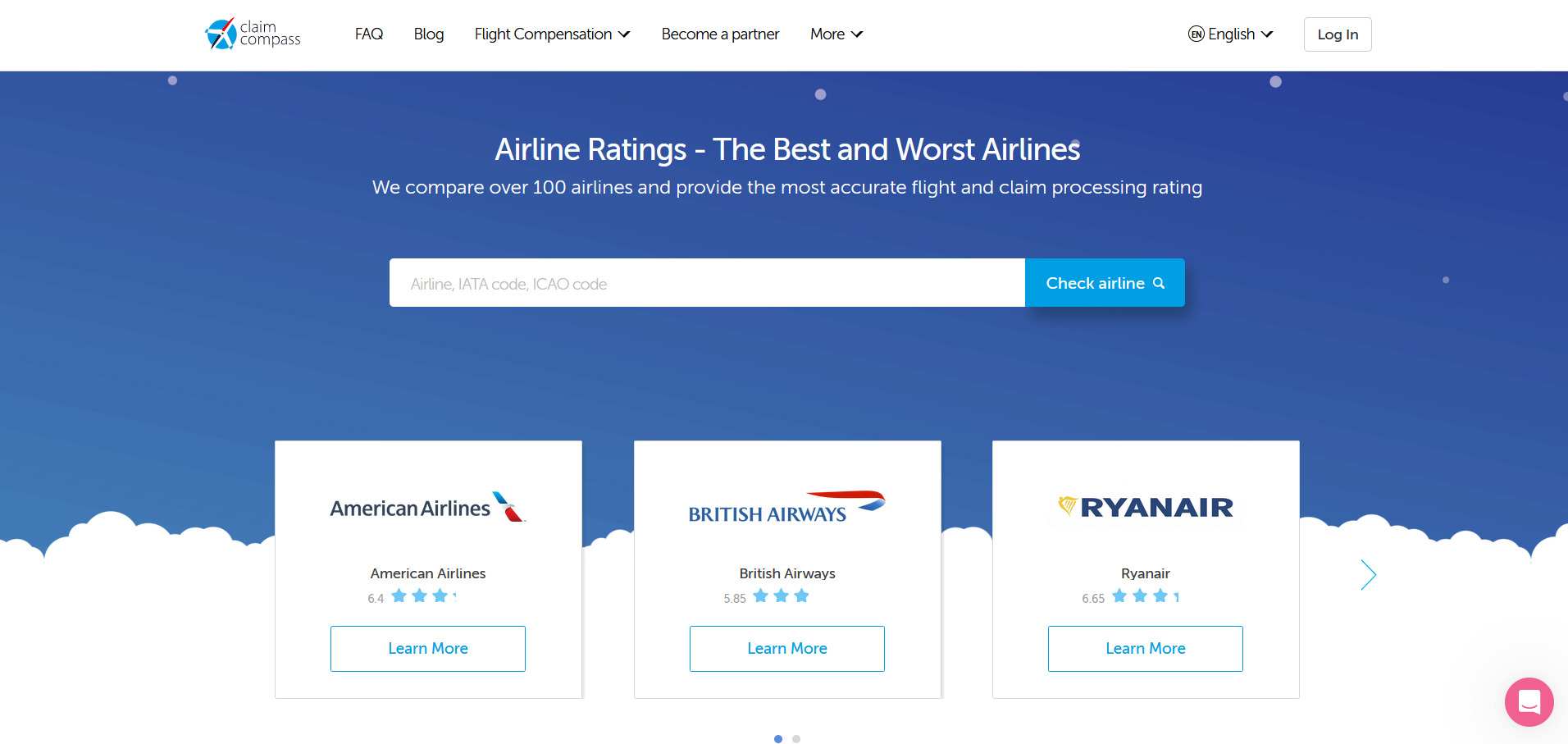 What's Claimcompass Passenger Rights 
Claimcompass is a company that helps air passengers claim compensation for delayed, canceled, and overbooked flights. They are committed to educating passengers about their rights and helping them assert them when they experience travel disruptions. According to Claimcompass, millions of air passengers are entitled to compensation yearly, but less than 2% receive it. 
Claimcompass makes it easy for passengers to claim compensation by providing the necessary information and tools. Their website includes a flight compensation calculator, allowing passengers to check their eligibility for compensation and the potential amount. Claimcompass also has a team of experts who can help passengers with the claims process.
How to Start a Claim
Filing a claim with Claimcompass for any flight disruptions is a process that's both efficient and uncomplicated, making it ideal for all kinds of passengers. It doesn't matter if you're seasoned in dealing with flight issues or if this is your first time; their method ensures a smooth and hassle-free path to obtaining your due compensation.
Let's break down the essential steps you'll follow:
Ease for All: The Claimcompass platform is designed for simplicity, appealing to any traveler.
Straightforward Website Access: To begin, simply visit the Claimcompass website.
Entering Flight Information: You'll need to provide details about the flight that encountered issues.
Step-by-Step Guidance: The process is laid out in easy-to-follow steps.
Clear, Concise Directions: Each stage of the claim is explained with straightforward and brief instructions.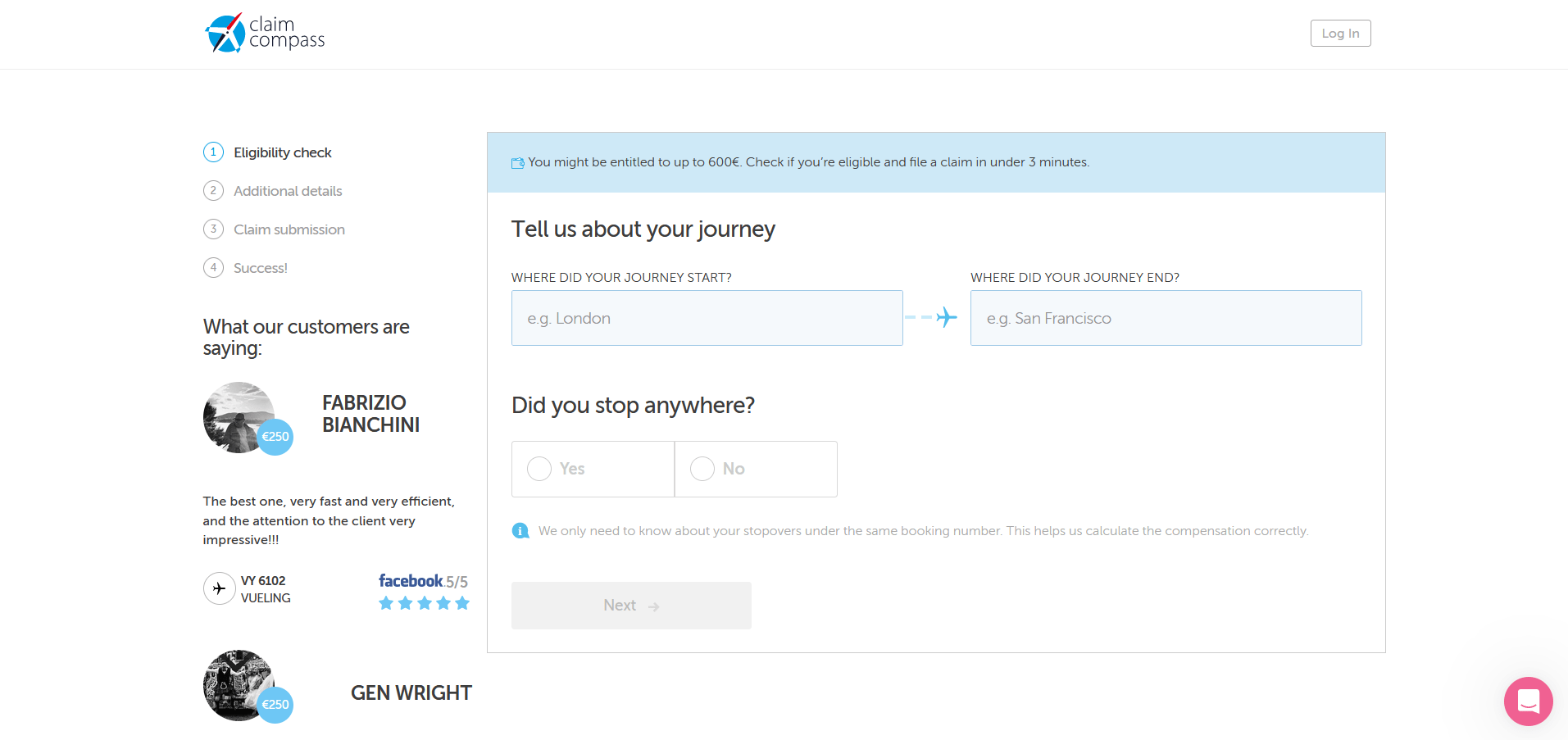 Is Claimcompass Worth It?
Whether Claimcompass is worth using depends on your circumstances. If you've experienced a significant flight delay, cancellation, or overbooking, and you believe you are entitled to compensation, Claimcompass can be a valuable ally. Their expertise and commitment to securing passenger compensation can save you time and effort. It's essential to consider the potential complexities of the compensation process. 
Claimcompass's extensive experience and high success rate can significantly increase your chances of a successful claim, especially in more challenging cases where airlines might initially deny responsibility. With their "no win, no fee" model, trying Claimcompass carries no financial risk, providing a convenient, reliable, and risk-free solution for passengers seeking compensation.
Recommended read: Can I Buy Travel Insurance After Departure?
Embark on a Hassle-Free Relocation and Travel Adventure with Relo.AI!  
🚚
Elevate your relocation experience by tapping into Relo.AI's comprehensive travel and relocation offerings. Our dedicated team is poised to cater to your travel needs, guaranteeing a seamless transition.
Whether you're organizing your flights ✈️ or gearing up for a fresh start in a different city, our specialized relocation services and seasoned guidance will accompany you through life's many journeys. 
Schedule an appointment today to access tailor-made relocation and travel solutions perfectly aligned with your aspirations. 
Final Note
Claimcompass can be a lifesaver for travelers dealing with flight delays, cancellations, or overbookings. Their team of experts, user-friendly platform, and the fact that you only pay if they succeed make it a smart choice for improving your odds of getting the compensation you're entitled to. While not essential for every traveler, it's worth considering when airline hiccups disrupt your plans.
Affiliate Disclosure: This article contains affiliate links. If you purchase them, we may earn a small commission at no additional cost to you. Please be assured that we only recommend products and services that meet our quality standards.