Organizing your vacation can be quite an undertaking, including securing suitable accommodation. Reserving flights and selecting the appropriate rental car or insurance, many people want to simplify the process. In this Expedia travel review, we'll cover what it offers, how it works, benefits, cancellations, ratings, fees, group booking, refunds, prices, deals, and its unique features.
Expedia emerged as a highly regarded platform for securing hotel reservations, flights, and car rentals. How this online travel agency can help you plan your dream getaway and discover the world like never before. Whether you're a seasoned traveler or someone planning their first big trip, read on to unlock the key to seamless and memorable travel experiences.
What is Expedia?
Expedia, a renowned online travel agency, has been assisting travelers in planning and booking their adventures for over two decades since its establishment in 1996. With a presence in over 70 countries through 200 websites, Expedia has solidified its reputation as one of the most prominent and trusted names in the travel industry. This user-friendly platform offers access to over 500 airlines for flight comparisons. 
A broad spectrum of hotels for varying budgets, convenient rental car options, diverse cruise selections, and various activities and tours at destinations worldwide. In 2022, Expedia generated over $11 billion in revenue, helping more than 100 million travelers book their trips. With its commitment to customer satisfaction and a comprehensive suite of travel services.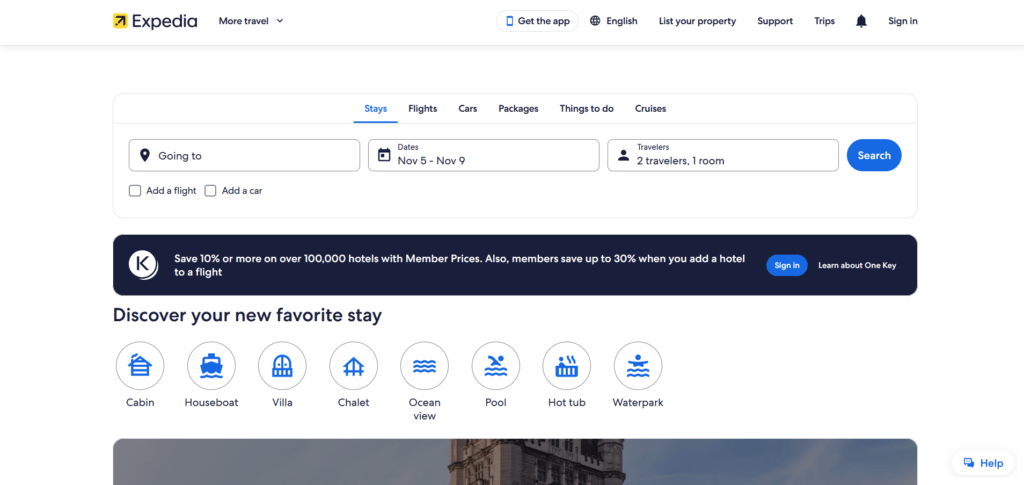 The Benefits of Using Expedia
Expedia offers a multitude of advantages that enhance your overall experience. From the convenience of a one-stop platform to an extensive selection of options, candid user reviews, and a rewarding loyalty program. Expedia empowers travelers to embark on their journeys with confidence and excitement.
Let's delve deeper into these remarkable benefits that make the go-to choice for modern adventurers.
Convenience: These provide a convenient one-stop platform for all your travel needs. Instead of navigating multiple websites or apps, you can effortlessly search for and book flights, hotels, and activities all in one place. This not only saves you valuable time but also simplifies the booking process, making it a stress-free endeavour.
Wide Selection: Expedia's reach extends across the globe, giving you access to an unparalleled and diverse inventory of travel services. Whether planning a relaxing beach getaway, an adventurous hiking trip, or a business excursion offers an extensive selection of options to cater to every traveler's preferences and needs.
User Reviews: Making informed decisions while planning your trip is crucial, and facilitates this with its comprehensive user reviews and ratings. These candid assessments come directly from fellow travelers who have experienced the hotels, flights, and activities you're considering. By perusing these reviews, you gain valuable insights into the quality and amenities.
Reward Program: Expedia goes the extra mile to reward its loyal customers through the rewards program. As you make bookings through the platform, you earn travel rewards that accumulate over time. These rewards can be later redeemed for enticing discounts on future travel expenses. Ensuring that your loyalty translates into tangible savings on your next adventure.
How Does Expedia Work?
Expedia operates through a user-friendly website and mobile app that simplifies travel planning. To book your desired travel services, you start by entering your destination, travel dates, and preferences like the number of travelers and room type. Expedia then presents a list of matching options. This intuitive process ensures you can tailor your travel arrangements precisely to your preferences and needs.
Detailed information, including prices, amenities, and reviews, helps you compare and choose based on your needs and budget. Once you've selected, secure online payments can be made through Expedia's platform. Expedia provides tools for managing bookings, including options for changes or cancellations as needed, ensuring a hassle-free and flexible travel experience.
Popular Ratings of Expedia
Expedia stands out as one of the world's most beloved online travel agencies, and its ratings bear testament to its widespread appeal. On Trustpilot, it boasts a commendable rating of 4.2 out of 5 stars, drawing from an impressive pool of over 200,000 reviews. Meanwhile, on Google Reviews, it shines even brighter with a stellar rating of 4.3 out of 5 stars, culled from an astounding one million reviews. 
Travelers the world over have heaped praise upon Expedia for its intuitive interface, extensive array of options, and competitive pricing. Top-notch customer service, and overall ease of use, with such a deluge of positive feedback and a substantial number of reviews. It's clear that Expedia has garnered the unwavering trust and satisfaction of a vast global community of travelers.
Expedia Cancellation Policy
Expedia recognizes that travel plans often come with unexpected twists. They've crafted their cancellation policy to adapt to these changing situations. The specific cancellation guidelines can differ depending on the service provider you've opted for. It's crucial to carefully examine the cancellation terms and conditions linked to your reservation. Expedia simplifies the cancellation process for its customers.
They have thoughtfully incorporated a user-friendly cancellation portal directly on their website. Making it incredibly straightforward to handle cancellations should the need arise. This high level of flexibility ensures that travelers have all the essential information and tools at their fingertips. Offering them a sense of security and confidence when making reservations through Expedia.
Does Expedia Charge for Booking? How Much Are Expedia Fees?
Expedia does not charge a booking fee for most of its services, but it does earn a commission from the providers when you make a booking through its platform. This commission is typically 15-30% of the total booking cost. But it can vary depending on the type of service you book and the provider. It is important to note that these fees are not always disclosed upfront. 
In some cases, you may only see the total price of your booking, including the commission, once you have reached the checkout page. For instance, if a hotel room costs $100 per night. Booking through Expedia might add a 15% commission, making it $115 per night, meaning customers pay an extra $15 per night by using Expedia. Nonetheless, prices are usually competitive with direct bookings from service providers.
Here is an example of some of the most common fees:
| | |
| --- | --- |
| Service | Fee |
| Flights | 0-3% commission |
| Hotels | 15-30% commission |
| Rental cars | 10-20% commission |
| Activities and attractions | 5-15% commission |
The following summarizes some of the most common fees associated with various services. The commission rates can vary depending on the type of service you book through Expedia.
Expedia Groups and Meetings
Expedia extends a valuable group booking feature, catering to the needs of business travelers or individuals planning group outings. With this feature, you can seamlessly secure multiple hotel rooms, flights, or other essential travel services for your group through Expedia's user-friendly platform. By doing so, Expedia streamlines the intricate process of coordinating and organizing group travel arrangements. 
Ensuring a hassle-free experience for all members involved. Making it a handy tool for corporate travel planners and those seeking the convenience of booking multiple reservations in one go. Whether arranging a business conference or a family reunion, Expedia's group booking feature simplifies the logistics. Leaving you more time to focus on enjoying the journey together.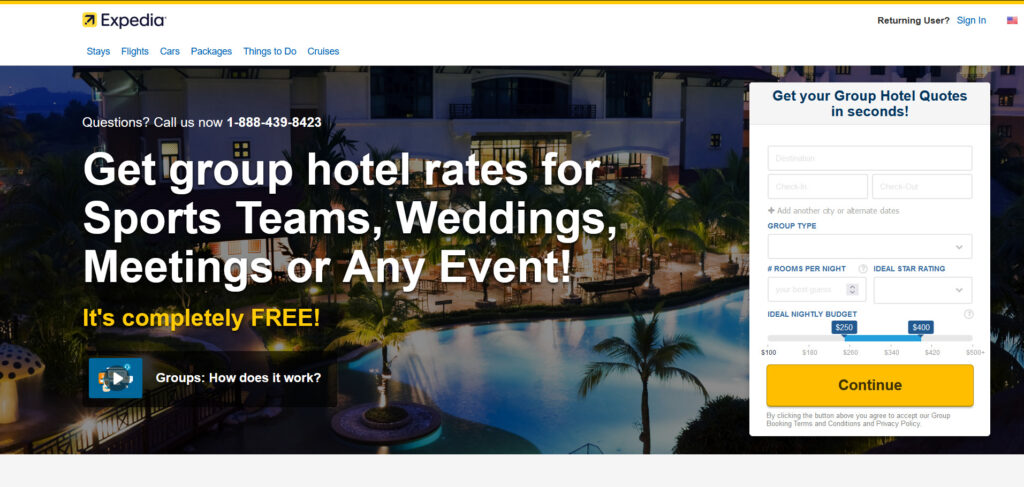 Does Expedia Give Refunds for Hotel Cancelations?
Expedia's hotel cancellation refund policies are contingent upon the individual cancellation policy of the hotel you've selected for your booking. It's imperative to carefully scrutinize the terms and conditions of your reservation prior to confirming it. This will furnish you with a comprehensive understanding of the hotel's cancellation and refund policies. 
Expedia prioritizes transparency in this regard; they make sure to provide detailed information about the hotel's cancellation policy during the booking process. Ensuring that travelers are fully informed and can make well-informed decisions when finalizing their reservations. This transparency empowers travelers to navigate any potential cancellations with confidence and clarity.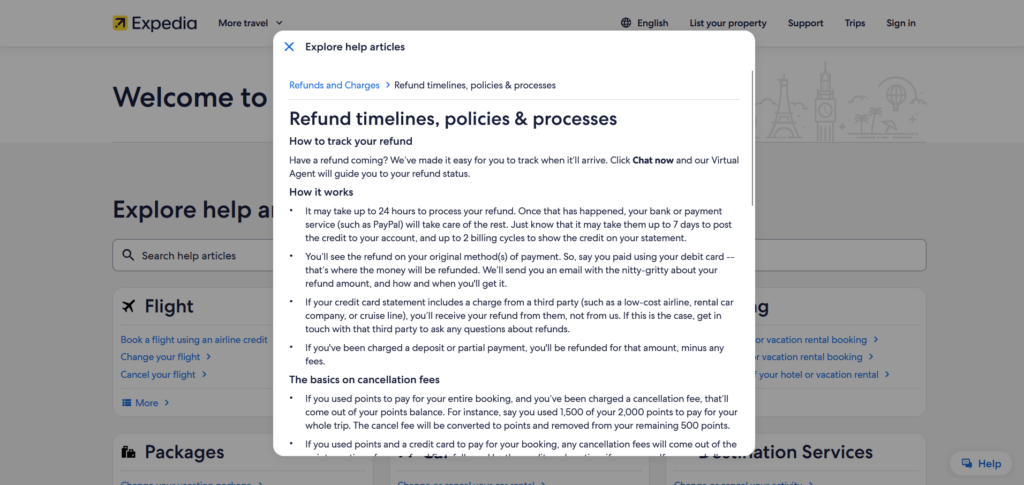 Is Expedia Worth It?
Determining whether Expedia is worth it largely hinges on your specific travel preferences and requirements. For those who prioritize convenience, seek access to an extensive array of travel services. Wishing to unlock the potential for savings through exclusive deals, Expedia is a compelling option that warrants your attention. Many travelers attest to Expedia's value in their journey planning and booking.
Particularly when on the lookout for budget-friendly alternatives and the ability to efficiently compare prices across a diverse range of options comprehensively. The worthiness of Expedia is intrinsically tied to your unique travel goals and priorities. Making it a versatile platform that caters to a broad spectrum of travelers, ensuring a seamless and personalized hotel booking experience.
Best Deals of Expedia
Expedia consistently presents alluring deals and promotions that cater to travelers seeking to economize on their adventures. These enticing offers encompass a spectrum of discounts, spanning from reduced airfare and discounted hotel accommodations to comprehensive vacation packages and beyond. Expedia often provides special seasonal promotions, such as summer getaways or holiday discounts.
It is advisable to adopt a proactive approach by routinely monitoring Expedia's website for real-time updates or subscribing to their newsletter. By doing so, travelers can stay informed about the latest discounts and promotions. Ensuring that they secure the best possible value for their travel experiences while also gaining access to exclusive member-only deals. This proactive approach enhances the overall travel planning process.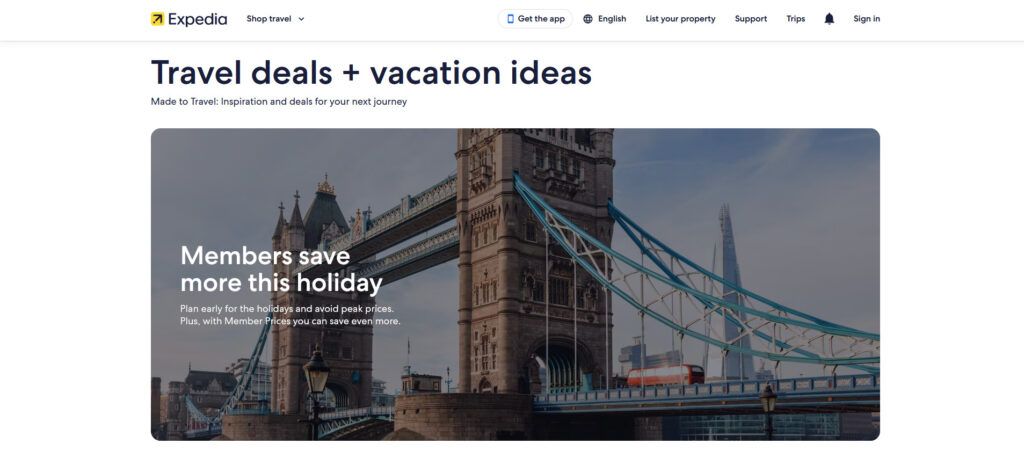 Is It Worth Exploring Expedia?
Absolutely! Expedia is an excellent resource for travelers, whether you're a beginner or a seasoned explorer. They offer a wide range of travel services and competitive prices, all wrapped up in a user-friendly platform. You can access a vast selection of travel options from around the globe, ensuring you'll find something that suits your preferences. 
Whether you're planning a relaxing vacation, a busy business trip, or an exciting group adventure. Their user-friendly interface streamlines the booking process and their loyalty program. Expedia Rewards opens the door to potential savings and perks. On top of that, their responsive customer support is there to assist with any travel-related questions or concerns you might have.
Experience a Seamless Relocation and Travel Journey with Relo.AI
Enrich your relocation journey with the help of Relo.AI's extensive travel and relocation solutions. Our trained team is here to address your travel arrangements, ensuring a smooth and seamless transition. Whether you're arranging flights or planning a move to a new city, our specialized relocation services and expert advice will assist you throughout various stages of life. 
Book an appointment with us today to access personalized relocation and travel solutions that align perfectly with your goals.
Get in touch with us now to confidently embark on your relocation journey, making informed decisions every step of the way. 
To Sum Up
Expedia is a valuable resource for travelers seeking convenience, competitive pricing, and a wide selection of travel services. With its user-friendly platform, extensive network of providers, and reputation for customer satisfaction, Expedia has earned its place as a trusted name in the travel industry. Expedia is a reliable choice for all your travel needs, whether you're an experienced globe-trotter or a first-time adventurer.
Plus, its loyalty program, Expedia Rewards, sweetens the deal by offering points that can lead to additional savings on your future travels. Whether planning a solo adventure, a family vacation, or a business trip, Expedia offers the tools and options to make your travel dreams a reality. So, next time you're planning an adventure, consider Expedia as your ultimate resource for booking.
Affiliate Disclaimer: In this article, you will find affiliate links. Should you choose to buy through these links, we may receive a modest commission with no extra charges to you. Rest assured, our recommendations are solely for products and services that meet our rigorous quality criteria.