Keeping a tight grip on your finances is more important than ever. We're zipping through a dynamic and ever-shifting economy. Getting a solid grip on your cash flow is key to hitting your life goals and ensuring a cozy and secure financial cushion down the line. We're diving into a PocketSmith review to understand whether this tool is the right fit for your wallet's needs.
The market's brimming with apps and platforms promising to put you in the driver's seat of your finances, prepping you for what's ahead. Standing tall among the crowd is PocketSmith, known for its feature-packed service and a fresh take on managing your dough. Let's walk through what PocketSmith brings to the table and how it might streamline the monetary maze for folks and families alike.
What is PocketSmith?
PocketSmith is a robust financial management platform created to empower individuals and households to take charge of their finances. Established in 2008 and headquartered in New Zealand. This company has steadily expanded its user base by providing a suite of potent tools. The tools for budgeting, tracking expenses, forecasting financial trends, and mapping out long-term financial goals.
It boasts a user community exceeding 1 million worldwide, offers support for more than 15,000 financial institutions, and is accessible in 15 languages. It proudly holds the top spot as the #1 personal finance app, according to Lifehacker. Consistently high user satisfaction ratings underscore the platform's effectiveness and reliability with an unwavering commitment to innovation and a user-friendly interface.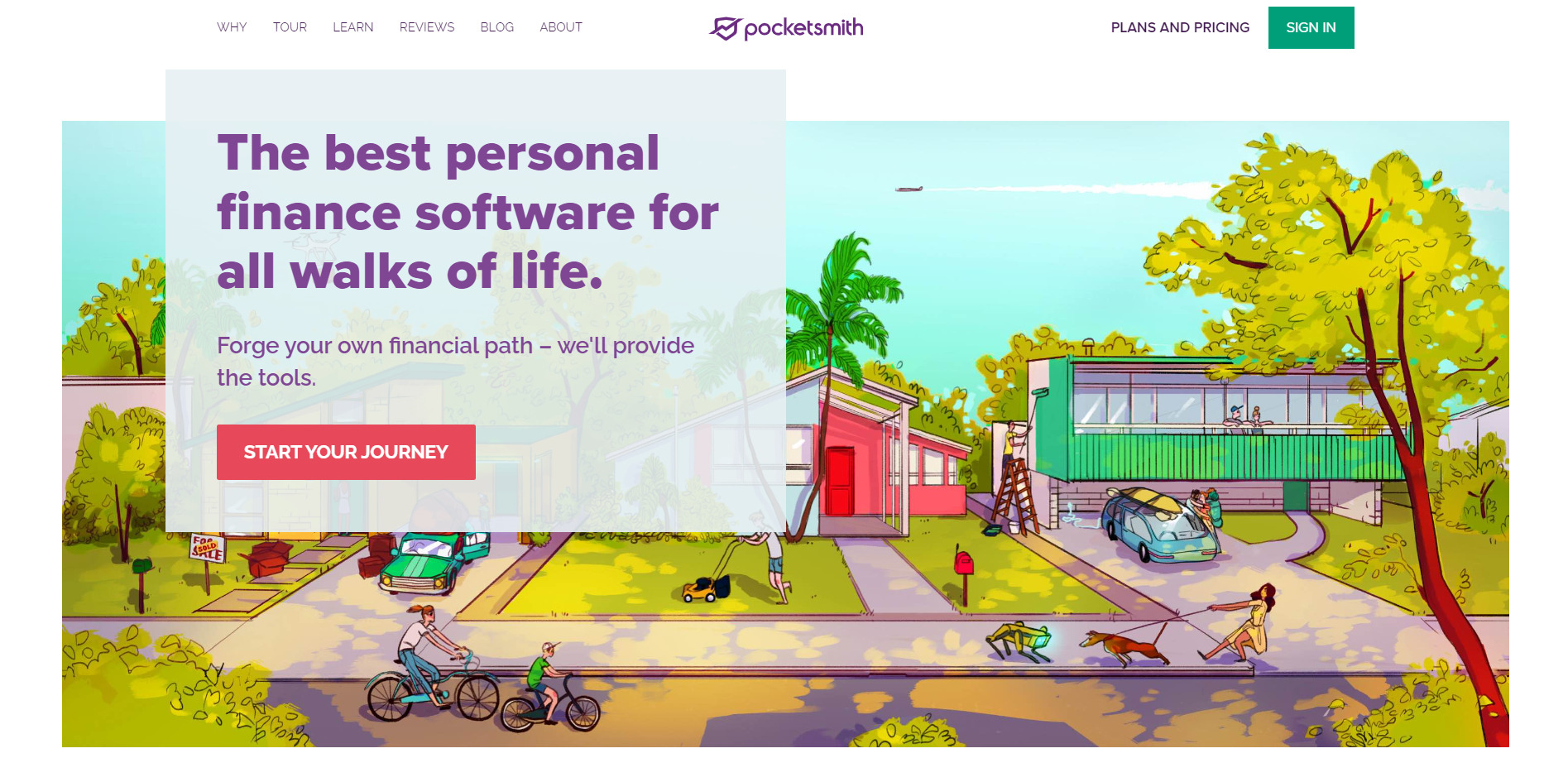 How PocketSmith Works
PocketSmith operates on a straightforward yet powerful principle. It seamlessly connects to your bank, credit card, and other financial accounts to automatically collect your transaction data. Once your accounts are linked, the platform takes care of categorizing your expenses, income, and assets, providing you with a holistic view of your financial status. All of this is presented within a secure and user-friendly interface.
At the heart of PocketSmith's functionality lies its unique calendar-based budgeting system. This innovative approach enables you to visualize your financial future by projecting your bank balances ahead. Based on your historical spending patterns and budget adjustments. It serves as a valuable tool for answering important financial questions, such as "Can I afford that vacation next month?" or "When will I achieve debt-free status?"
PocketSmith Features
PocketSmith offers many features designed to help you manage your finances effectively and plan for a secure financial future. Whether you're a budgeting beginner or a seasoned financial pro. PocketSmith's versatile tools can assist you in achieving your financial goals and gaining greater control over your money.
Now, let's explore some of the remarkable features that truly make PocketSmith an invaluable financial companion:
Multiple Account Integration: PocketSmith supports integration with a wide range of financial institutions, making it easy to link all your accounts in one place. It includes bank accounts, credit cards, investment portfolios, and even cryptocurrency accounts. With all your financial data in a single dashboard, you can get a comprehensive view of your financial health.
Calendar-Based Budgeting: One of PocketSmith's most notable features is its calendar-based budgeting system. With this innovative approach, you can set up recurring expenses and income. Factor in irregular expenses, and visualize your financial health projected into the future. It helps you make informed decisions about your spending.
Reports and Analytics: PocketSmith offers a variety of reports and charts that make it easier to understand your financial situation. Whether you want to track your income versus expenses, monitor your net worth over time, or analyze specific aspects of your finances. These visualizations provide valuable insights into your financial progress.
Import from Mint.com: For those transitioning from Mint.com, PocketSmith offers the convenience of importing your financial data seamlessly. This feature simplifies the migration process, allowing you to continue managing your finances within PocketSmith while retaining your historical financial information. It's a valuable feature for users transitioning to a new platform.
How Much Does PocketSmith Cost?
When it comes to managing your finances effectively, understanding the cost of a financial tool is a crucial aspect of your decision-making process. PocketSmith offers a range of pricing plans to accommodate various financial needs. Whether you're a seasoned financial expert, a household CFO, or a casual budgeter, PocketSmith has a plan tailored to your requirements. 
Below, we'll break down the pricing options and key features of each plan to help you determine which one aligns with your financial goals:
| | | |
| --- | --- | --- |
| Plan Type | Monthly Price (USD) | Key Features |
| Fortune (Expert) | $26.66 | Comprehensive financial tools |
| Household CFO | $16.66 | Suitable for managing household finances |
| Financial Tracker | $9.99 | Tracking expenses and financial trends |
| Free | $0 | Automatic bank feeds, manual imports, 2 dashboards, 12 budgets, 2 accounts, 6 months projection at no cost |
PocketSmith offers a variety of plans to cater to different financial needs, ensuring accessibility for both experienced users and beginners. Keep an eye out for occasional discounts on annual subscriptions to enhance affordability.
Which Plan is Right for You?
The ideal PocketSmith plan for you hinges on your specific requirements. If you're new to budgeting, the Basic plan is an excellent starting point. For those seeking broader financial tracking capabilities or access to additional features, the Premium plan is a solid choice. It offers an enhanced financial management experience. The Super plan offers comprehensive financial tools for effective management.
It's the ultimate choice for those who want the most robust financial management solution available. Ultimately, your choice should align with your financial goals and the level of detail and control you want over your financial management. Ensuring you get the most out of PocketSmith's offerings. Selecting the right plan can help you achieve greater financial stability and success.
Signing Up with PocketSmith
Getting started with PocketSmith is a straightforward process. Sign up for a free account to explore the basic features and decide if it suits your needs. To unlock the full potential of PocketSmith, you can upgrade to a paid plan at any time, giving you even more tools for effective financial management. The platform is accessible via web browsers, and there are also mobile apps available for iOS and Android devices. 
Allowing you to manage your finances on the go. This flexibility ensures that whether you're at your desk or on the move. PocketSmith is there to assist you in keeping your finances in order and accessible at your convenience. With its user-friendly interface and cross-platform accessibility, PocketSmith makes financial management a seamless part of your daily routine.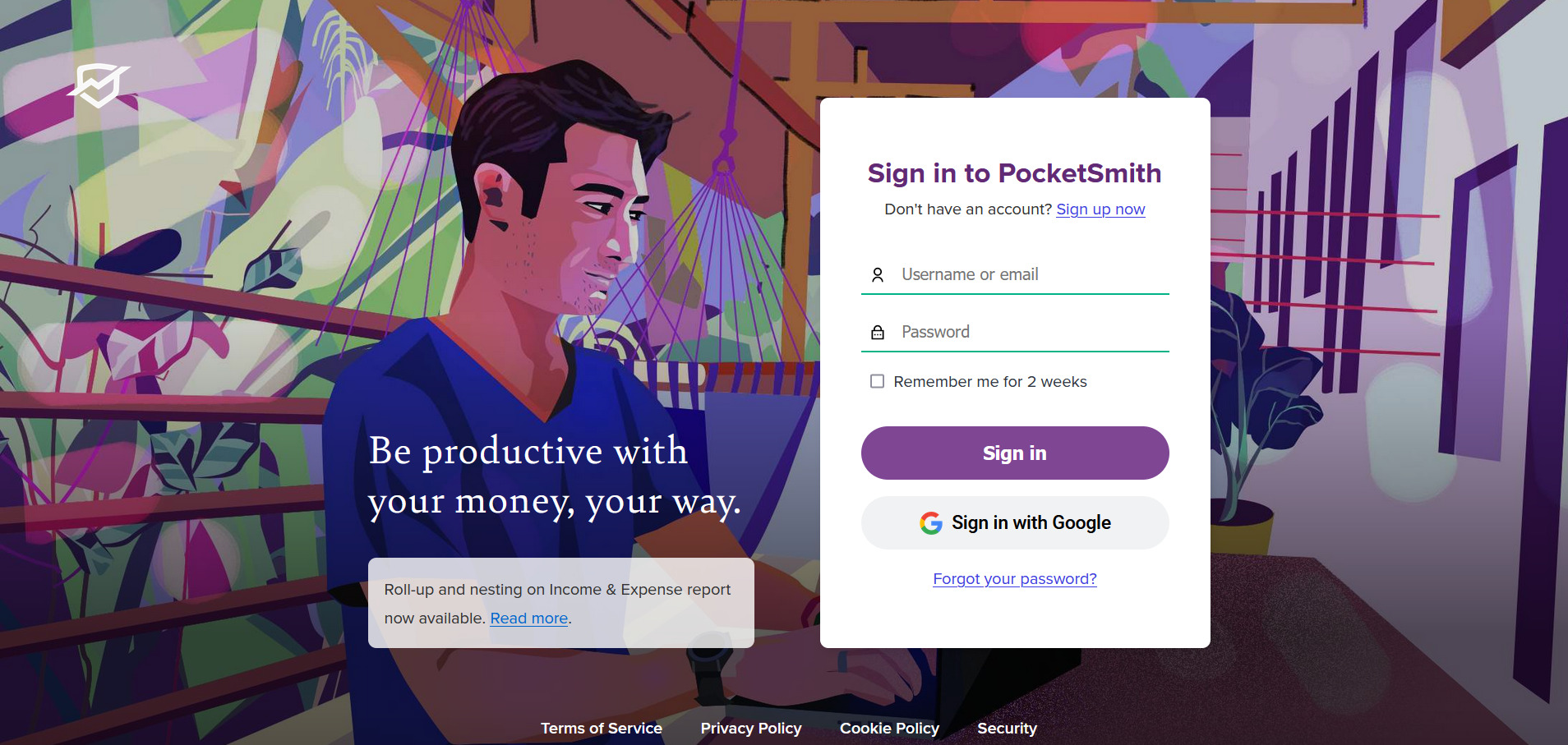 Is PocketSmith Safe?
Yes, Safety is paramount at PocketSmith, and they've taken extensive measures to protect your financial data. Using bank-level encryption, they ensure that your information is shielded from unauthorized access. It's essential to note that PocketSmith is read-only, meaning it can view your financial information but can't perform transactions on your behalf. Ensuring your money remains completely under your control.
This commitment to safeguarding your financial information makes PocketSmith a trusted choice for those prioritizing the security of their financial data. PocketSmith frequently updates its security protocols to stay ahead of emerging threats, giving users peace of mind as they manage their finances online. PocketSmith offers strong customer support and educational resources to enhance user security.
Should You Give PocketSmith a Try?
When deciding if PocketSmith is the right choice for you, it comes down to your financial goals and what you need. If you're in search of a comprehensive and user-friendly tool to streamline your financial management, PocketSmith is definitely a contender. What sets it apart from many other personal finance apps is its unique calendar-based budgeting system and seamless integration with numerous financial institutions.
PocketSmith's inclusivity in offering its services in multiple languages ensures a wider audience can tap into its powerful features, making it a global option. Its adaptability across various devices, from web browsers to mobile apps, empowers you to manage your finances with ease from virtually anywhere in the world. This level of accessibility delivers convenience and flexibility, serving users across the globe.
Elevate Your Financial Journey with PocketSmith
In the ever-evolving landscape of personal finance, having a comprehensive and secure financial tracking solution is essential. PocketSmith, highly regarded in this domain, serves as your trusted companion on this financial voyage. 💼
Whether you are a budgeting enthusiast, a financial expert, or somewhere in between. These versatile features and user-friendly interface assist you every step of the way. 
On the other hand, if you are relocating for a new home or new place, Fix a meeting with us today for tailored relocation and finance solutions.
Get in touch today to start your relocation adventure with assurance and knowledgeable choices. 🚚
In Summary
PocketSmith is a robust financial management platform that empowers you to regain control of your financial journey. Offering an array of features, including multiple automated expense tracking, precise financial forecasting, and personalized goal-setting capabilities. It provides a holistic solution suitable for individuals and households of all financial backgrounds.
What sets PocketSmith apart, as highlighted in the PocketSmith Review, is its unwavering commitment to security and its user-friendly interface. These features make it an attractive option for anyone seeking to enhance their financial management. While pricing plans are available at various levels, the value that PocketSmith brings to the table is undoubtedly worth exploring.
Affiliate Disclosure: This article contains affiliate links. If you purchase them, we may earn a small commission at no additional cost to you. Please be assured that we only recommend products and services that meet our quality standards.