Relocating can be a daunting task, whether it's just across town or to an entirely new city. The stress of packing, organizing, and ensuring a smooth transition can be overwhelmingly stressful. That's where domestic relocation services come in, offering a helping hand to make your move seamless and stress-free.
With their expertise and commitment to making your transition as easy as possible, these services are your partners in ensuring a successful move. So, say goodbye to relocating-related headaches and let domestic relocation pave the way to your new beginning. You can embrace the excitement of a fresh start with confidence.
What Are Domestic Relocation Services?
Domestic relocation, professional relocation, and logistics companies specializing in assisting individuals. Families with household moves within the same country are on the rise. The global domestic relocation services market is projected to reach a staggering $37.3 billion by 2027. In the United States, the average cost of a domestic relocation is approximately $4,830.
People move domestically for various reasons, with a primary focus on new job opportunities (49.3%), proximity to family (20.5%), and retirement (11.1%). Notably, Texas, Florida, California, Arizona, and North Carolina are the most sought-after destinations for domestic relocations in the United States. These services are well-equipped to handle both local and long-distance moves, ensuring a seamless transition for their clients.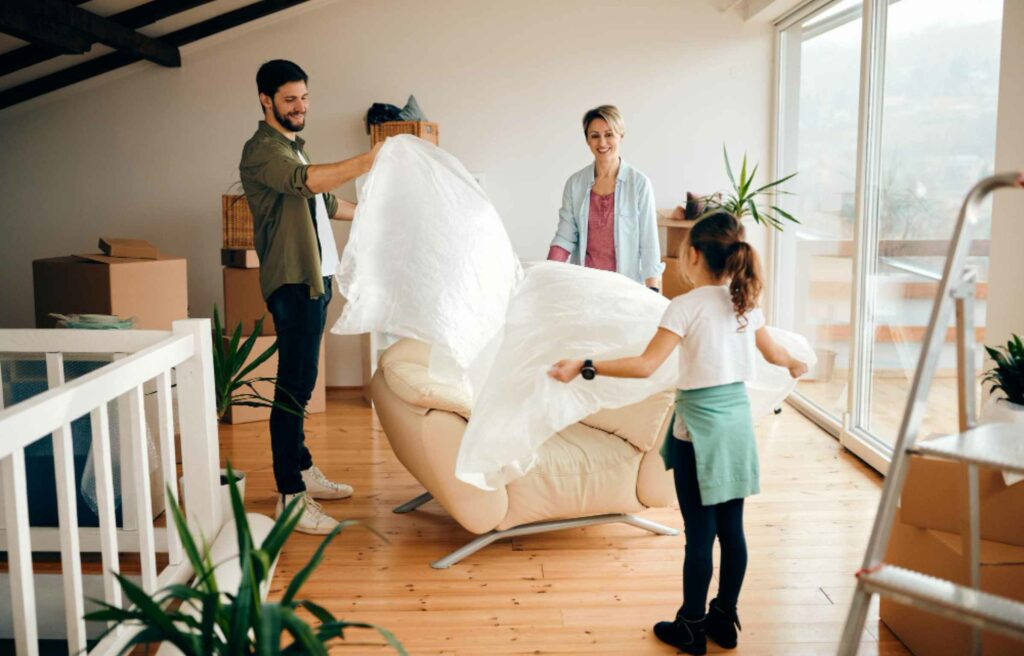 The Benefits of Domestic Relocation Services
Relocating to a new home, whether it's across town or to a different state, can be an exciting yet challenging experience. The process involves a multitude of tasks, from packing and transporting belongings to navigating the logistics of relocating day. 
Let's explore some of the significant benefits of using domestic relocation:
Expertise and Experience: One of the primary advantages of hiring domestic relocation services is their expertise and experience in handling all aspects of a move. These professionals have undergone rigorous training and have extensive experience in planning, packing, loading, transporting, and unpacking belongings. Their knowledge ensures that your move is executed efficiently and effectively.
Time Efficiency: Relocating can be a time-consuming process, especially if you attempt to do everything on your own. Domestic relocation streamlines the entire process, saving you a significant amount of time. They have a well-defined plan and the necessary resources to complete your move swiftly, allowing you to focus on other important aspects of your transition.
Stress Reduction: Relocating can be a stressful experience, with numerous logistical challenges and the fear of items getting damaged during transport. Domestic relocation can significantly reduce this stress. They handle the most challenging aspects of your move, from heavy lifting to navigating traffic, leaving you with peace of mind.
Professional Packing: Packing is a crucial part of any move, and it requires careful attention to detail to ensure your belongings arrive intact. Domestic relocation offers professional packing services, utilizing high-quality packing materials to protect your items. They know how to pack fragile and valuable items to minimize the risk of damage.
The Costs of Domestic Relocation 
Domestic relocation costs can vary significantly based on factors like distance, volume of belongings, service level, and the time of year. On average, in the United States, homeowners can expect to pay between $7,200 and $9,700 for their move. While renters may incur costs ranging from $19,000 to $24,000. Local moves tend to be more budget-friendly, while long-distance relocations come with higher transportation expenses. 
Opting for full-service moves, which encompass packing, loading, transportation, and unpacking, typically incurs greater fees compared to self-service options. It's crucial to gather multiple quotes from reputable relocation companies. Consider the season of your move; peak relocating times, like summer and early fall, often result in elevated prices and limited availability.
Also read: Expert Relocation Counseling: Navigating Smooth Transitions for a Seamless Move
Key Insights into Domestic Relocation Insurance
Professional relocating companies often provide domestic relocation insurance. Offers essential protection for your belongings during the transition to your new home, covering potential damage or loss that can occur during transportation. This insurance typically comes in various forms, including full value protection and released value protection, each with its own coverage level and cost considerations.
The average cost of domestic relocation insurance is around $500. Common claims include damage to furniture, electronics, and appliances, with an average claim amount of approximately $2,000. It's crucial to carefully review and understand the insurance options offered by your chosen relocation service. Consider any extra coverage required to protect your belongings during the move fully.
Top Destinations for Domestic Relocations in the U.S.
The United States boasts a diverse landscape of vibrant cities and scenic regions, making it a top destination for domestic relocations. Cities like New York City, with its iconic skyline and endless job relocation opportunities, and Los Angeles. Known for its entertainment industry and year-round sunshine, continues to draw people seeking a change of scenery. San Francisco and Seattle's tech hubs attract innovative professionals.
At the same time, the Southern charm and affordable housing markets in places like Austin and Nashville make them appealing choices for those seeking a more relaxed pace of life. The picturesque landscapes of Colorado, the cultural richness of New Orleans, and the beachfront beauty of Miami all offer unique experiences for those considering a domestic relocation within the U.S.
Here is a following of the top cities for each profession in the U.S.:
| | |
| --- | --- |
| Profession | Top City |
| Software Engineer, Data Scientist, and Product Manager | San Francisco, CA |
| Marketing Manager | New York, NY |
| Sales Manager | Chicago, IL |
| Financial Analyst | New York, NY |
| Accountant | Houston, TX |
| Nurse | Los Angeles, CA |
| Teacher | Dallas, TX |
| Lawyer | New York, NY |
| Doctor | Houston, TX |
This following is based on a variety of factors, including job growth, salaries, and cost of living. It is important to note that these are just general trends, and there are many other great cities for each profession.
How to Choose the Right Domestic Relocation Service
When it comes to planning your move, choosing the ideal domestic relocation is a pivotal relocation decision. These experts bring a wealth of knowledge, years of experience, and the necessary resources to make your move smooth and stress-free. It's essential to consider factors such as their reputation, track record, the range of services they provide, insurance options, and the overall cost.
A dependable relocation service not only simplifies the process but also instills confidence in your move. They meticulously handle all the logistics with a high degree of care and professionalism. Their adeptness extends to professional packing and secure transportation, ensuring the safety of your cherished possessions during the entire journey. It not only prevents damage but also reduces accident risks.
Recommended read: Corporate Housing Requirements: Essential Factors for a Seamless Transition
The Future of Domestic Relocation Services! 
At Relo.AI, we are dedicated to empowering individuals as they embark on a new chapter in life. Our innovative solutions are specifically designed to meet the diverse needs of individuals seeking assistance in their journey through relocation.
Elevate your transition with our comprehensive services:
Professional guidance for optimizing your relocation strategy.

Streamlined and secure methods to simplify your move.

Tailored solutions for those looking for a smoother transition.

Navigate this life change confidently with our all-encompassing support.
Explore our domestic relocation services and schedule a consultation to discover how we can enhance your transition during this crucial phase of life.
Contact us today and embark on a fulfilling journey toward a seamless domestic relocation! 🏠
Bottom Line
Domestic relocation services offer a lifeline to individuals and families embarking on a move. Their expertise, personalized solutions, and commitment to safety and security make the relocating process significantly more manageable and less stressful. Trusting them with your relocation needs ensures a smooth transition to your new home.
By carefully selecting the right domestic relocation service provider for your needs, you can ensure a seamless and hassle-free transition to your new home. So, the next time you plan a move, consider enlisting the help of these experienced professionals to make your journey from one place to another a smooth, efficient, and stress-free experience.