The landscape of work has changed dramatically in recent years, with remote work becoming the new norm for many professionals. This shift has led to a rise in the popularity of remote work hotels, which offer a unique blend of comfortable accommodations and well-equipped workspaces, redefining the traditional office space.
In this article, we'll explore 10 exceptional remote work hotels around the world that provide the perfect environment for a productive and enjoyable work-from-anywhere experience, allowing you to seamlessly transform your workday into a globetrotting adventure and redefine the boundaries of your workplace.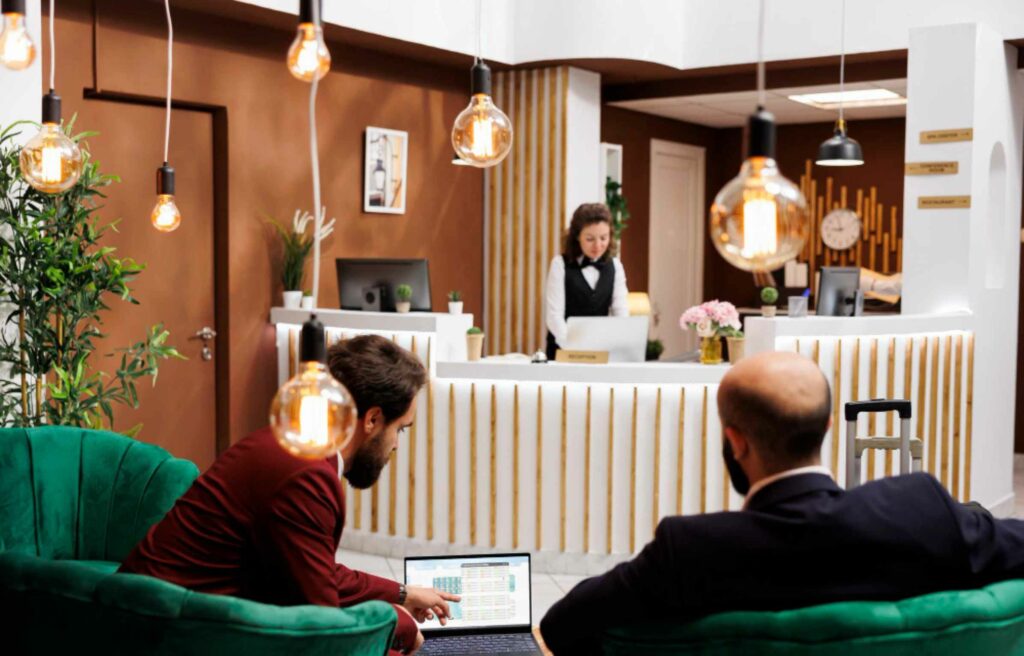 The Ritz-Carlton Bali offers a remote work experience like no other. With spacious rooms overlooking the Indian Ocean, high-speed Wi-Fi, and dedicated workspaces, this luxurious resort combines business with leisure seamlessly. You can work from your private balcony while enjoying breathtaking sunsets. The Ritz-Carlton, Bali, is a 5-star luxury hotel known for its stunning clifftop and beachside setting.
It offers various room types, including suites and villas, all spacious and well-appointed. The hotel boasts a private beach, multiple dining options, a spa, a kids club, and even a glass-enclosed wedding chapel popular for Bali weddings. Its strong reputation for excellent service and amenities ensures that your remote work experience here will be nothing short of exceptional.
For Remote Work: 

High-speed Wi-Fi, dedicated workspaces, and stunning ocean views.

Price Range: 

$300 – $600 per night

Location:

 Nusa Dua, Bali, Indonesia

Star Rating: 

5 stars

Guest Rating: 

4.8/5
The Assemblage John Street in NYC isn't just another space; it's a vibe. It's a fantastic blend of co-living and coworking spaces tailored for the passionate creatives out there. Imagine a place where you can crash, work, and thrive with a tribe that gets you. Whether you prefer collaborative hubs, quiet corners, or rooftop relaxation with city views, The Assemblage John Street has it all.
With perks like lightning-fast Wi-Fi, on-demand printing, and a top-notch fitness center, you've got everything to make your work-from-anywhere journey smooth and fun. Whether you're a seasoned remote worker or embarking on this new adventure, The Assemblage John Street might just be your next best move. Experience the synergy of work and community in the heart of New York City.
For Remote Work:

 Coworking spaces, communal areas, and rooftop gardens for networking and collaboration.

Price Range: 

$150 – $350 per night

Location:

 New York City, New York, USA

Star Rating:

 4 stars

Guest Rating: 

4.5/5
Nestled in the heart of Austin's South Congress neighborhood, the Hotel San Jose is more than just a place to stay. It's a haven for remote workers craving a blend of serenity and creativity. Imagine working in a boutique space, where each of its 40 rooms tells a different tale through a medley of vintage charm and modern flair. Imagine breaks in a lush courtyard with a pool, hot tub, and fire pit, perfect for relaxation and reflection.
The hotel's buzzing bar and restaurant come alive, often graced by the melodies of live music. Here, work meets play, creativity intertwines with relaxation, and the vibrant rhythm of Austin's music and tech scene is just outside your door. At Hotel San Jose, remote work isn't just productive—it's inspired, making it the perfect destination for the modern nomadic professional.
For Remote Work: 

Stylish courtyard and rooms, proximity to Austin's tech and music scene.

Price Range: 

$200 – $400 per night

Location:

 Austin, Texas, USA

Star Rating:

 4 stars

Guest Rating:

 4.6/5
Belmond Mount Nelson Hotel in Cape Town is the perfect destination for remote workers looking to combine work and adventure. Built in 1899 and located just steps from Table Mountain and the Company's Gardens, it offers an iconic backdrop for remote work. With 209 luxurious rooms and suites, high-speed internet, and elegant workspaces, you'll find everything you need for a productive workday.
In your downtime, immerse yourself in the rich history of this hotel, indulge in rejuvenating spa treatments, or enjoy the heated outdoor pool. Known for its excellent service and hospitality, Belmond Mount Nelson Hotel ensures that your work-and-play experience at one of the finest remote work hotels worldwide is both memorable and highly productive amidst stunning landscapes.
For Remote Work:

 Spacious rooms, high-speed internet, and elegant workspaces amidst breathtaking landscapes.

Price Range:

 $250 – $550 per night

Location:

 Cape Town, South Africa

Star Rating:

 5 stars

Guest Rating:

 4.9/5
Tulum's bohemian charm makes it an appealing location for remote work, and Selina CoLive & CoWork provides an exceptional environment for remote work hotels. Located in Tulum, Mexico, renowned for its stunning beaches, Mayan ruins, and laid-back atmosphere, this hotel offers a range of accommodations, from dorms to private rooms and suites, all equipped with Wi-Fi and essential amenities.
The 24/7 coworking space features high-speed Wi-Fi, ergonomic desks, and comfortable seating. Beyond work, guests can relax in the pool, savor culinary delights at the restaurant and bar, and rejuvenate at the yoga studio. What sets Selina CoLive & CoWork apart is its vibrant community of digital nomads and unwavering commitment to sustainability, creating a holistic and inspiring work-travel experience in Tulum.
For Remote Work:

 Beachfront accommodations, co-working spaces, and a vibrant digital nomad community.

Price Range:

 $100 – $250 per night

Location: 

Tulum, Mexico

Star Rating:

 3 stars

Guest Rating:

 4.3/5
Recommended read: Top 7 Digital Nomad Podcasts: Inspiring Your Remote Work and Travel Journeys
For a remote work experience that's truly out of this world, the Four Seasons Resort in Bora Bora is an excellent choice. This luxurious resort boasts 107 guestrooms, including 100 overwater bungalows and 7 beachfront villas, providing a variety of accommodation options. Dining is a delight with four distinct outlets offering fine dining, international, Polynesian, Asian, and grill/beach bar cuisines. 
The resort also offers a 70 sqm meeting room, ensuring you have the perfect space for any business needs. Strong Wi-Fi throughout the resort keeps you seamlessly connected, and dedicated workspaces are available in select overwater bungalows and beachfront villas, offering productive remote work communication and environment amidst breathtaking surroundings.
For Remote Work:

 Overwater bungalows, strong Wi-Fi, and a paradise-like setting for remote work.

Price Range: 

$1,000 – $2,500 per night

Location:

 Bora Bora, French Polynesia

Star Rating: 

5 stars

Guest Rating: 

4.7/5
The Rokxy Hotel in London isn't just another place to stay; it's an experience. Nestled in the heart of the city, this hotel is a haven for remote workers, seamlessly blending style with comfort. From its trendy design to snug workspaces, not to mention an outstanding restaurant, it's got everything to make your work-leisure combo in the bustling city just right. 
With 150 beautifully designed rooms, you're spoiled for choice during your stay. Their lightning-fast Wi-Fi has got you covered as you wander the lively streets of London. And with its prime location, all the key business spots and iconic sights are just a stone's throw away. So, whether you're in meetings or exploring the city's landmarks, The Rokxy Hotel seamlessly blends work and pleasure.
For Remote Work:

 Chic design, cozy workspaces, and a fantastic restaurant in the heart of London.

Price Range:

 $200 – $450 per night

Location: 

London, United Kingdom

Star Rating:

 4 stars

Guest Rating:

 4.5/5
Related Post: 10 Best Websites To Find Remote Jobs in 2023
Casa Cook Chania in Crete, Greece, provides a distinctive remote work and relaxation experience with 75 rooms, including suites and villas, each featuring its own private pool and stunning sea views. You can seamlessly balance productivity with tranquility, thanks to high-speed Wi-Fi accessible throughout the remote work hotels and a dedicated co-working space. 
When it's time to unwind, indulge in the spa, savor authentic Greek cuisine at the hotel's restaurant, or sip cocktails at the bar. Plus, with direct beach access and the picturesque streets of Chania just waiting to be explored, Casa Cook Chania is the perfect destination to combine your work commitments with a truly revitalizing and inspiring backdrop for your remote work experience.
For Remote Work:

 Minimalist design, private pools, and authentic Greek cuisine.

Price Range:

 $150 – $350 per night

Location: 

Chania, Crete, Greece

Star Rating:

 4 stars

Guest Rating:

 4.6/5
Remote work doesn't mean sacrificing nature's beauty. Fairmont Banff Springs in Alberta, Canada, offers stunning views of the Canadian Rockies and a luxurious remote work experience. It is one of the largest hotels in Canada, boasting 757 rooms and suites, ensuring you have the space you need for work and relaxation. The remote work hotels also offer a variety of amenities, including a spa for unwinding after a productive day.
What's more, it's home to the Banff Gondola, which takes guests to the top of Sulphur Mountain, providing awe-inspiring views of the surrounding mountains and valleys. Whether you're a leisure traveler seeking adventure or a business traveler looking for a serene, remote work environment, this hotel caters to both, making it a popular choice for those who want to balance work and nature's wonders.
For Remote Work:

 Spacious rooms, dedicated workspaces, and proximity to hiking trails.

Price Range: 

$250 – $600 per night

Location: 

Banff, Alberta, Canada

Star Rating:

 5 stars

Guest Rating:

 4.8/5
Soho House Istanbul, a prime example of remote work hotels, seamlessly blends historic charm with contemporary workspace conveniences. Situated in the heart of Istanbul, this exclusive members-only club offers not only comfortable accommodations and a rooftop pool but also a state-of-the-art coworking space designed to accommodate up to 100 people.
With high-speed Wi-Fi, fully-equipped meeting rooms, private offices, printing and scanning services, an inviting café, and a scenic rooftop terrace, remote professionals will find the perfect environment to combine work and relaxation in this unique Istanbul destination. Occupancy rates averaging 70% reflect its popularity among remote workers seeking a productive and inspiring workspace within the city.
For Remote Work:

 Comfortable rooms, a rooftop pool, and a members-only co-working space in the heart of Istanbul.

Price Range:

 $200 – $450 per night

Location:

 Istanbul, Turkey

Star Rating:

 4 stars

Guest Rating: 

4.7/5
Finding Your Ideal Remote Work Hotels and Relocation Services with Relo.AI 🏨
Relo.AI offers an all-in-one platform to find the ideal remote work hotel and relocation services, simplifying the process for remote workers and guiding you every step of the way to your chosen work destination.
Our services are customized to meet your specific requirements, guaranteeing a seamless and stress-free booking process and relocation experience. 👩‍💻
Schedule a consultation today to explore how we can assist you in finding the ideal remote work hotels and relocate to facilitate your work-from-anywhere adventure.
Complete the form to begin your remote work hotel search and relocation journey today.
To Summarize
These 10 remote work hotels from around the world provide the perfect blend of comfort, productivity, and adventure. Whether you're looking for a beachfront escape or a bustling urban oasis, these hotels cater to remote workers who want to make the most of their work-from-anywhere lifestyle.
Make your work a journey and your journey your work – these remote work hotels redefine the concept of a nine-to-five job, offering a harmonious blend of work and leisure that will leave you inspired and refreshed. So, pack your laptop, explore the world, and experience the joys of remote work in style.