Traveling becomes an even more enjoyable experience when you can secure significant savings on essential aspects. Like accommodations, car rentals, airport transfers, tours, attraction tickets, and flights. Here's an in-depth Trip.com Review detailing everything from its functionality to customer support.
Whether your journey is for leisure or business, Trip.com is your ideal partner for cost-effective flight bookings and discounted hotel reservations. Boasting an extensive network of over 1.4 million hotels across 200 countries and regions, Trip.com is undoubtedly a go-to resource for budget-conscious travelers. 
What is Trip.com?
When planning your next adventure, Trip.com has a lot to offer. It's well-known in the online travel industry for its easy-to-use website and a wide range of travel services. With a presence in 200 countries and a whopping 400 million users worldwide, Trip.com provides plenty of options. Whether you're embarking on a solo journey, a family vacation, or a business trip, Trip.com has the resources to cater to your travel needs.
You can choose from over 1.2 million hotels, explore more than 2 million flight routes connecting 5,000 cities, and access car rentals in over 6,000 cities. Plus, they've got airport transfer services in 200 cities across 55 countries. So, whether you're booking a hotel, a flight, a car, or an airport transfer, Trip.com has your back, making your travel planning experience smooth and hassle-free.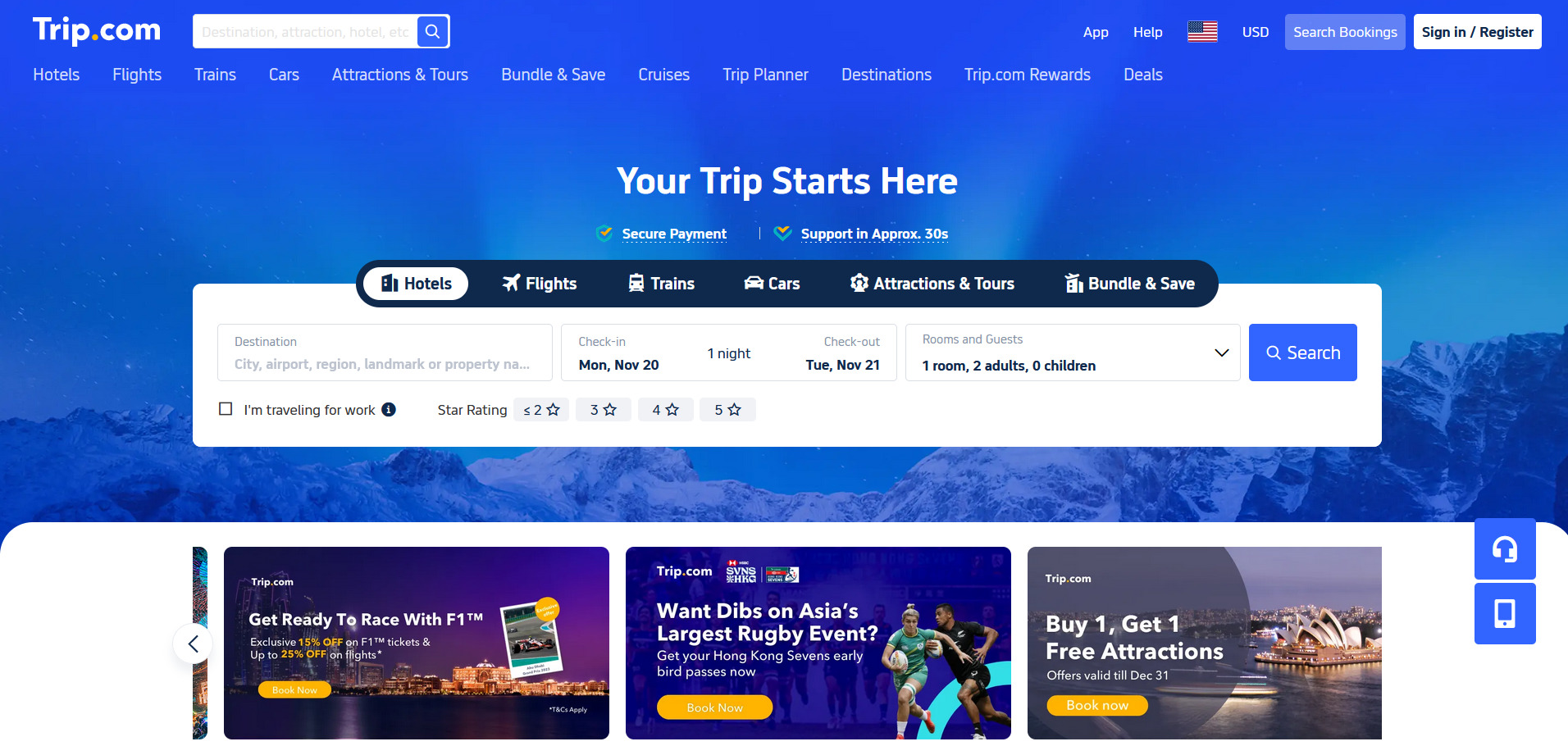 How Does Trip.com Work? 
Trip.com, an online travel agency, streamlines travel planning and booking through its user-friendly platform. Users input their travel details, and this platform compiles available options, including flights, hotels, vacation packages, and more, which can be filtered based on preferences. After selecting, users proceed to secure payment, receiving a confirmation email with their itinerary. 
It also offers additional services like airport transfers and travel insurance. With the convenience of these extra services, travelers can ensure a seamless journey from start to finish. Airport transfers offer hassle-free transportation to and from their accommodation, while travel insurance provides peace of mind by safeguarding against unforeseen events during their trip.
Key Features 
This platform allows travelers to confidently make decisions, thanks to its user-friendly interface and comprehensive offerings. From gaining access to exclusive deals to the ease of crafting unforgettable journeys, and ensuring a smooth and uninterrupted experience from start to finish, Trip.com stands as a steadfast companion for every journey.
In the following sections, we will delve into each of these features in detail –
Trip Planner: Assists travelers in creating and organizing their itineraries. Users can conveniently map out their entire trip, including flights, hotel accommodations, activities, and more, all in one place. The Trip Planner also offers real-time updates and notifications.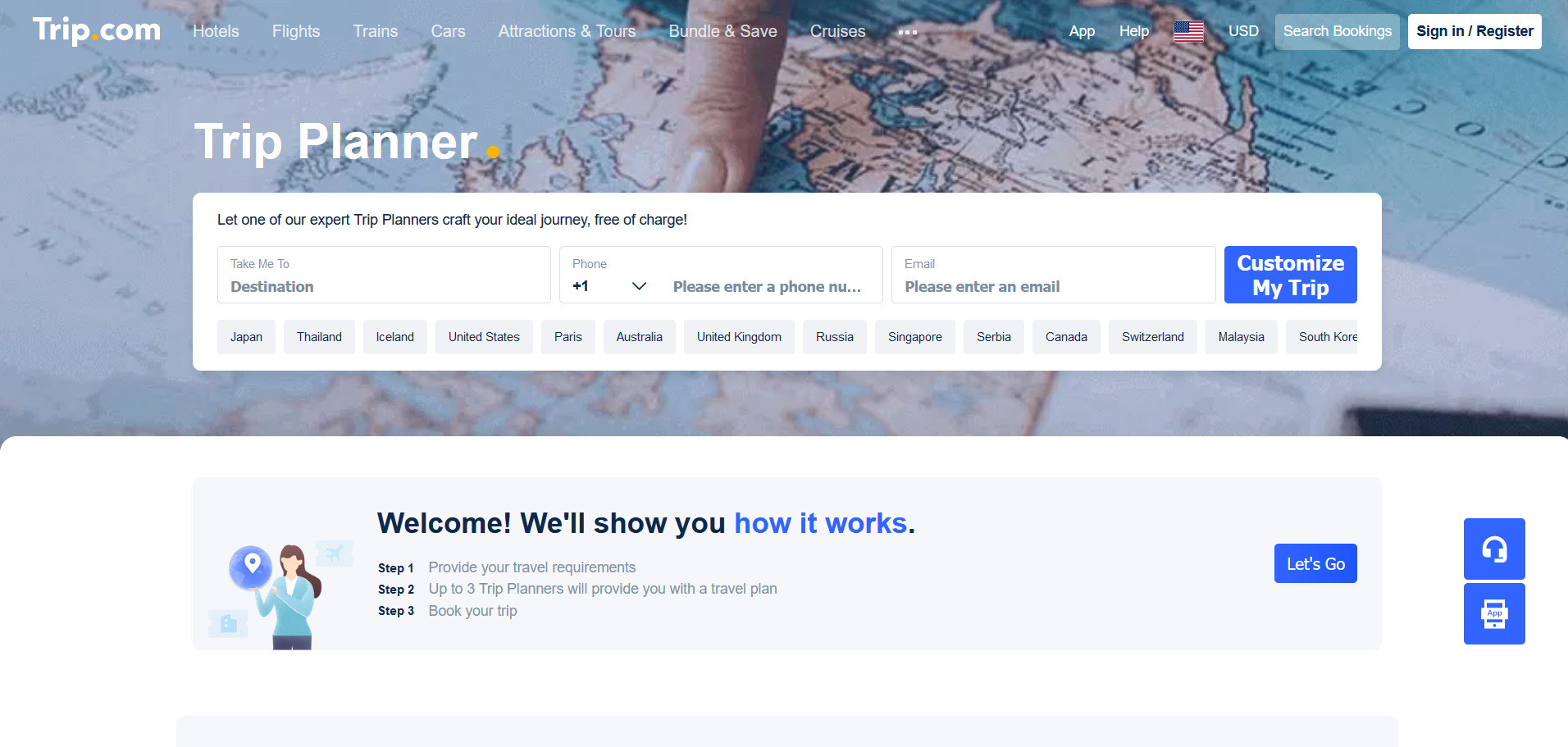 Bundle & Save: The "Bundle & Save" feature lets travelers save money by bundling their flight and hotel bookings. This option often provides significant discounts compared to booking these components separately. Trip.com offers flexible options for customizing bundled deals.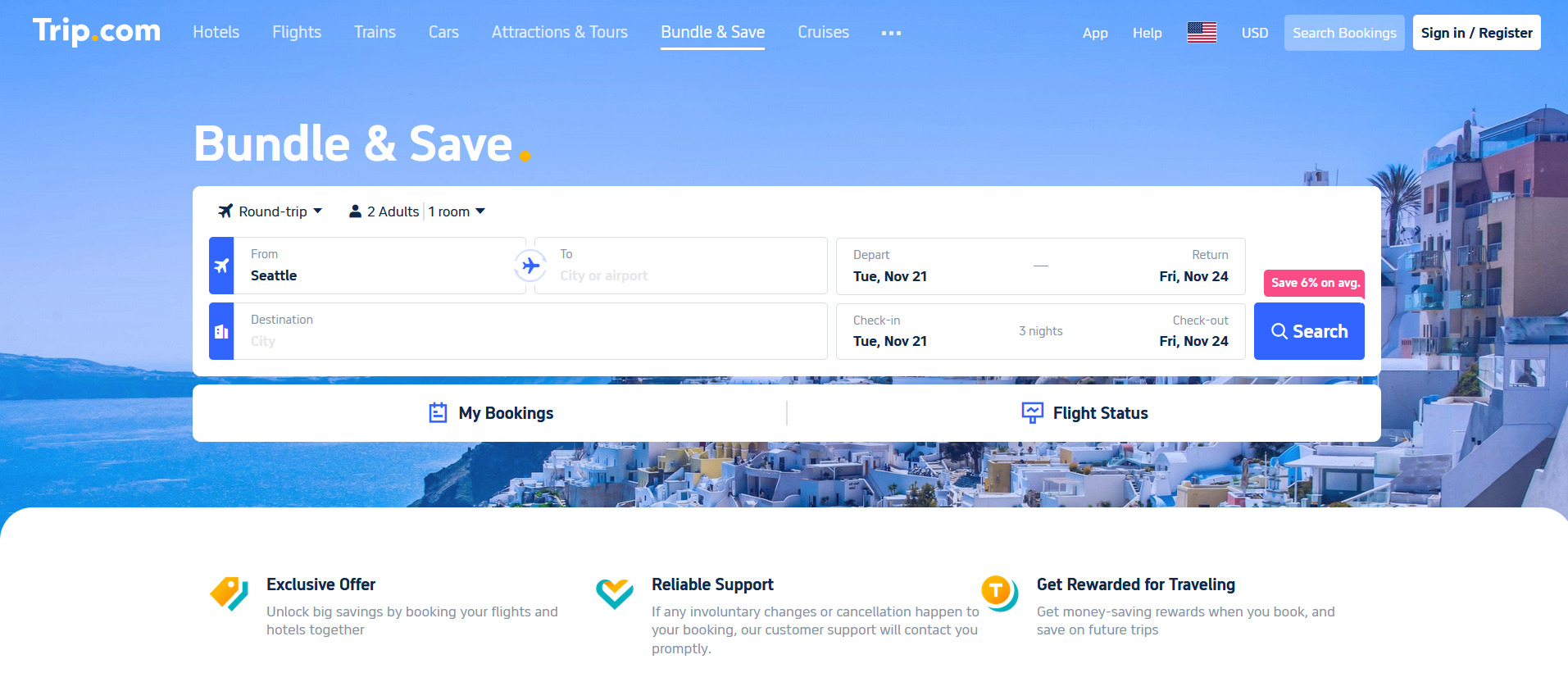 Rewards: Rewards is a loyalty program allowing users to earn booking points. These points can be redeemed for future travel discounts, incentivizing repeat bookings on the platform. As a member of Trip.com Rewards, you'll also gain access to exclusive promotions and special offers.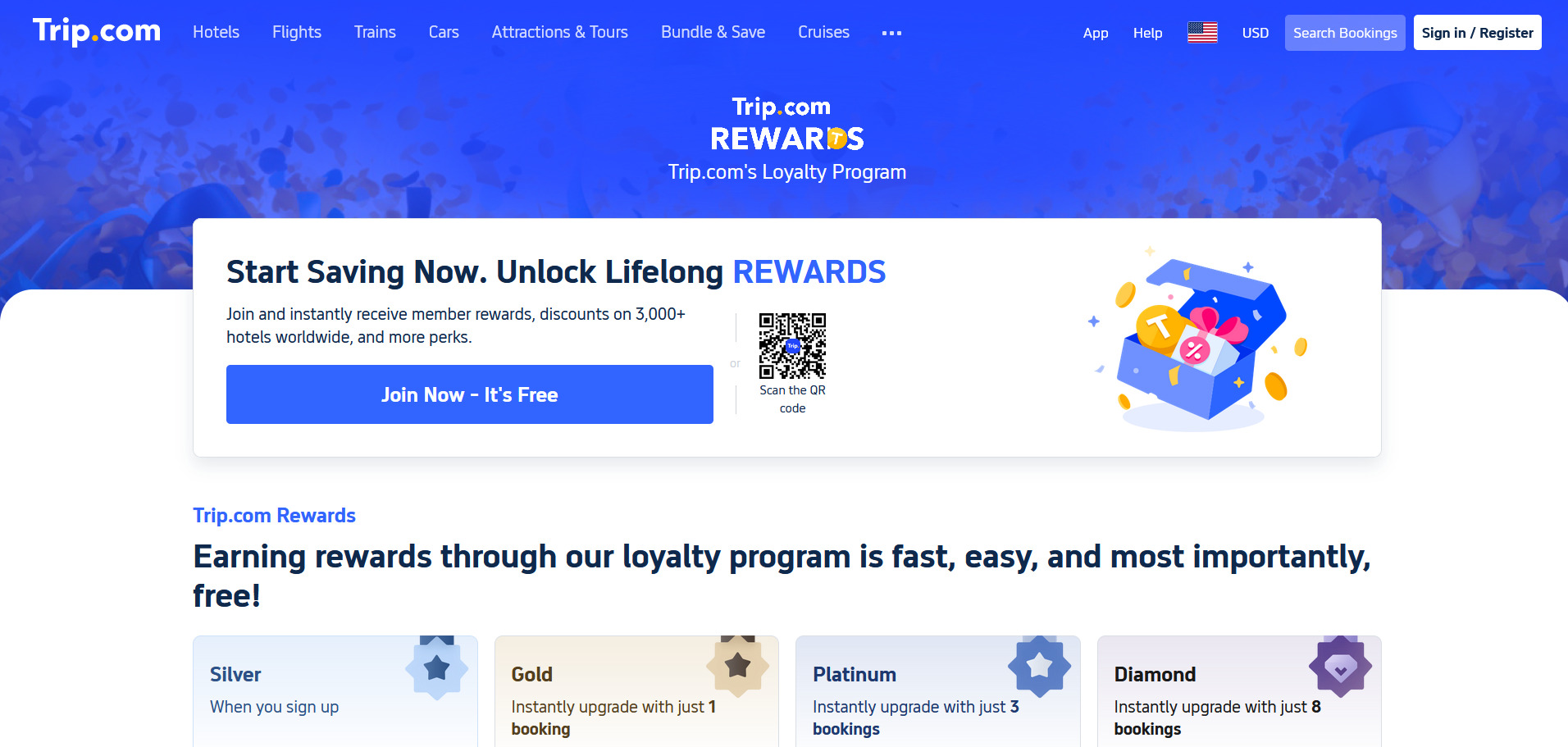 Deals: Trip.com consistently offers various deals and promotions, allowing travelers to access exclusive discounts on flights, hotels, car rentals, attractions, and more. The "Deals" section on the website or app is a valuable resource for finding cost-effective travel options.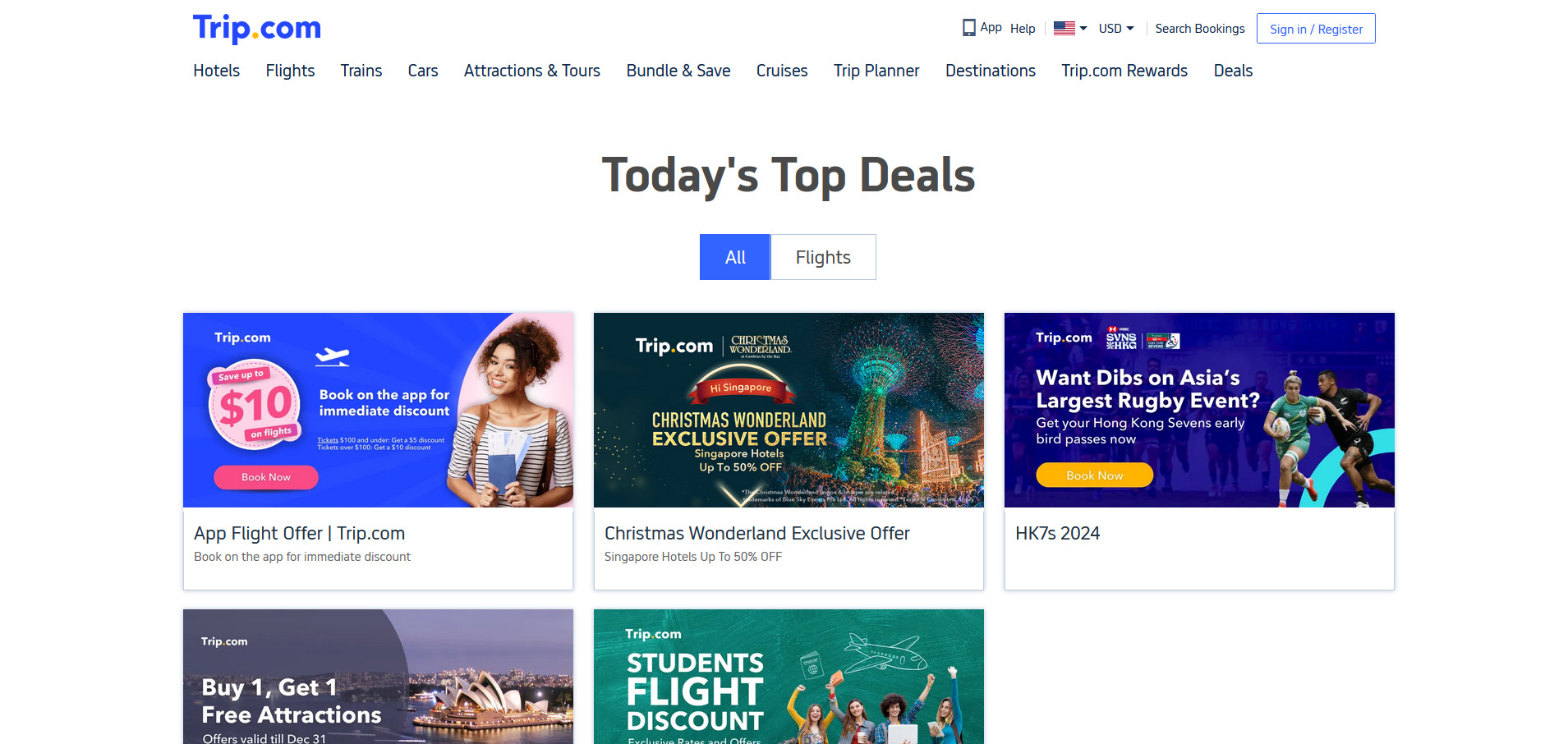 Pricing and Fees
Trip.com is renowned for its competitive pricing and frequently provides exclusive deals and discounts. It's important to note that, akin to many online travel agencies, Trip Platform applies service fees that fluctuate based on the nature of your booking and its associated terms and conditions. It's advisable to consult the pricing details before confirming your reservation.
Here's a simplified example of how pricing and fees might work – 
| | | |
| --- | --- | --- |
| Service | Typical Fee | Example Booking Scenario |
| Flight Booking | $15 to $30 per ticket | Booking a round-trip flight for two people |
| Hotel Reservation | $10 to $20 per night | Booking a three-night stay at a hotel |
| Car Rental | $5 to $15 per day | Renting a car for a weekend getaway |
Fees Example:
| | | |
| --- | --- | --- |
| Fee | Description | Amount |
| Booking fee | Charged for each booking made | $10 |
| Convenience fee | Charged for using Trip.com's payment processing services | 3% of the total booking amount |
| Change fee | Charged for making changes to a booking after it has been confirmed | Varies depending on the type of change |
| Cancellation fee | Charged for canceling a booking | Varies depending on the type of booking and the cancellation policy of the airline or hotel |
By understanding these fees, travelers can make well-informed decisions when booking their travel arrangements, ensuring a smooth and budget-conscious experience. To explore the latest pricing details and take advantage of exclusive deals, visit Trip.com today.
What are Trip.com Gift Cards?
Trip.com gift cards are a convenient and versatile way to give the gift of travel. They are prepaid cards that can be used on the trip platform to book flights, hotels, vacation packages, car rentals, and more. These gift cards provide flexibility and allow recipients to plan their trips according to their preferences and schedules.
Here's how gift cards work:
Buy Trip.com gift cards online or from authorized retailers in various denominations.

Redeem the card on Trip.com by entering the code during booking.

With travel flexibility, use the gift card for flights, hotels, and more.

The card balance is deducted from the total cost, with flexibility for future bookings and additional payment methods.
Recommended read: How to Avoid Baggage Fees: 7 Strategic Tips for the Savvy Flyer
Trip's Destinations Network Worldwide
The vast destinations include Los Angeles, New York, Orlando, San Francisco, Dallas, Chicago, Las Vegas, and Seattle. Caters to diverse traveler preferences and interests. Whether you're drawn to the excitement of vibrant cities, the serenity of beachfront getaways, or the adventure of mountain retreats, trip.com offers a broad selection of global destinations for travelers.
From well-known tourist spots to hidden gems off the beaten path, travelers can explore and plan their trips to many captivating places through the platform, ensuring a destination to satisfy every wanderlust.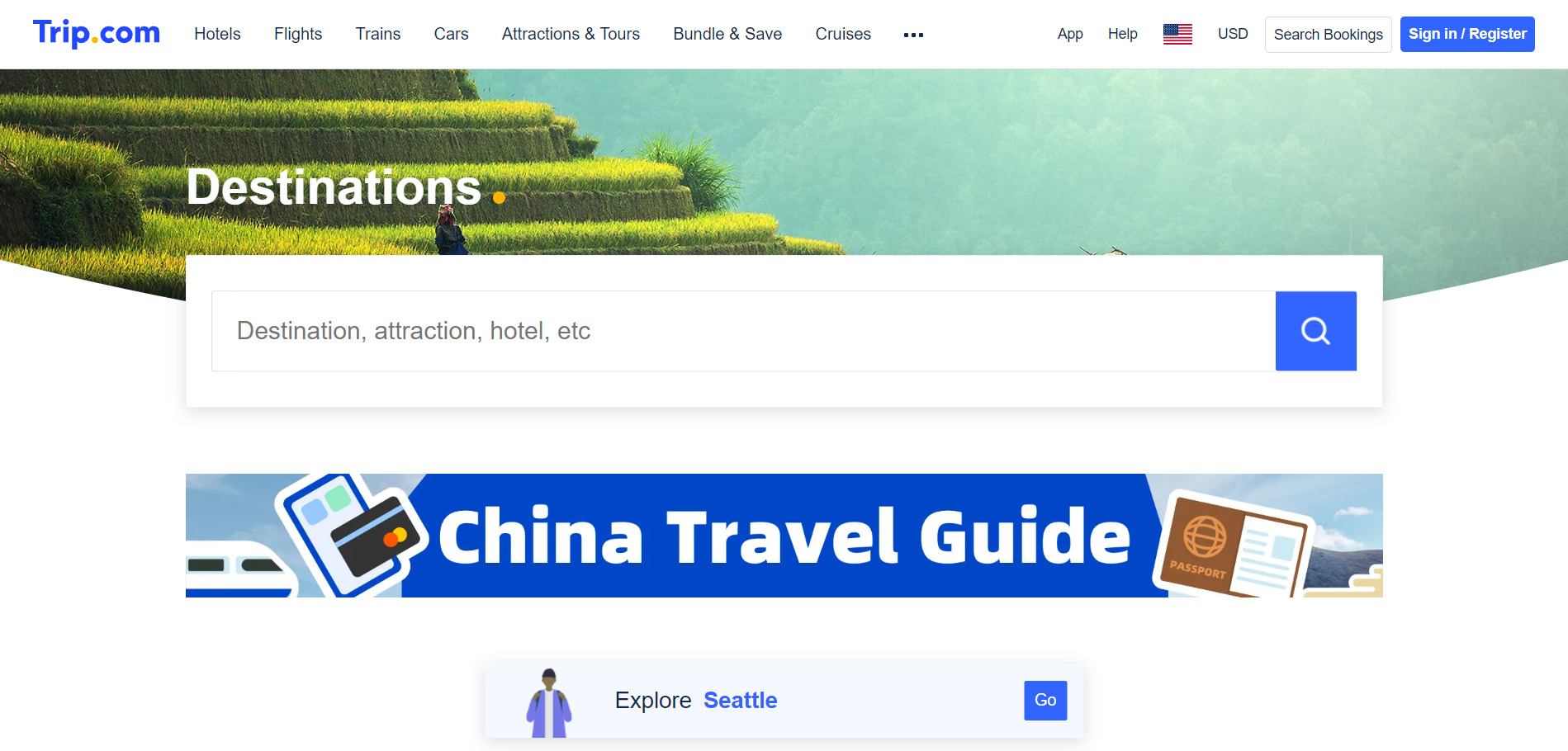 Attractions & Tours
Whether you're interested in guided tours of historical landmarks, adventurous outdoor excursions, or cultural experiences, Trip.com's attractions and tours section lets you explore and book engaging activities, making your trip more enriching and memorable. With a wide range of options to choose from, you can tailor your itinerary to suit your interests.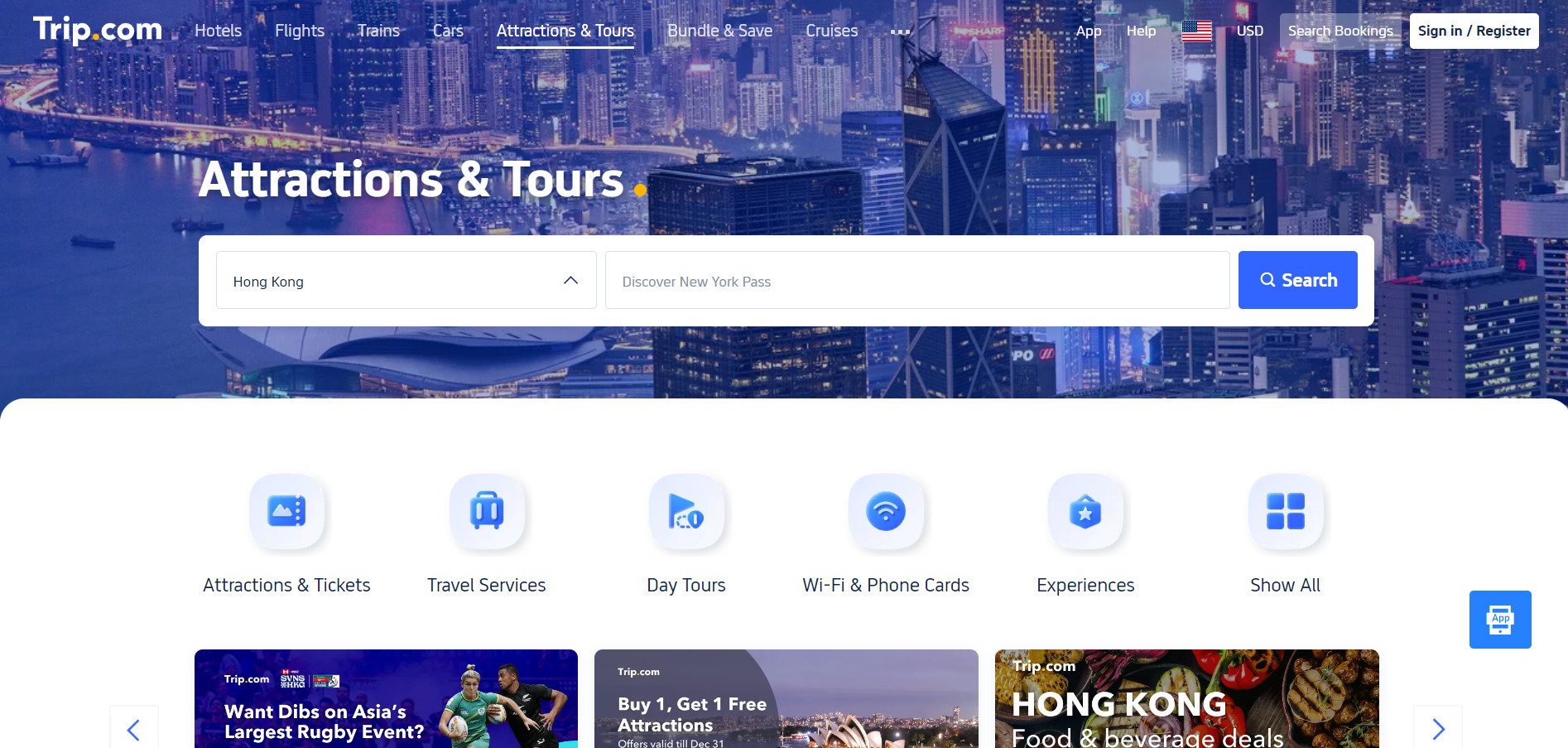 Is Trip's Application Available?
Yes, Trip.com has a mobile app for Android and iOS devices, making it convenient for users to access all their travel information while on the go. You can do everything on the app that you can do on the website, so booking your trips and managing your travel plans from your smartphone or tablet is a breeze. The best part is the app often comes with special discounts and exclusive offers. 
You can save even more money when using Trip.com for your travel needs. Plus, you'll get real-time updates and notifications about any changes or essential details related to your travel plans. So, whether you're snagging a last-minute deal or staying updated on your journey, the app covers you for a smooth and stress-free travel experience.
Customer Support
Trip.com is dedicated to providing excellent customer support, and this is evident by the various channels available for customers to seek assistance. Customers can get in touch through phone, email, live chat, or social media platforms like Facebook. Regardless of the method chosen, Their team of knowledgeable and well-trained representatives is committed to resolving customer issues quickly and efficiently. travelers have access to the support they need 24/7.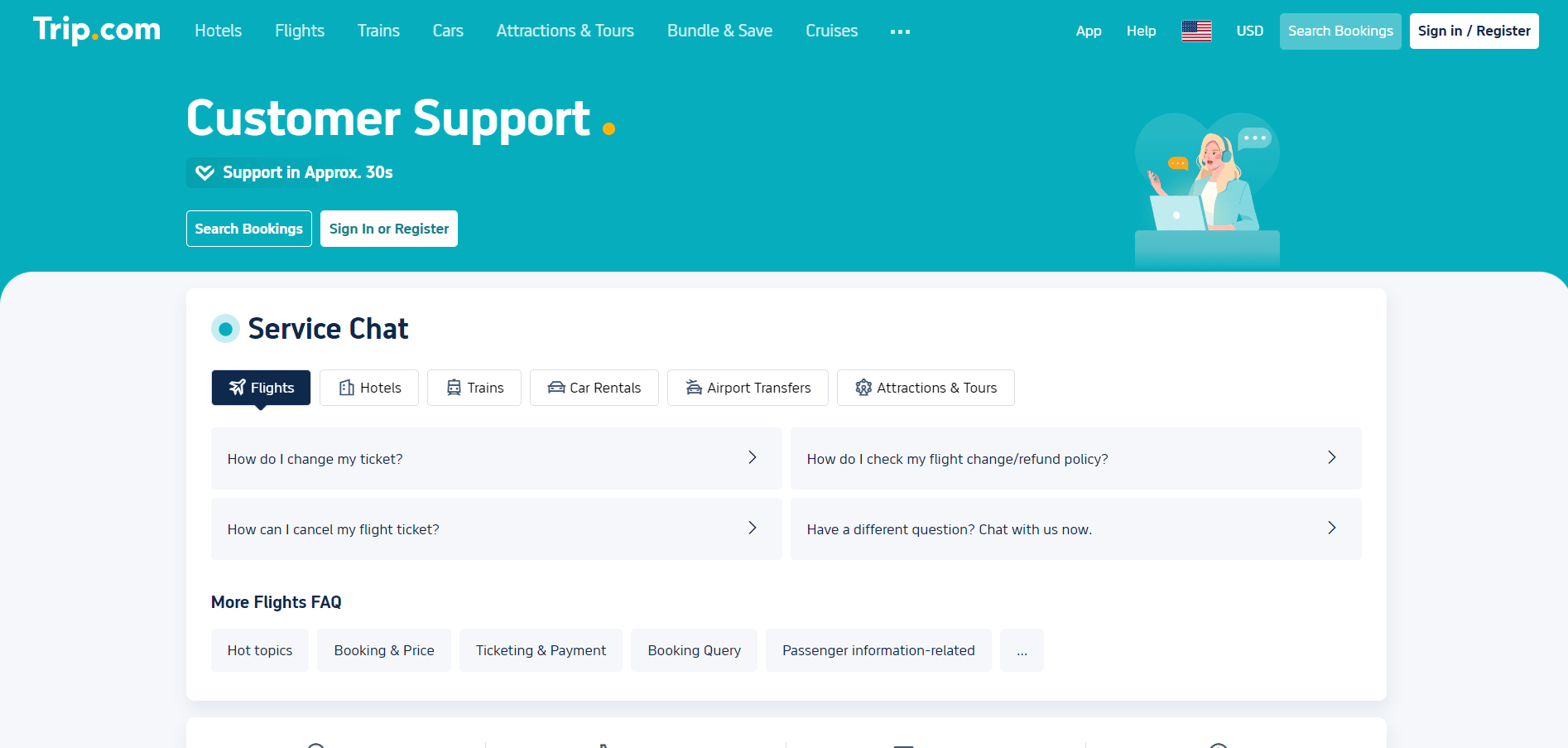 Comparing Trip.com to Other Flight Search Engines
It's essential to compare Trip.com to other popular flight search engines like Expedia, Kayak, and Skyscanner. While each platform has its strengths and weaknesses, Trip.com's user-friendly interface, competitive pricing, and innovative "Destination" feature set it apart. Travelers should always compare prices and read reviews before making a final decision.
Also read: 10 Best Hotspot Devices for Remote Work and Adventurous Travel
Seamless Relocation and Travel with Relo.AI 🚚
Elevate your relocating adventure with the comprehensive travel and relocation offerings of Relo.AI. Our committed team stands prepared to cater to every aspect of your journey, guaranteeing a smooth and effortless change.
For a hassle-free and straightforward flight booking experience, Relo.AI suggests using Trip.com. It's an ideal choice for those looking to simplify their travel deals.
Whether organizing your flights ✈️ or gearing up for a fresh start in a new city. Our tailored relocation assistance and professional advice support you throughout life's diverse travels.
Schedule a consultation now for custom relocation and travel plans that align with your aspirations.
Conclusion
Trip.com emerges as a reliable and user-friendly platform. Its services, designed to suit various budgets and preferences, make it an appealing choice for both experienced and novice travelers. The platform's ease of use, combined with the convenience of a mobile app and exceptional customer support, significantly enhances the travel planning process. Whether planning a brief escape or an extended holiday, a visit to their website is worth considering for a more enjoyable and less stressful journey.
Affiliate Disclosure: This article contains affiliate links. We may earn a small commission at no additional cost if you purchase them. Please be assured that we only recommend products and services that meet our quality standards.