If you're an avid traveler or a digital marketer looking to monetize your travel-related content, the Travelpayouts Affiliate Program might be just the opportunity you've been searching for. Whether you're a wanderlust-driven globetrotter or a savvy online marketer, this program offers a versatile platform for you to leverage your travel passion and expertise.
In this comprehensive review, we'll delve into the details and features of the Travelpayouts Affiliate Program, covering everything from what Travelpayouts is to how you can earn money through their program. From commission structures to promotional tools, we'll leave no stone unturned in providing you with a comprehensive understanding of this lucrative affiliate marketing opportunity.
What are the Travelpayouts?
Travelpayouts stands out as a prominent affiliate marketing platform tailored exclusively for the travel sector. Serving as an all-in-one solution for both affiliate marketers and website owners seeking to capitalize on their travel-focused content, including blogs, websites, and social media profiles. It offers an extensive range of travel-related opportunities, from promoting flights and hotels to car rental services and various others.
The platform's impressive statistics further underscore its significance: it boasts over 600,000 partners leveraging Travelpayouts to monetize their digital assets and collaborates with a network of more than 120 travel brands, including renowned industry giants such as Skyscanner, Booking.com, and Expedia. Travelpayouts disburses over $1 million in commissions to its partners on a monthly basis.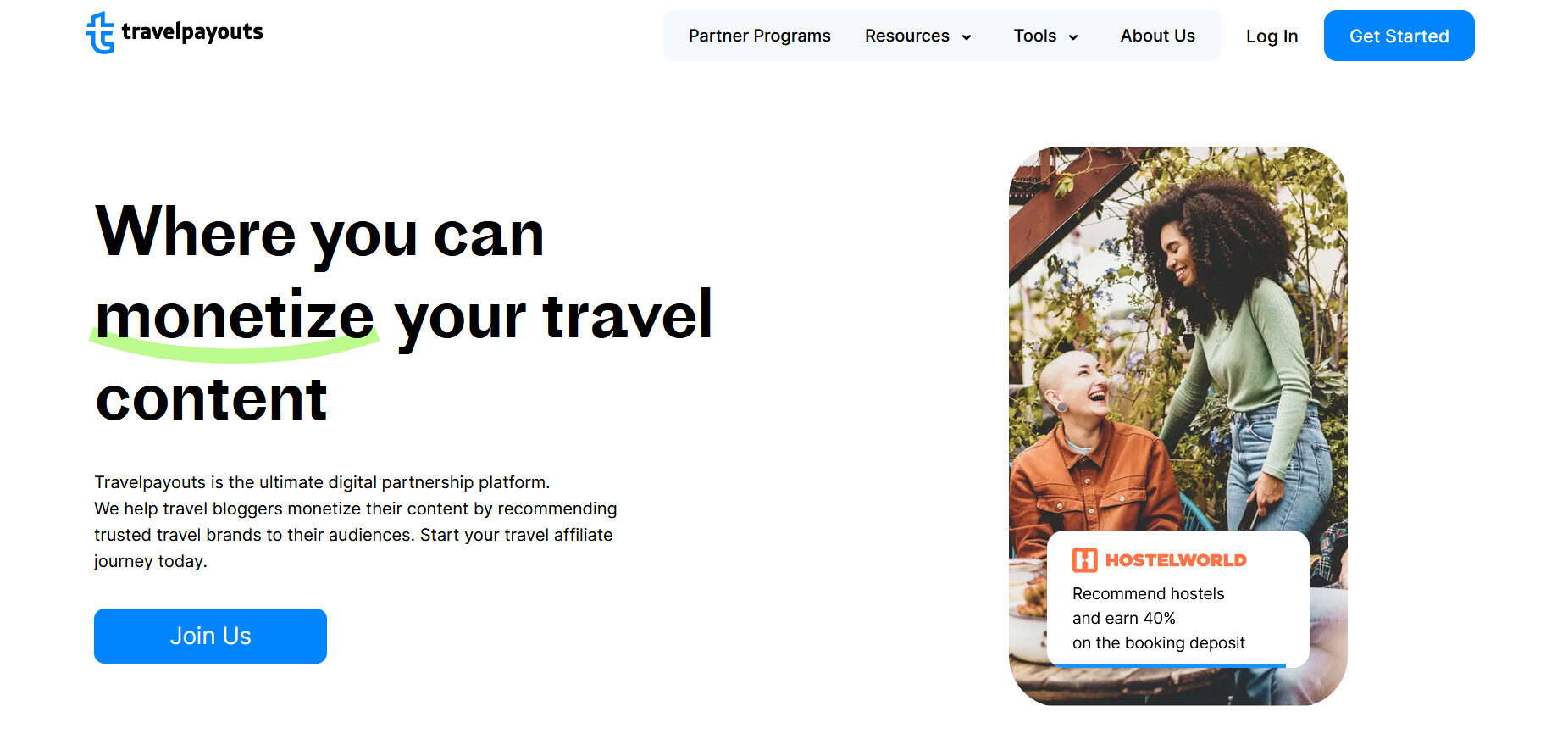 What is the Travelpayouts Affiliate Program?
The Travelpayouts Affiliate Program, the affiliate marketing branch of Travelpayouts, offers individuals and businesses the chance to partner with over 120 well-established travel insurance and brands, enabling them to earn money while promoting an extensive array of travel-related products and services. This affiliate program equips its members with a versatile set of promotional tools, including search widgets and banners.
Travelpayouts has a strong financial track record, paying out over $53 million to partners since 2011, including a noteworthy $13 million in 2022. With a robust community of over 395,000 travel bloggers, it's known for its generous commission rates, reaching up to 12% for flight promotions and 7% for the biggest hotel chain referrals. Travelpayouts are undeniably a lucrative choice for affiliate marketers in the travel industry.
Travelpayouts features a diverse array of brand partners spanning across various categories, including:
Accommodation/Hotels

Entertainment

Flights

Transportation

Car Insurance

Tours
How Do Travelpayouts Work?
To get started with Travelpayouts, sign up for an affiliate account and, upon approval. Access a dashboard featuring a plethora of travel-related offers from leading brands and travel reward cards and companies. Affiliates can seamlessly promote these offers on their websites, blogs, or social media channels. Travelpayouts further facilitates affiliates with tracking links and customizable widgets.
Affiliates earn commissions when visitors click on these links or widgets and make purchases through the partner's websites. Travelpayouts affiliates collectively generated over $23,000,000 in commissions in 2022. With an average commission rate of 5%, although some programs offer commissions as high as 20%. The top 10% of Travelpayouts affiliates earn over $10,000 per month in commissions.
What's Travelpayouts Commission Fee?
One of the most attractive aspects of the Travelpayouts Affiliate Program is its competitive commission structure. Affiliates can earn commissions on various travel products, and the rates can vary depending on the specific offers and partners you choose to promote. Commissions can range from a few dollars in the best time to book a flight to significant percentages of the total hotel booking cost. 
Here are some examples:
The program's performance-based bonuses mean that the more sales you generate, the higher your commission rates can become. This lucrative incentive serves as a powerful motivator for affiliates. Encouraging them to continuously refine and optimize their marketing efforts to maximize their earnings. It's worth noting that the duration of the "cookie lifetime" varies from partner to partner.
For example, while Skyscanner offers a one-session cookie lifetime, Viator extends theirs to an enticing 30 days. Giving affiliates ample time to earn commissions on subsequent purchases made by their referred visitors.
How to Register and Sign Up for Travelpayouts?
Getting started with the Travelpayouts Affiliate Program is a breeze. It all begins with a simple step – sharing some essential contact details and telling us about your online presence. Whether it's through your website or your social media profiles.
Here are the basic steps to get started:
Fill out the registration form: Provide the required information, including your contact details and website information, if applicable.
Wait for approval: Travelpayouts will review your application, and once approved, you'll gain access to your affiliate dashboard.
Explore offers and promotional tools: Start exploring the available travel offers and promotional tools within your dashboard and begin promoting them on your platform.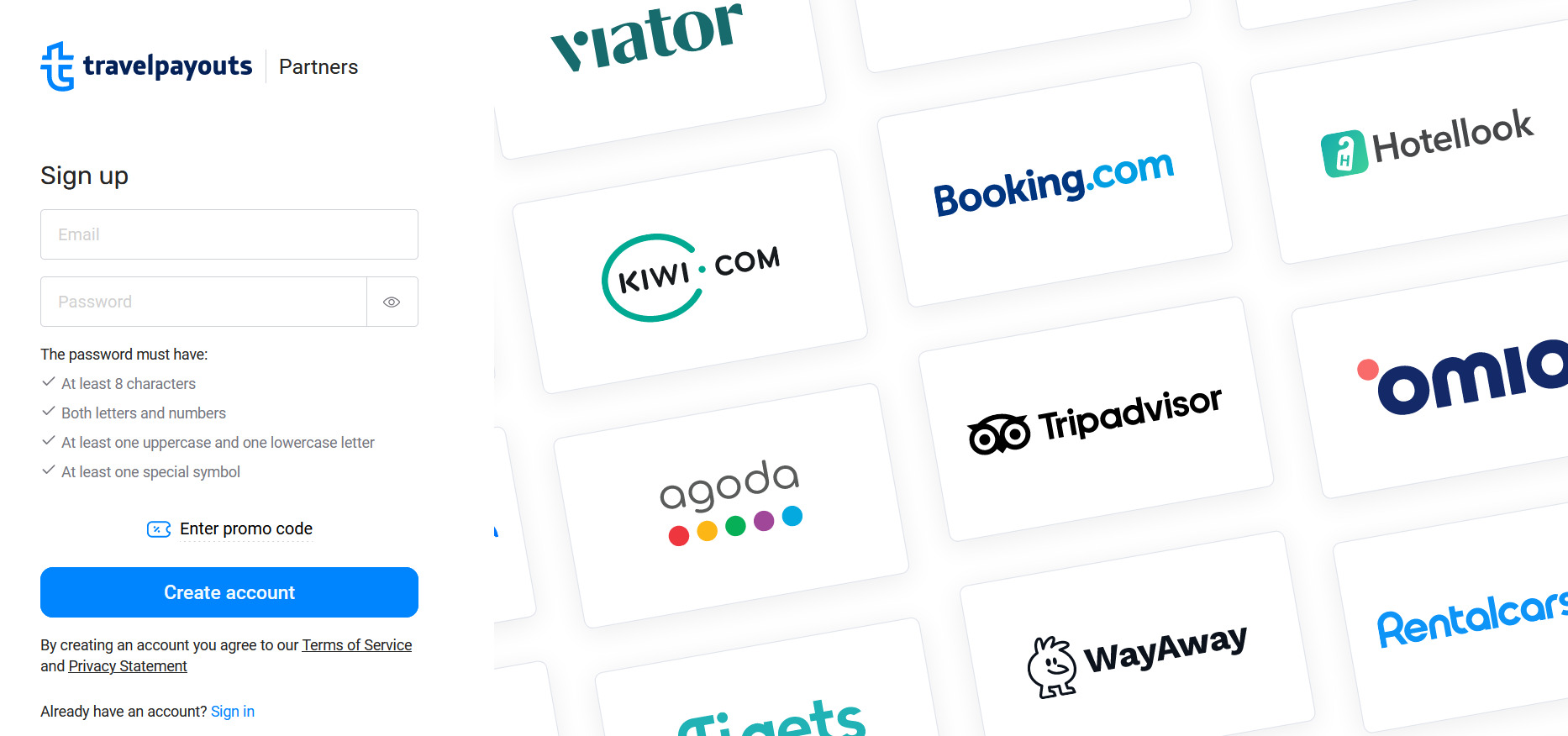 How Much Money Can You Earn with Travelpayouts?
The $6 mentioned in the previous example may seem modest. But especially for those who are just beginning and have yet to monetize their website through ads or sponsorships. Affiliate programs offer a straightforward entry into income generation. As your website attracts more traffic, strategically placed affiliate links start to generate revenue. Travelpayouts' 2022 recap: $44 million disbursed since inception, including $14 million to partners, a 45% YoY increase.
You'll witness the cumulative effect of these seemingly small earnings. For instance, if 10 individuals make purchases through your Travelpayouts affiliate link at a 6% commission rate, you'd receive $60—a promising start to passive income. Imagine 100 readers clicking on these links and making purchases; that would amount to $600, which can accumulate impressively with minimal initial effort.
Also read: Wise Online Money Transfer Review: The Ultimate Resource for Digital Nomads 
Travelpayouts Referral Program
You can boost your earnings with the Travelpayouts Affiliate Program not only through various brand affiliations but also by introducing fellow bloggers to the program. When you sign up using a referral link (our link), you'll instantly receive $25, bringing you halfway to the $50 payout threshold. Plus, it's a win-win for both you and your referrals, as they also get a head start on their earnings journey.
By sharing your unique referral link, you can earn a generous 7% commission on the sales generated by those who sign up through your link for a limited time. This referral system offers an excellent opportunity to maximize your income potential with Travelpayouts. It's a fantastic way to build a supportive community of affiliates while boosting your earnings effortlessly.
Relocation Guidance with Relo.ai 
Relo.ai excels in offering comprehensive relocation services and travel guidance. Allow our experienced team to manage your travel needs seamlessly.
Whether you're a traveler, remote worker, or retiree, our dedicated relocation services and expert guidance support you at every life stage. Schedule an appointment with us today for insightful relocation and travel solutions tailored to align with your objectives.
Reach out to us today and embark on your relocation journey with confidence and well-informed decisions. 📦
In The Final Analysis,
The Travelpayouts Affiliate Program is a fantastic opportunity for travel enthusiasts and bloggers. Digital marketers monetize their passion and expertise in the travel industry with a wide range of travel offers, competitive commissions, and a user-friendly platform. Travelpayouts makes it easy to turn your travel-related content into a source of good monthly retirement income, like any affiliate marketing program, success. 
Achieving success with Travelpayouts requires more than just signing up. It demands commitment, the implementation of effective marketing strategies, and a deep understanding of your specific target audience. Suppose you're ready to invest the effort needed to provide value to your audience consistently. The Travelpayouts Affiliate Program has the potential to become a highly profitable venture. 
So, why wait? Sign up, start promoting, and embark on your journey to earning with Travelpayouts today!