The City of Miami is a large coastal metropolis located in the southeastern part of Florida, USA. It is the second-largest city in Florida (behind only Jacksonville), and the 42nd largest city in the United States with a land area of 143.1 sq km (88.9 sq mi). It has the 12th highest GDP in the US, with roughly $288 billion. It's the third most populated metropolis on the East Coast with a metro area population of 6,167,000. Relocating to Miami is fun because it is the third-largest skyline in the US with more than 300 high-rise buildings, 55 of which tower over the city at over 491 ft (150m).
Miami is also a major centre and a leader in commerce, finance, arts, culture, and international trade. In 2020, the Globalization and World Cities Research Network (GaWC) classified Miami as a Beta + level global city. In 2019, Miami ranked seventh in the US and 31st among other global cities in human capital, business activity, cultural experience, information exchange, and political engagement. According to a study of 77 world cities conducted in 2018 by UBS Group AG, a Swiss multinational investment bank and financial services company founded and based in Switzerland, the City of Miami was ranked as the third-richest in the world and the second-richest in the US when it comes to purchasing power.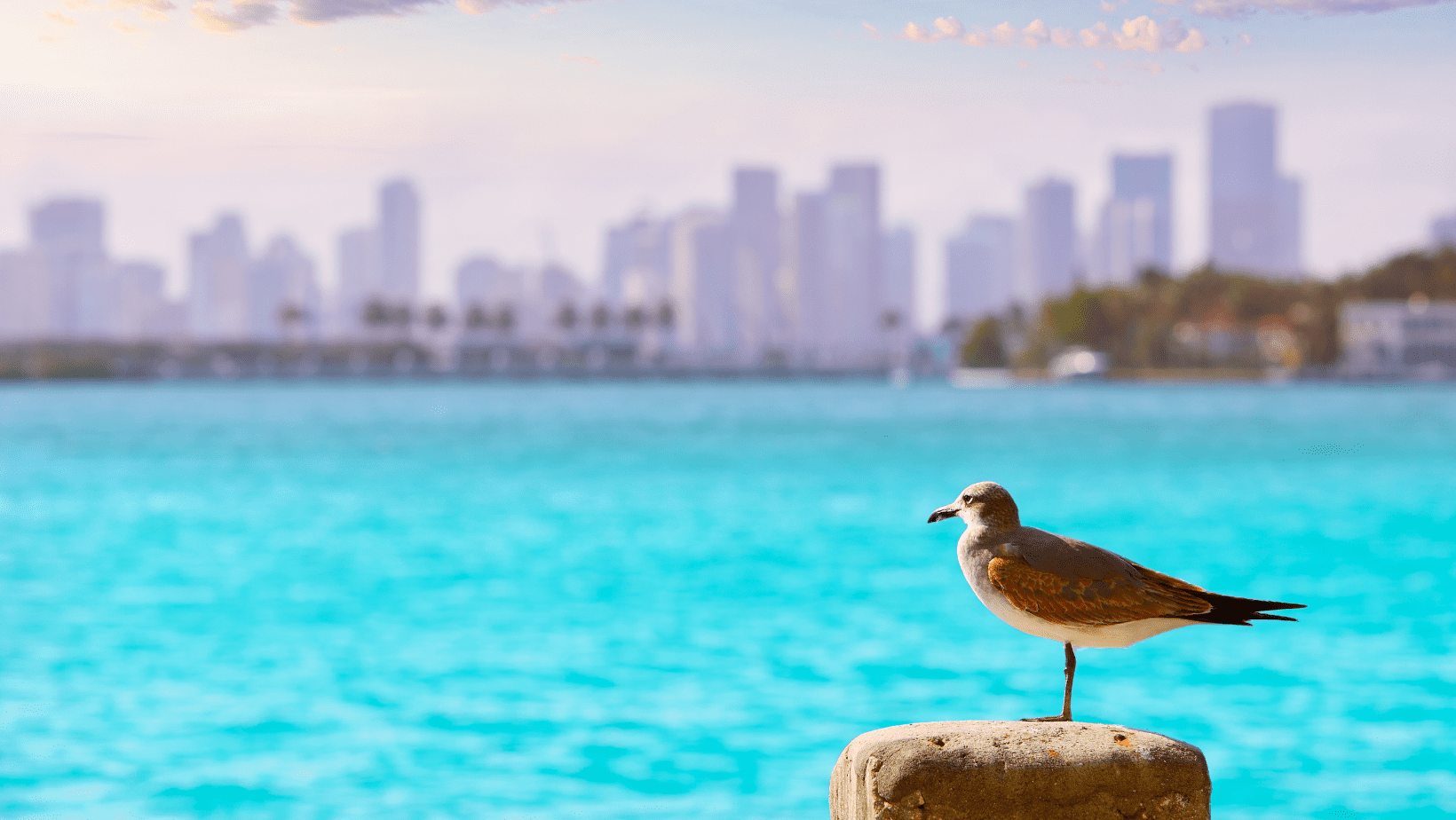 A cultural hotpot since the 1960s, Miami has been shaped by many cultural influences, particularly Cuban. It's been nicknamed the "Capital of Latin America" as it also happens to be one of the largest majority-minority cities in the US, with more than 70% of the population being of Latino and Hispanic descent.
And, of course, it's impossible to discuss Miami without mentioning its picturesque white-sand beaches. From world-famous South Beach to family-friendly swaths of sand in Surfside and local hidden gem nature preserves in Key Biscayne, Miami has everything a thalassophile could ask for.
If you want to live in a highly-urbanized metropolis where nightclubs, bars, restaurants, malls, and office buildings are all within close proximity to pristine white sand beaches and crystal clear waters, then the City of Miami may be the perfect fit.
Top Ten Fun Facts About the City of Miami
1. Miami is the only city in the United States Founded by a Woman.
Miami is the only city in the United States founded by a woman. Back in the day, what we now know as the City of Miami was a wild area designed for citrus farms. It officially became a city in 1896 after a local businesswoman, Julia DeForest Tuttle, encouraged one railroad mogul to expand into the area and to include the little settlement of just 300 people in its destination.
2. Miami is Home to the World's Largest Collection of Art Deco Architecture.
In the Miami Beach Historic Arts District, you'll find up to 1000 Art Deco-style buildings that will have you taking pictures all day long and raving about them to your friends.
3. You might find some Hidden Treasures in Miami. Literally.
Allegedly, Miami was a popular destination for pirates and was a preferred place to bury their treasures.
4. Miami Beach is a man-made island.
Once a non-habitable jungle, the small island across Biscayne Bay raised its value after Carl Fisher, a famous investor, bought the area in 1910. He helped fund the building of a bridge across the bay so tourists could reach the beach and widened the coastline in order to create solid ground for building hotels and houses.
5. Miami is the only city in the United States to be bordered by two National Parks.
Having the benefit of tropical weather and warm climates all year long, Miami is one of the best places for green spaces and plants. It has no less than 800 parks and is the only city in the United States to be bordered by two National Parks – Biscayne Bay National Park and Everglades National Park.
6. Sunscreen was invented in Miami.
In 1914, Benjamin Green, an airman, and pharmacist used a greasy substance known as "red vet pet," or red veterinary petrolatum, to protect himself and other soldiers from ultraviolet rays during World War II. It worked primarily as a physical barrier between the skin and the sun.
7. Miami is a Culturally Diverse Place.
It has the biggest population of Latin Americans in the US, and almost everyone there speaks Spanish. However, the demographic in Miami is very diverse and is home to over 150 nationalities and up to 60 languages are spoken in and around the city.
8. Tourism brings in about $17 Billion Annually.
It generates more than 60% of the economic activity in the area. While Miami already has a staggering 6,167,000 residents, that number pales in comparison to the twenty-or-so million tourists that visit Miami every year.
9. Most Residents of Miami work at the MIA.
The enormous Miami International Airport provides one out of four jobs in the local economy. MIA is located on 3,230 acres of land and offers more flights to Latin America and the Caribbean than any other US airport. It is the second busiest airport in the US for international passengers and is the top airport for international freight. MIA generates yearly revenues of up to $33.7 billion and welcomes up to 70% of all international visitors to Florida.
10. Miami is one of the biggest Entertainment Centers in the United States.
It's a major television production center and is the most important city in the US for Spanish-language media. Many American music videos and series are shot in Miami, and lots of celebrities can be found there all year round.
The Weather in Miami
While it isn't exactly the most exciting topic to discuss, learning more about the weather in Miami will allow you to better plan out your move.
Summers are mostly hot, oppressive, wet, and mostly cloudy in Miami, whereas winters are comfortable, humid, windy, mostly clear, and relatively short. Throughout the year, the temperature typically ranges from 62°F to 90°F and rarely drops below 50°F or climbs above 92°F.
Based on the tourism score found on weatherspark.com, the best time of the year to travel to Miami for warm-weather activities is around early November to late April.
The hot season typically lasts around 3.8 months, from June 5 to September 30, with the daily temperature reaching an average high of above 87°F. The hottest day of the year falls on August 9, with an average high reaching 90°F and a low of 79°F.
On the other hand, the cool season lasts for 3.0 months, usually from December 6 to March 6, with an average daily high temperature below 78°F. The coldest day of the year falls on January 17, with an average low of 62°F and a high of 76°F.
Miami often experiences extreme seasonal variation in monthly rainfall. You should be expecting rain throughout the entire year in Miami, with most rain falls during the 31 days centered around June 17, with an average total accumulation of 6.3 inches. The least rain falls sometime around December 23, with an average total accumulation of 1.3 inches.
Traveling to Miami and getting around the city
Miami International Airport is the primary airport serving the Miami area, Florida, United States with over 1000 daily flights to 167 domestic and international locations. It is one of only three airports – the other two being Palm Beach International Airport and Fort Lauderdale-Hollywood International Airport – serving the area. Located just eight miles northwest of Downtown Miami and about 13 miles west of South Beach. Its location is extremely convenient for getting to Miami Beach, which most visitors flock to while visiting Miami.
Travelers on their way to Miami only need to get to their local Amtrak station to hop on a train and transfer to Silver Service routes on the East Coast. The trains arrive in Miami early in the evening, leaving you a little time for dinner before you have to settle in. For a more convenient traveling experience, you can download Amtrak's mobile app to buy tickets, store boarding passes, and even check on your train's status.
When it comes to accommodations, coach seats on Amtrak trains are spacious and relaxing. You can comfortably snooze on the train thanks to large, reclining seats that come installed with footrests. Almost all Amtrak trains come equipped with free WI-FI, though internet speed may sometimes be constrained by low bandwidth. Individual electrical outlets also allow passengers to charge any mobile devices.
Unfortunately, The Amtrak station in Miami isn't one of the grand old buildings with any significant history pertaining to rail travel. The unremarkable building located at 8303 NW 37th Avenue has a waiting room, restrooms, a ticket counter, and plenty of free parking.
3. Getting around the City of Miami
Getting around Miami with a car:
a. Driving and Traffic Regulations: 
Keep your driver's license, registration, or car rental documents, and proof of insurance with you at all times.
Texting while driving is not allowed.
Right turns are permitted unless otherwise indicated.
The driver and all passengers must be wearing seatbelts.
Government-approved car seats must be used for children under five years old.
Keep an eye out for posted speed limits. You are limited to 15 mph in school zones, 30 mph in residential or business areas, and higher on most expressways, unless road conditions require you to drive slower.
Do NOT use hazard lights in rainy and foggy weather conditions. Hazard lights are ONLY meant to be used if the vehicle is NOT moving.
Obviously, drive on the right side of the road.
For more information, you can visit the Division of Driver Licenses. DMV's are open Tuesday to Friday, 7:30 AM – 6:00 PM. Hours may vary by location
b. Miami's main Highways
Keep in mind that Florida's Turnpike, Dolphin Expressway (836), and the Airport Expressway (State Road 112) are toll roads that require all drivers to pay a fee via a SunPass. The Palmetto Expressway (826) is a toll-free road.
c. Using the SunPass Toll System
Simply said, SunPass is an electronic prepaid system that you can use on most toll roads in Florida. It is a small, pocket-sized device that is attached to the inside of your car windshield, just under the rearview mirror. The device communicates with overhead readers via radio frequency at the toll plaza and is definitely the most affordable method to use all the toll roads. If you'd like to estimate toll expenses for your route, you can easily get online and use the SunPass Toll Calculator.
If you happen to be driving your own vehicle, you can purchase your own SunPass transponder in any of the thousands of retail locations throughout Florida, such as CVS, Amscot, Walgreens Publix, and more. If you're driving a rental, asking your rental car company about their toll payment policies will help you avoid any unexpected extra fees.
d. Florida's Toll-By-Plate System
There are no toll booths around most of Florida, and that includes Miami. Everything is now done either by the SunPass system or Florida's Toll-By-Plate system, which is quite similar to the former. If you do not have a SunPass transponder or mini sticker in your vehicle, cameras will read the license plate on your vehicle instead, and you will be billed directly to your home address. If you are driving around in a rental car, the car rental company will receive the bill, and you'll have to pay them for the charges incurred. Be mindful not to let the tolls add up as your driver's license may be suspended, or you may not be allowed to renew your registration.
e. Using the I-95 Express Lanes
Located to the far left of both the Northbound and Southbound lanes are the I-95 express lanes that offer a faster option to avoid traffic delays. However, these are toll lanes, and the rates change depending on the day. You must have a SunPass transponder to use the I-95 express lanes.
There are numerous vehicles that are exempt from express lane tolls. If you are driving a rental car, you may purchase a PlatePass or Pass24 at your rental car company.
Remember to take into account that entries and exits from the express lanes are limited, but that's why they allow you to travel faster in the first place.
Once on the express lanes, it's important to note:
There aren't any exits for approximately seven miles until just north of the 151st Street Exit.
You can't stop while you are on the express lanes.
Driving between or around the plastic poles is prohibited, and doing so incurs extra penalty fees.
f. Getting updates about road conditions via Florida 511
Florida 511 allows you to create a custom profile with unlimited routes for a maximum of two phone numbers. First, you'll be asked to select either English or Spanish as your preferred language. You'll then receive alerts about your selected routes either through a phone call, text, or email, depending on your preference. Calling 511 from a registered phone number will allow you to receive updates on custom routes, as well as other statewide traffic information. Remember that you won't be able to access your Florida 511 routes from a phone not listed on your account.
By calling 511 toll-free, registering with the 511 system to receive automatic text alerts, or using the Florida 511 app for quick traffic updates on all of Florida's major roadways, you'll be able to ensure a safe driving experience in and around the City of Miami. For more updated information, you can also check the @FL511_Southeast Twitter feed.
g. Tips for Parking in Miami
Miami is a huge metropolis, so expect to pay for parking in most areas within the city. Parking rates will vary depending on the neighborhood and how long you plan to park your vehicle.
The Miami Parking Authority operates in Downtown, Coconut Grove, Brickell, Little Havana, Wynwood, the Design District, and in most of the public parking spaces in several Miami neighborhoods. This includes parking lots, metered street parking, and garages. The easiest, most convenient way to pay for parking in these areas is to download the Apple or Android PayByPhone app. As an added bonus, you can use the same app whenever you're paying to park in the City of Coral Gables.
Keep in mind, however, that the City of Miami Beach manages parking on South Beach and its surrounding neighborhoods. Keep an eye out for signs that indicate whether street parking is for residents only or is available to the general public. In these areas, the easiest way to pay for parking on Miami Beach is via the ParkMobile app. Another app, ParkMe – Miami Beach, will show you instantly where parking slots are available in the area.
Getting around Miami via public transportation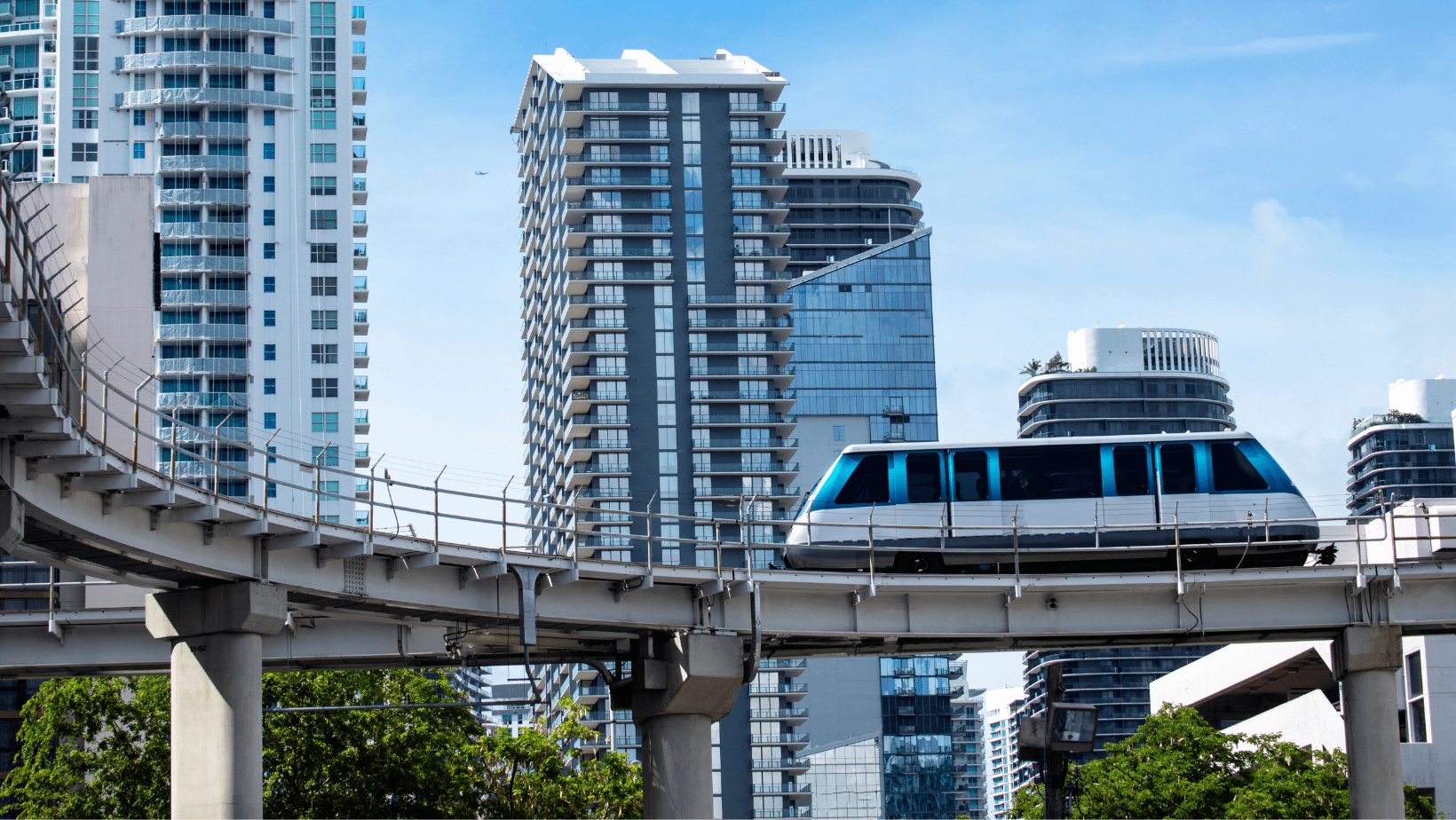 a. Uber
If you're not planning on visiting the suburbs, there really isn't much need to invest in a car rental. Uber comes cheap for anyone staying in Miami Beach, Downtown, or Edgewater. There are plenty of drivers around, and you should have no trouble hailing a ride. Be mindful, however, that during rush hour, which typically lasts between 5:00 PM and 8:00 PM, fares and higher, and traffic can be a slog.
b. Trolley
Trolleys in Miami are easily accessible and free to the public, but there is no fixed schedule. The good news is that a trolley comes every 15 minutes or so, depending on your location. Expect trolleys in Miami to be clean, usually empty, and to have loads of character.
c. Metromover
Yet another free form of transportation that you can find in Miami is the Metromover, which can be accessed from Brickell and Downtown. One slight downside is that you may still have to do a little bit of walking to reach your destination, but it's got a few popular stations like the Pérez Art Museum Miami, the Bayfront Park, where visitors can walk to get to the Bayside Marketplace, and the Adrienne Arsht Center.
Metromover cars can get a little crowded during rush hour when professionals working in the area are heading home from work. It's pretty clean, spacious, runs automatically, and offers unique city views. Just remember to keep tabs on your personal belongings at all times.
d. Metrorail
If you're trying to get to Coconut Grove, South Miami, or Coral Gables, the Metrorail train gets you from the center for only $5 for a round trip. It's not as difficult to navigate as New York's subway or Paris' metro, making it quite difficult for you to get lost. Keep in mind that the metrorail is still a bit limited, so you may have to hop on a trolley or Metromover to get to your desired destination.
Unlike most public transportation that operates underground, the Metrorail travels above the city traffic and offers sweeping views of the city's architecture.
e. Bus
Taking the bus is a good idea if you happen to be staying, and traveling, within the Miami Beach area. Since Miami does love it's tourists, buses on the island arrive and depart every few minutes. The cost per bus ride comes to just $2.25, and you can pay once you get on the bus, but only in cash and coins.
Getting around Miami on Foot or a Bike
Miami-Dade County's flat terrain and tropical weather make it the perfect place for those who like to walk and bike around the city. It's a sun lover's paradise surrounded by water with no steep hills to speak of and no sleet or snow to ever have to contend with. Pedestrians and cyclists can enjoy the outdoors as they make their way through Florida's tree-lined vistas.
Every month without fail, the mayor closes significant roads to all vehicles and gives free reign to the city's pedestrians and bikers. According to walkscore.com, Miami has a walkability rating of 78, which means that most errands can be completed on foot, and a bikeability rating of 65, meaning that the city has infrastructure that is decently suited for cycling.
The following are some of the most walkable and bikeable neighborhoods and cities in the Miami metro area:
Miami Beach/South Beach
Miami Beach is one of the most walkable cities in Florida. This is nothing new, however, as Miami Beach has always been a great, walkable community since it was founded in the 1930s. It's so easy to find a place to live where groceries and restaurants are only a short walk away since the South Beach area is a mix of residential and commercial spaces. You can actually live in South Beach without a car, but you'll need to use a ride-sharing service or hop on a bus to get across the bridge to the mainland.
Downtown Miami
For decades, no one lived in downtown Miami since there was not much to do after that. Office hours ended at 5:00 PM. However, the recent boom in the development of high-rise buildings has brought restaurants, shops, sports, entertainment, apartments, museums, and condos to Miami's downtown area.
You can easily live in downtown Miami without a vehicle without worrying about not being able to get around the area. The Brickell area just south of downtown is also a walkable area with numerous restaurants and shops in a neighborhood that was primarily residential for quite a few years.
Coral Gables
Coral Gables was founded in the 1920s by George Merrick, and his planning is still benefiting residents today. This Spanish-style planned community is one of the most walkable small cities in Florida. It has its own downtown area, and if you're within walking distance, you can do your shopping, dining out, and experience some great entertainment without having to go too far from home. The housing near downtown includes single-family homes, apartments, and condos. The city also has a trolley if your destination happens to be too far to walk.
Midtown Miami
Being Miami's newest planned community, it is a multipurpose development of office buildings, shops, and condos built no more than a decade ago. It draws residents from throughout that section of Miami, and the residents of Midtown are mostly within walking distance from where they need to go. Midtown is also relatively close to the historic Buena Vista neighborhood and the upmarket Design District. It's also not far from Wynwood, which happens to be one of the city's most happening districts, and Edgewater, which is known for its luxury apartment buildings and high-rise condos lining the waterfront.
South Miami
The small city of South Miami has had a walkable downtown area for many years now. It has numerous restaurants and shops that are close to many single-family homes and apartments. The streets are lined with trees which makes for a pleasant strolling experience. There is also a Metrorail stop which provides easy travel to downtown.
Coconut Grove
Closely surrounding the shoreline of Biscayne Bay, which is definitely one of its draws, Coconut Grove is one of the original walkable neighborhoods in Miami. Today, it is an upscale, leafy neighborhood with charming sidewalk cafes and chic shops in, and around the CocoWalk Mall. The area has several green spaces including the bay-front Barnacle State Park which is home to a picturesque mangrove forest. Sailing clubs and marinas also dot the waterfront.
Cost of Living in Miami, Florida
Most people migrating to Miami are drawn there by the lower cost of living. For about $2,000/month, you can rent an apartment in one of the world's premier resort cities.
While the annual salary in Miami can be lower compared to cities such as Los Angeles, San Francisco, and New York, The state of Florida doesn't require you to pay any income tax. This, combined with Miami's low cost of living, allows you to save a substantial amount of money if you've secured a job with a decent salary.
Here is a list of the cost averages in Miami according to payscale.com:
Median Home Price: $498,986
Median Rent: $1,563/month
Energy Bill: $165.31/month
Phone Bill: $176.22/month
Gas: $2.93/gallon
Doctors Visit: $107.39
RX Drug: $427.77
1. Finding Apartments and Housing in Miami
From beachfront condos and luxury apartments located in the city center to spacious houses and cozy townhomes in the suburbs, the housing and apartment options in Miami are incredibly diverse and suitable for any lifestyle.
By heading over to Relo AI, a website that specializes in providing people with relocation assistance, you will be able to access all kinds of helpful tools and services, such as:
Relo AI simplifies the process of relocating so you can focus on more important things. They can help you find the right home in the right neighborhood, coordinate your move, and even provide you with concierge services
Relo AI works with lenders, mortgage brokers, and real estate agents to provide the best financing available to their clients. They provide all types of flexible financing, such as conventional mortgage loans, hard money loans, cash purchases, and home equity lines of credit partnerships.
No one knows the housing market better than local real estate agents and brokers. That's why Relo AI  offers services that can connect you with suitable real estate agents in your area. Their agents are thoroughly screened, have years of experience, and know their markets inside and out. This means that they'll be able to help you find what you're looking for faster than anyone else.
Relo AI uses a proprietary system that analyzes the local real estate market and generates offers on your behalf, with interest rate buy-downs, closing cost credits, agent incentives, and financial incentives for individuals to purchase homes based on their income, while also paying a commission to the agent and other perks.
To cut the long story short, Relo AI helps you buy a home, rebates your agent, and pays you back for closing cost credits up to 2% of the purchase price!
Living with roommates or flatmates is a good option for those who have a more modest budget. The famous sites used are Roommates.com, Roomiapp, and Kangaroom.
2. Rental law: Things to know before you rent
A lease does not have to be written. An oral agreement is acceptable and the rental period will be determined by the schedule of payment.
Landlords are allowed by law to collect a deposit and multiple rents in advance. These deposits are normally non-refundable, so be sure that you are convinced before putting down a deposit. Your landlord has 15 days to return your security deposit when your lease ends.
Unless the lease agreement states otherwise, termination for weekly leases from either party must be made seven days in advance of the next payment. Monthly leases require 15 days' notice, quarterly leases require 30 days' notice, and yearly leases require 60 days' notice.
A landlord is required to provide an address where you can reach them. If your landlord lives in a foreign country, which is quite common in Miami, be sure that you have an accurate address to avoid any complications.
3. Rental Market
The average size of an apartment in Miami, Florida, is 887 square feet and the average rent for an apartment of this size is $1,837. Keep in mind. However, that rent varies significantly depending on the type of unit. There are cheap and luxury alternatives for apartments and houses alike. Studio apartments are the smallest and most affordable; one-bedroom apartments are closer to the average, while two and three-bedroom apartments offer considerably more square footage.
The following is a list of average rent by neighborhood:
Brickell Key: $2,646
Brickell: $2,393
Buena Vista: $2,321
Miami Design District: $2,321
Midtown – Edgewater: $2,298
Downtown Miami: $2,272
Upper East Side: $2,258
Little Haiti: $2,242
Breezeview Manors: $2,215
Glamar Estates: $2,215
Neighborhoods in Miami: What's the best fit for you
There isn't a one-size-fits-all neighborhood in Miami that's best for all families. Before scouting for a house or an apartment, consider sitting down with a notebook or a friend and trying to figure out what matters most to you. With that in mind, here are a few neighborhoods in Miami that you may want to look into:
The most affordable neighborhoods in Miami are Palmer Lake – Mia Station, Mays Gardens, and Ascot Park, where the average rent goes for $986/month, $1,118/month, and $1,345/ month, respectively. If you're looking for other great deals, check listings from Bird Road Highlands and Breezy Acres, where the asking prices are also below the average Miami rent of $1,563/month.
Despite the party-centric reputation that Miami has made for itself, it's actually a great place for families. Coconut Grove ($1,550/month), Weston ($2,319/month), Parkland ($2,112/month), Brickell ($2,393/month), and Pinecrest ($1,696/month) are all great options with lots of schools and green spaces.
The best for Young Professionals
Affectionately referred to by the locals as "Brown Sub," Brownsville ($986/month) has a population of just over 13,000, with each household averaging three members. Compared to most of Miami, the area has a good traffic situation with an average of just 28 minutes of commute time.
Most of the residents in Brownsville are in their early 30s, and more than 75% are single, making it a great place for millennials looking to socialize or start a relationship.
The most expensive neighborhoods in Miami are Brickell ($2,393/month), the city's financial center where business towers and luxury condos have a great view over Biscayne Bay, Brickell Key ($2,646/month), the man-made island off the mainland neighborhood of Brickell, and Miami Design District (2,321/month), which is very known for its sleek modern architecture, upscale interior design shops, and numerous luxury fashion and jewelry boutiques that draw a well-heeled crowd.
Miami Unemployment Rate
The June 2021 unemployment rate decreased by 3% compared to last year. Seasonally adjusted unemployment rates, which take into account seasonal fluctuations, continue to show a downward trend in unemployment rates. As of June 2021, the unemployment rate is 7.1%, which is just slightly above the national average of 5.9%.
Looking for Jobs and choosing a Career Path in Miami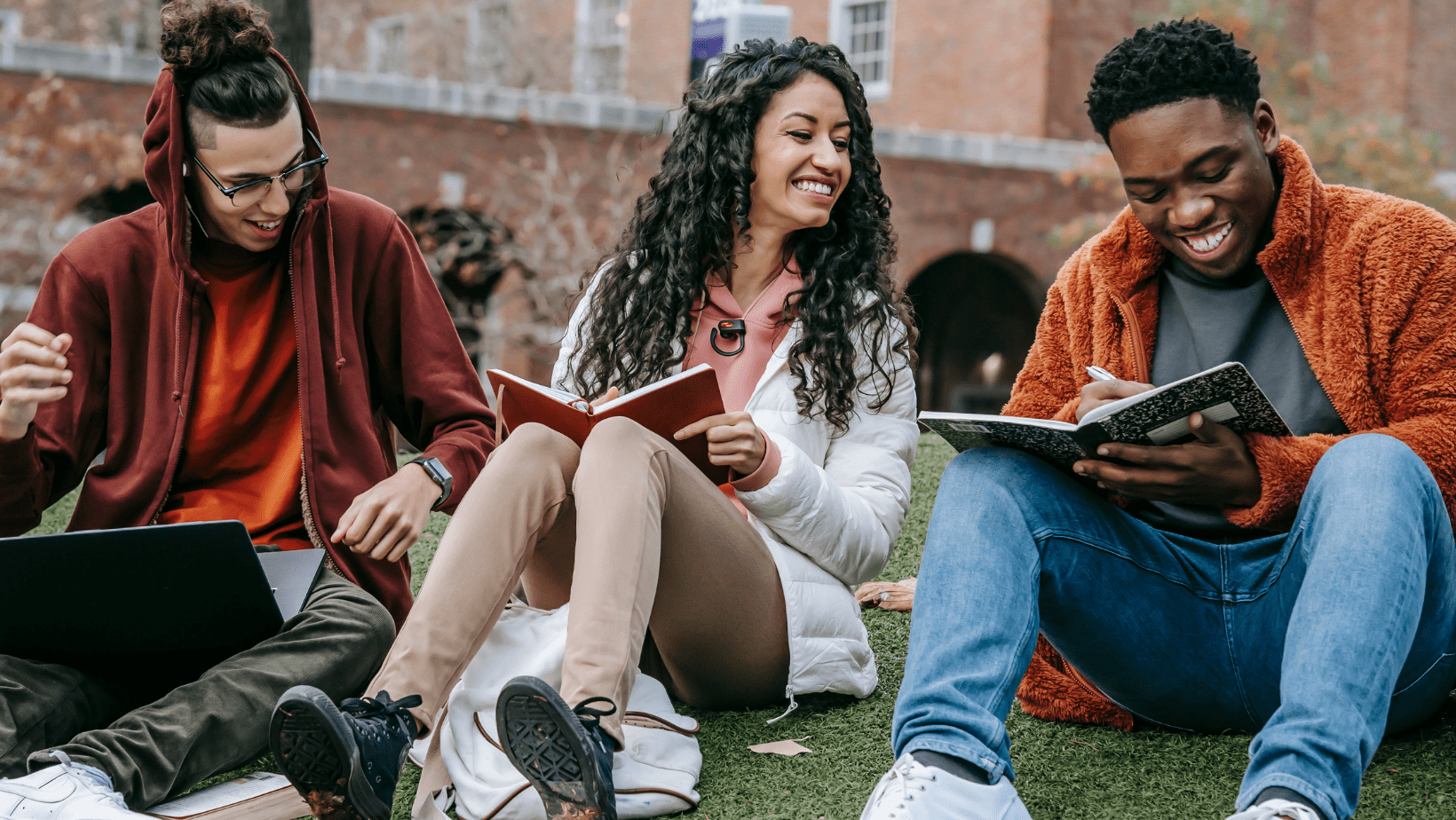 Miami's diverse economy is reflected in the wide variety of top private employers, which includes the University of Miami, Publix Supermarkets, Baptist Health South Florida, and American Airlines. Other leading private companies deliver personal, business, and utility services to a range of markets.
The following is a list of the top 10 largest private companies in Miami and the industries in which they belong:
| | |
| --- | --- |
| 1- University of Miami (Education) | 12,818 employees |
| 2- Baptist Health South Florida (Health Care) | 11,353 employees |
| 3- American Airlines (Aviation) | 11,031 employees |
| 4- Miami Children's Hospital (Health Care) | 3,500 employees |
| 5- Carnival Cruise Lines (Hospitality and Tourism) | 3,500 employees |
| 6- Mount Sinai Medical Center (Health Care) | 3,321 employees |
| 7- Florida Power and Light Company (Utility) | 3,011 employees |
| 8- Royal Caribbean International (Hospitality and Tourism) | 2,989 employees |
| 9- Wells Fargo (Banking and Finance) | 2,050 employees |
| 10- Bank of America Merrill Lynch (Banking and Finance) | 2,000 employees |
Miami's top public employers can be found in the healthcare, education, military, and government sectors. Miami-Dade County Public Schools, Miami-Dade County, and the federal government are three of the region's largest public-sector employers.
Here is a list of the top 10 largest public employers in Miami:
| | |
| --- | --- |
| 1- Miami-Dade County Public Schools (Education) | 33,477 employees |
| 2- Miami-Dade County (Local Government) | 25,502 employees |
| 3- Federal Government (National Government) | 19,200 employees |
| 4- Florida State Government (State Government) | 17,100 employees |
| 5- Jackson Health System (Health Care) | 9,797   employees |
| 6- City of Miami (Local Government) | 3,997   employees |
| 7- Florida International University (Education) | 3,543   employees |
| 8- Homestead AFB (Military) | 3,250   employees |
| 9- Miami VA Healthcare System (Health Care) | 2,500   employees |
| 10- Miami Dade College (Education) | 2,390   employees |
Top Universities in Miami
Though Miami is definitely one of the top tourist destinations globally, and many have been lucky enough to go there on holiday, studying in Florida's most populated and well-known city offers a unique experience that's hard to replicate anywhere else.
The City of Miami is home to two top universities, The University of Miami and Florida International University. Here's everything you need to know about both of Florida's leading academic institutions:
The University of Miami
Tuition and fees: $53,682
Located in Southern Florida, the University of Miami is the ideal place for students who thrive in the outdoors. With world-renowned spots like South Beach, the Everglades National Park, and the Florida Keys nearby, students have plenty of time for hiking, sunbathing, watersports, and other outdoor activities. Downtown Miami is also within close proximity to the university and is an excellent place for those who love thriving sports and cultural centers.
The University of Miami is a private research university founded in 1925. It has a total undergraduate enrollment of 11,307 students with a campus size of 239 acres. The university offers 132 undergraduate, 148 master's, and 67 doctoral degree programs, 63 of which are research/scholarship and four which are professional areas of study. Throughout the years, its students have represented all 50 states and almost 150 foreign countries worldwide.
The student-faculty ratio at the University of Miami is 12:1. This means that the university has 50.8% of its classes with fewer than 20 students, fostering an environment that is conducive to learning. The average freshman retention rate, which is an impressive 92%, is a good indicator of student satisfaction.
The most popular majors in the university include:
Business
Management
Marketing and Related Support Services
Biological and Biomedical Sciences
Health Professions and Related Programs
Engineering
Social Sciences
The sports programs at the University of Miami are also top-notch with their Division I sports teams, known as the Hurricanes, competing in the Coastal Division of the Atlantic Coast Conference. The university mascot is Sebastian the Ibis, which is a species of marsh bird known for being able to weather tropical storms.
On campus, 2,500 students are involved in nearly 30 fraternities and sororities. There are also over 290 clubs and organizations for students to choose from. Freshmen students are required to live on campus in any of the five residential colleges.
The different communities, modeled after the housing setup at the Oxford and Cambridge Universities in England, offer a unique combination of living and learning with poetry readings, communal meals, sports, and other activities. Any freshman that doesn't live within the university is paired with an on-campus representative to help with the transition into college.
Annual campus events include the Canes Film Festival, which showcases movies produced by the students, and Sportsfest, which is a competition held over the weekend between residence hall teams.
Florida International University
In-state tuition and fees: $6,566
Out-of-state tuition and fees: $18,964
Florida International University (FIU) is a public research university founded by Chuck Perry, Donald McDowell, Butler Waugh, and Nick Sileo in 1965 after Florida Senator Robert M. Havefield introduced Senate Bill 711, which instructed the state Board of Education and the Board of Regents (BOR) to begin planning for the development of a state university in Miami.
Located in University Park, Florida, it has quickly grown to become the largest university in the Greater Miami Region. It holds the distinction of being the largest university in South Florida, the Second largest in Florida, and the fourth largest in the United States by enrollment. It utilizes a semester-based academic calendar, has a total undergraduate enrollment of 49,004, and the campus size is an impressive 344 acres.
FIU is Miami's first and only public research university. Designated as a top-tier institution, FIU emphasizes research as a major component of the mission of the university. Both the Knight Foundation School of Computing and Information Sciences' Discovery Lab and the Herbert Wertheim College of Medicine, are just two of the many schools, colleges, and centers that enhance the ability of the university to set new, higher standards through research initiatives.
Florida International University admissions happen to be a bit more selective, with an acceptance rate of just 58%. Around half of the applicants admitted to FIU have an SAT score ranging between 1110 and 1280. A fourth of the applicants, however, achieved scores above these ranges, and the remaining quarter scored below these ranges. The student-faculty ratio at FIU is 25:1. The school has 30.4% of its classes with fewer than 20 students.
The most popular majors at Florida International University include:
Business
Management,
Marketing, and Related Support Services
Psychology
Multi/Interdisciplinary Studies
Biological and Biomedical Sciences
Communication
Journalism and Related Programs
The standard freshman retention rate, an indicator of student satisfaction, is quite admirable at 89%.
Things to do and places to visit in the City of Miami
Miami is, without question, one of Florida's premier tourist destinations. The picturesque beaches, its Art Deco aesthetic, high-end shopping, and its vibrant nightlife are some of the city's major draws, but the city has more to it than that.
The following is a list of just some of the attractions that Miami has to offer:
Whether you enjoy swimming, wind-surfing, or just lying quietly on a secluded stretch of the beach, the City of Miami has got you covered. And while South Beach is the most famous beach in Miami, it isn't the only place on offer. In fact, this bustling coastal city in South Florida boasts a whole slew of strands offering soft sand, clear water, and loads of charm.
Here are a few of the beaches in Miami that you may want to visit:
Lummus Park
Bal Harbour Beach
South Beach
Crandon Park
21st to 45th Street Beach
Haulover Beach Park
South Pointe Park Pier
Surfside Beach
Matheson Hammock Park
Virginia Key Beach Park
Sunny Isles Beach
Oleta River State Park
North Beach
Hobie Beach
Bill Baggs Cape Florida State Park

2. Nightlife
Miami also has a reputation for having legendary nightlife. From warehouse parties in Wynwood and Downtown, to South Beach's monumental clubs, to hip local bars and low-key lounges, there's something that you are bound to enjoy.
Each neighborhood has a varied offering of clubs and bars for a fun night out, no matter what your idea of fun may be. The following list will help you find out which Miami nightlife neighborhood is ideal for you:
a. South Beach
Featuring an ongoing lineup of international DJ's, pop stars, and hip-hop artists, South Beach is definitely one of the better-known party scenes in Miami. A barrier island brushing up against the Atlantic Ocean, South Beach is lined with immense clubs that attract party people seven nights a week.
b. Wynwood
From beer gardens with great deals for drinks to live music venues with a mellow vibe, Wynwood makes for a really fun night out on the town. It's a dynamic destination for culture, with the mural-covered arts district is home to some of Miami's most buzzing bars, boutiques, and restaurants. It also has world-class contemporary art galleries.
c. Coconut Grove
This historic Miami neighborhood is an unbelievably charming, bohemian hangout with a fantastic view over Dinner Key Marina and Biscayne Bay. This is a prime location for laidback waterfront bars for those who've just hopped off their sailboats. Because of its close proximity to the University of Miami, Most of the sports bars and laid-back lounges cater to students looking for a fun night out.
d. Downtown Miami & Brickell
Though the Miami River separates Brickell from Downtown Miami, both neighborhoods boast a forest of skyscraping condos, office buildings, and a host of nightlife options. Both neighborhoods cater to a post-work crowd of young professionals who have preferences ranging from loud sports bars to chic hotel lobby bars.
The Greater Miami area is home to not one, not two, but four major leagues sports teams. These teams are the Miami Heat of the National Basketball Association (NBA), the Miami Dolphins of the National Football League (NFL), the Florida Panthers of the National Hockey League (NHL), the Miami Marlins of Major League Baseball (MLB), and Inter Miami CF of Major League Soccer (MLS).
Currently, the Miami Heat and Miami Marlins play their games within the city limits of Miami. The Heat plays their home games at the American Airlines Arena located in Downtown Miami while the Marlins home ballpark is Marlins Park, located in the section of the city called Little Havana. The arena and the ballpark have a seating capacity of 21,000 and 36,742, respectively.
The other mega-stadiums and arenas in Miami are the Hard Rock Stadium, with a seating capacity of 65,326, the BB&T Center, with a seating capacity of 19,250, and the Inter Miami CF Stadium, with a seating capacity of 18,000. These are the venues where the Dolphins, the Panthers, and Inter Miami CF play their home games, respectively.
4. Annual Festivals and Events
There is a myriad of annual festivals and events in the city of Miami happening year-round. Here is a comprehensive list of these events and the dates on which they are held:
January
February
March
April
May
June
July
August
September
October
November
December