I recently did a "flight run" by taking a cheap flight from Boston Logan Airport (BOS) to Baltimore/Washington International Thurgood Marshall Airport (BWI) and back to Boston Sapphire Lounge Logan Airport. I did this with the Southwest Companion Pass in mind. If you're curious about what a Southwest Companion Pass is and why it instigated this "flight run," find more details here. 
But this article isn't about flying for rewards; it's about the delightful surprise I stumbled upon at Boston Logan Airport – Chase's first Sapphire Lounge. This could be a game-changer if you're a frequent traveler or a remote worker looking for a comfortable space to get some work done while waiting for your flight. 
Join me as we first examine what the Boston Sapphire Lounge offers.
Inside Boston's Sapphire Lounge 
You'll immediately notice the luxurious and modern design inside the Sapphire Lounge at Boston Logan Airport. It's a space that combines comfort and functionality seamlessly, spread over 11,640 square feet with various seating areas, including plush armchairs, sofas, and dining tables.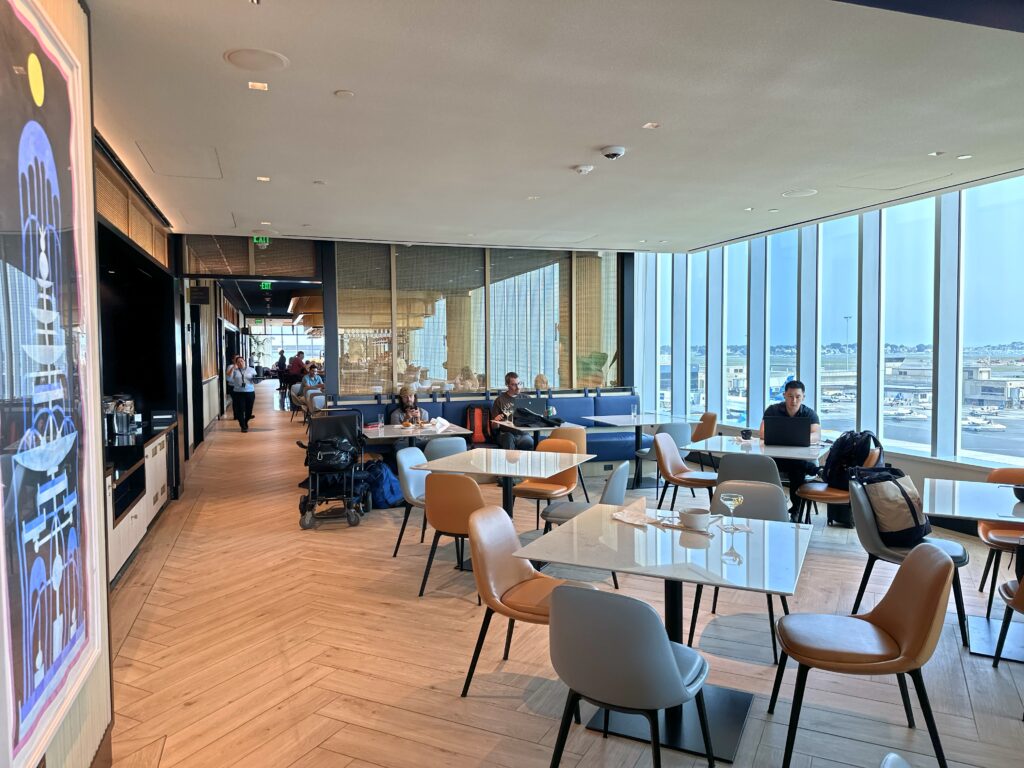 There's also a dedicated work area with plenty of power outlets and Wi-Fi for productivity. The lounge's culinary offerings, including made-to-order dishes and a full bar, ensure a delightful dining experience. Amenities like showers, massage chairs, a quiet room, and a dedicated remote workspace with high-speed internet are available for relaxation.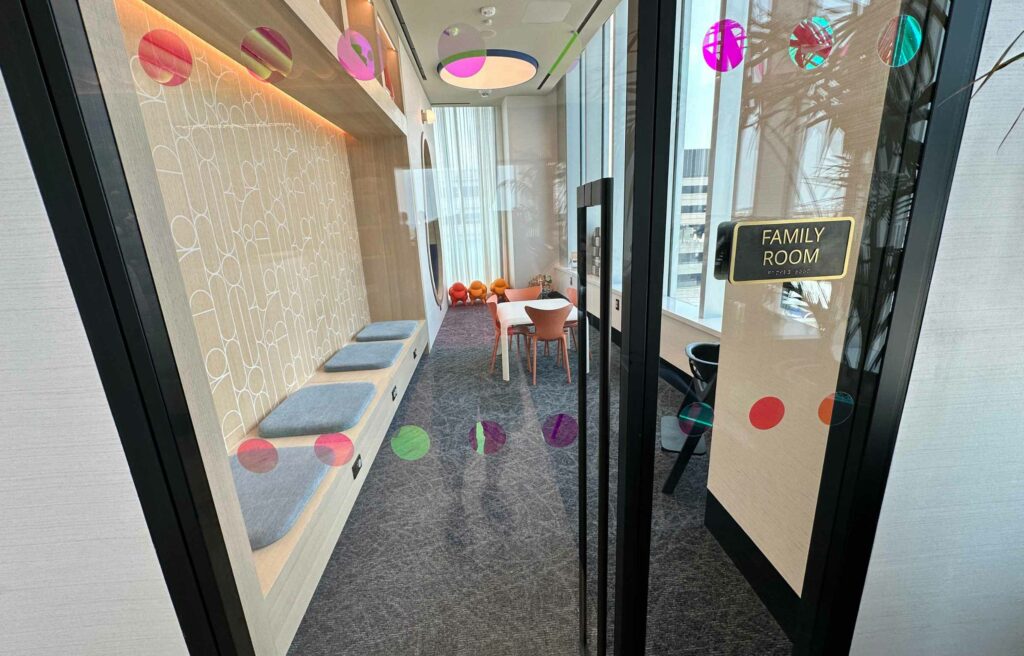 Open daily from 5:00 AM to 11:00 PM, this oasis can accommodate up to 200 guests. It is accessible to Chase Sapphire Reserve cardholders with a Priority Pass membership, allowing them to bring two guests for free. Whether you seek luxury or a productive workspace while waiting for your flight, the Sapphire Lounge at Boston Logan Airport is the perfect choice.
Accessing Sapphire Lounges
Before we immerse ourselves in the lavish offerings within the lounge, it's pertinent to understand the prerequisites for gaining entry into this enclave of luxury. As of my last visit in May 2023, the doors of the Sapphire Lounges swung open predominantly for Sapphire Reserve® and Sapphire Preferred® cardholders.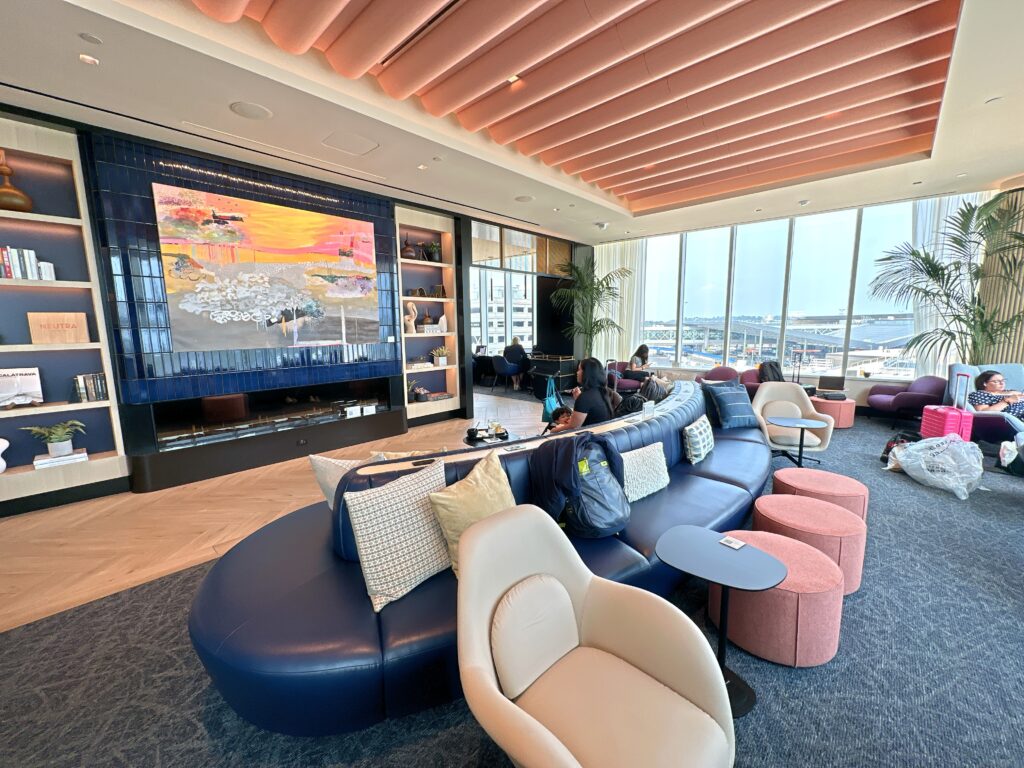 These privileged card members are not just walking into an experience tailored for them. Still, they are also granted the courtesy of extending this luxury to a few guests, although the exact number can be subject to limitations. It is essential to note that the lounge access regulations are not static and might witness modifications.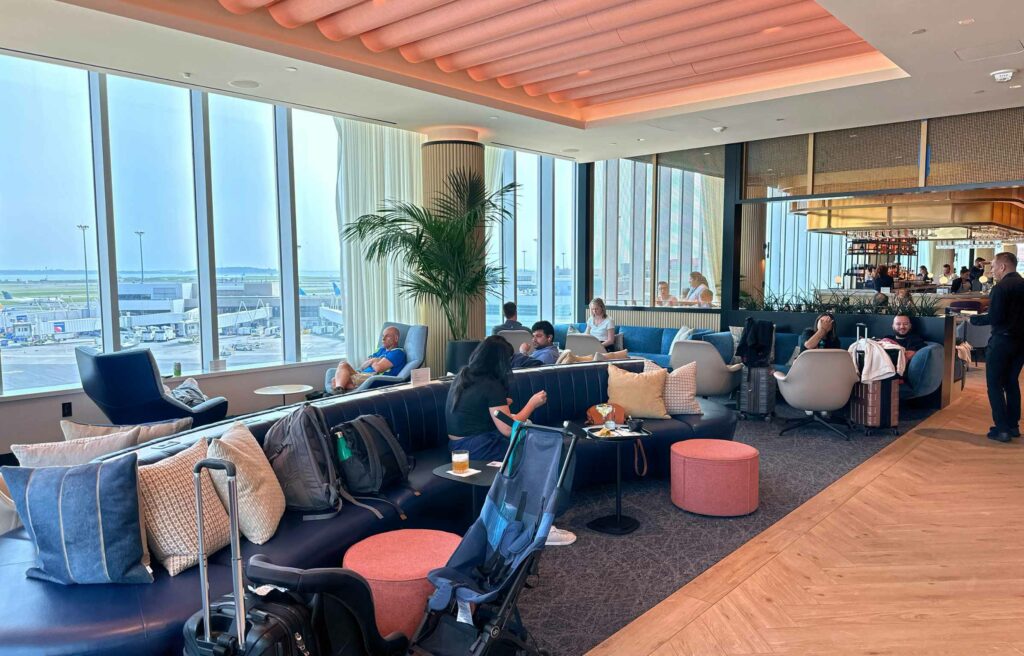 It's recommended to always verify the current guidelines on the Chase website before planning your visit to ensure a smooth and hiccup-free experience. Keep an eye out for any updates or changes in lounge access policies, especially if you plan a future visit. Staying informed will ensure that your airport experience remains as enjoyable as possible.
Boston Sapphire Lounge: Food & Drinks
The culinary experience at the Boston Sapphire Lounge is a true highlight, offering a diverse range of delectable options to suit various dietary preferences. From hearty sandwiches to refreshing salads, there's a culinary delight for every traveler's palate. But it's not just the food that shines here; the lounge's beverage offerings are equally impressive.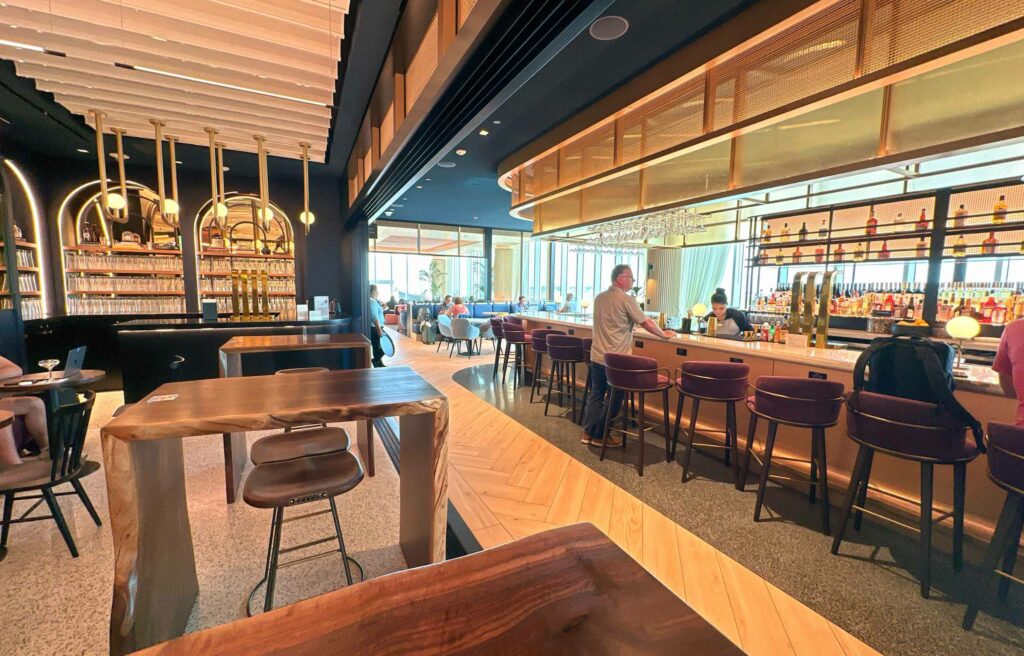 A well-stocked bar presents an array of both alcoholic and non-alcoholic beverages, ensuring there's something for everyone's taste. You'll find it here whether you're in the mood for a classic cocktail or a comforting cup of tea. A self-serve coffee and cold brew station stands ready to provide that much-needed boost for those needing a caffeine fix.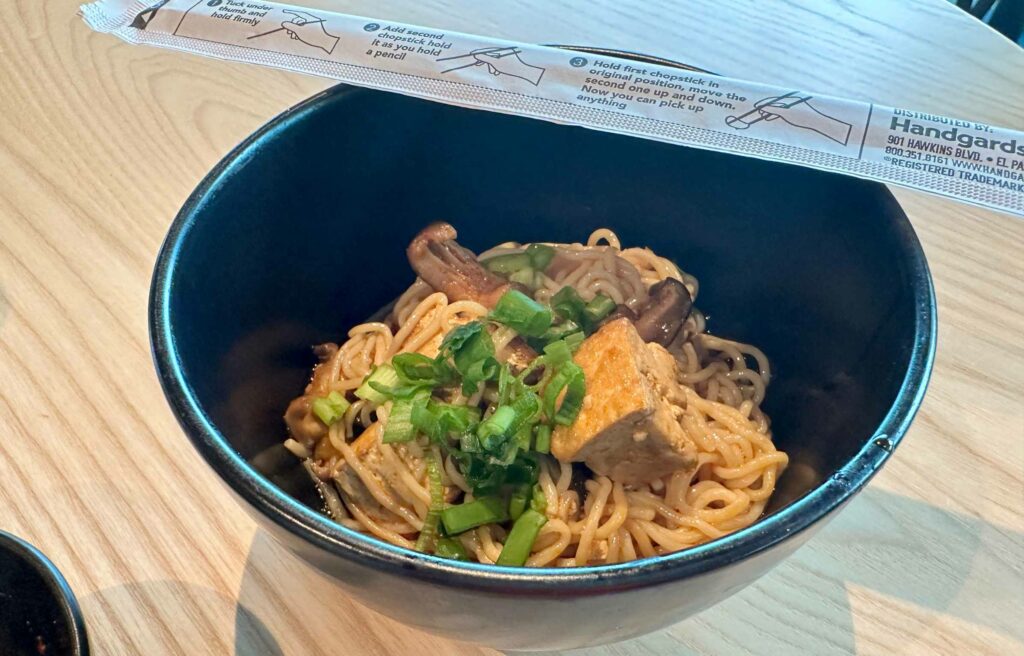 And now, with menu ordering available, my recommendation is the Dan Dan Noodles – a savory delight that perfectly complements the lounge's already exceptional culinary offerings. Its variety and commitment to quality sets the Boston Sapphire Lounge apart. Whether craving a flavorful sandwich or a crisp salad. This lounge caters to various dietary preferences, ensuring every traveler discovers a dish that tantalizes their taste buds.
Food and Beverage Offerings at Boston Sapphire Lounge
Experience the culinary delights ready to greet you at the Boston Sapphire Lounge. Whether you're kickstarting your day with a hearty breakfast, savoring a crafted lunch, or indulging in a delicious dinner, they have something to satisfy every palate. You can enjoy everything from rich coffees to curated cocktails as you discover a menu with diverse and enticing options.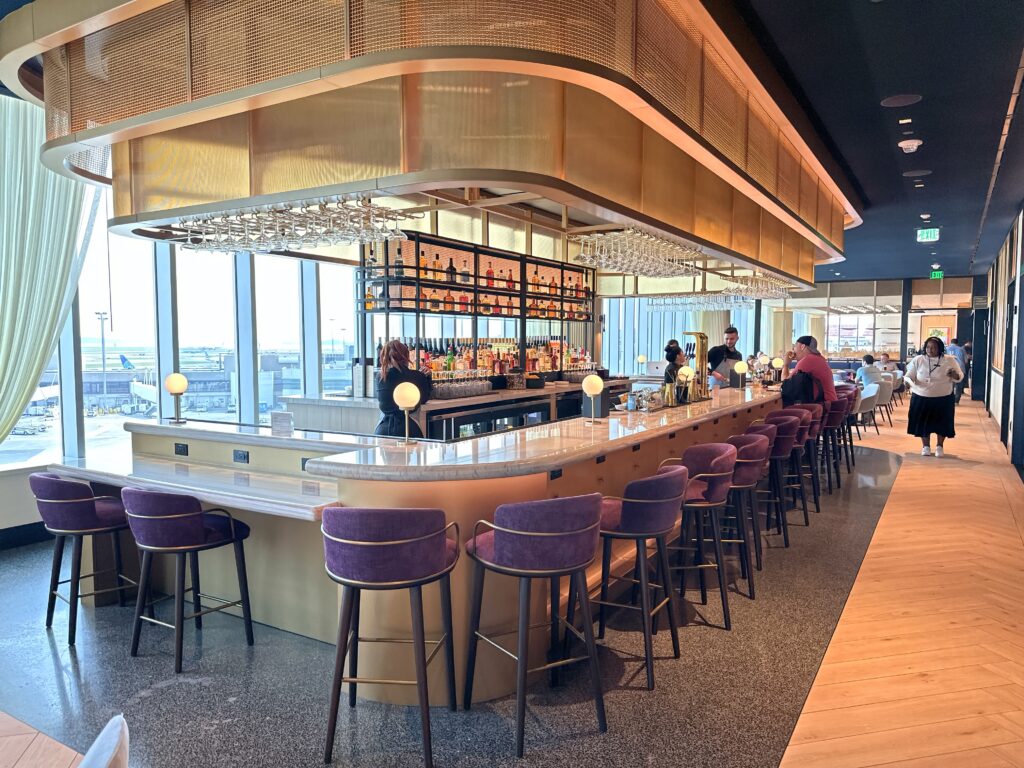 Here is the food and drinks menu for the Boston Sapphire Lounge:
Food Menu
| | |
| --- | --- |
| Meal | Items |
| Breakfast | Shakshuka, Omelet, Eggs Benedict, Egg and cheese bao, Yogurt parfait |
| Lunch | Salads, Sandwiches, Burgers, Pizza, Soup |
| Dinner | Entrees, Sides, Desserts |
Drinks Menu
| | |
| --- | --- |
| Beverage | Options |
| Coffee | Espresso, Tea, Cold brew, Soda, Juice |
| Alcohol | Beer, Wine, Cocktails |
Additional Details
The breakfast menu is available from 5:30 AM to 11:00 AM.

The lunch menu is available from 11:00 AM to 3:00 PM.

The dinner menu is available from 3:00 PM to 11:00 PM.

The coffee bar is open all day.

The beer taps rotate, so you can always find something new to try.

The wine list features a variety of wines from around the world.

The cocktail menu features classic cocktails as well as some creative twists.
Please note that the food and drinks menu is subject to change, so it's always a good idea to check with the lounge before your visit.
Coffee and Cold Brew Station
You can find the perfect brew at the Boston Sapphire Lounge's Coffee and Cold Brew Station. It's a haven for coffee enthusiasts, offering a diverse range of freshly brewed options to satisfy every preference. Start your morning with a bold espresso, or refresh your afternoon with a chilled cold brew — yours. The inviting atmosphere makes it a top spot for casual meetings and relaxed solitary moments. Don't miss out on this java paradise; it promises a cup for every mood.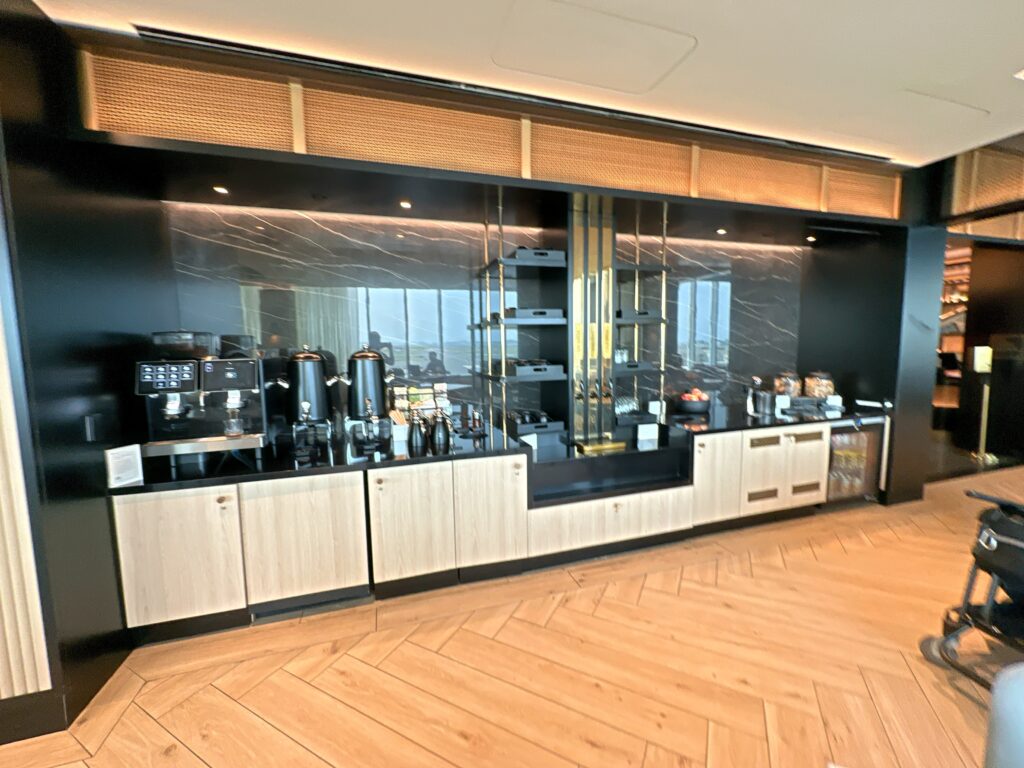 It perfectly complements the lounge's culinary offerings, ensuring a complete and satisfying dining experience while waiting for your flight. The Coffee and Cold Brew Station is a haven for caffeine enthusiasts, providing an assortment of gourmet beans and blends to satisfy even the most discerning coffee connoisseur.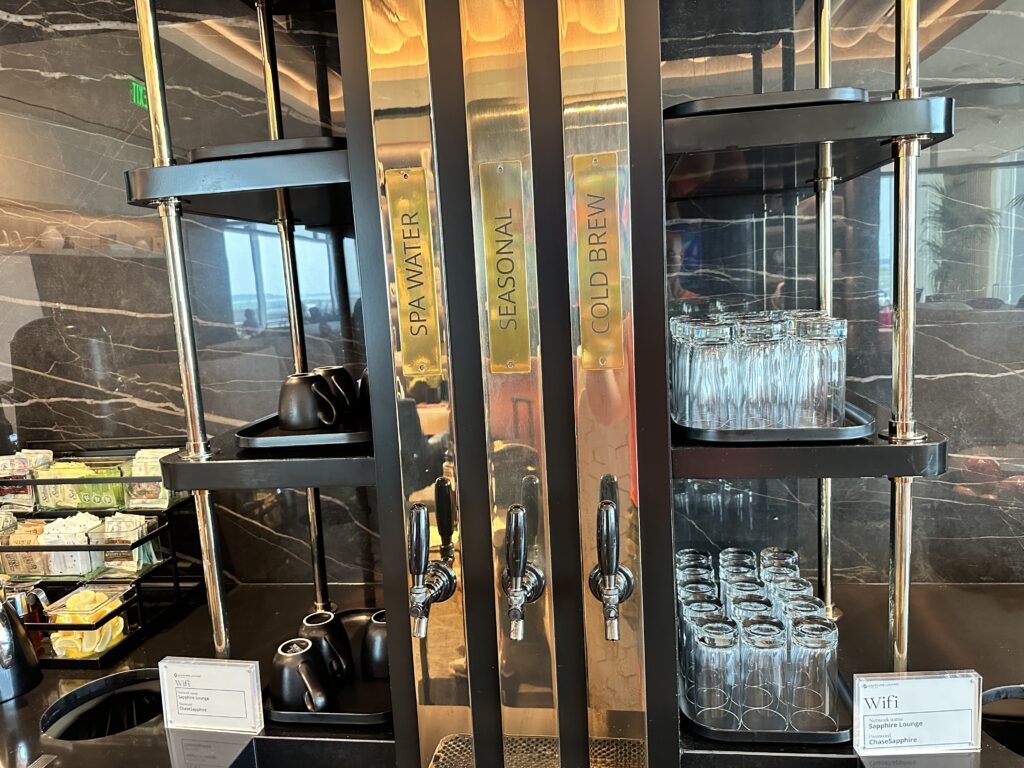 You can savor the rich aroma as you prepare your perfect cup, adding a touch of cream or sugar if desired. This thoughtful addition at the Boston Sapphire Lounge ensures your coffee cravings are met, providing a refreshing and energizing stopover during your travels.
Remote Work Space at Boston Logan Airport
The Boston Sapphire Lounge presents a game-changing solution with its dedicated remote workspaces for travelers seeking to maximize their productivity while awaiting a flight. Equipped with power outlets and USB ports at every station, it invites remote workers and business travelers to transform waiting time into a golden opportunity for accomplishment.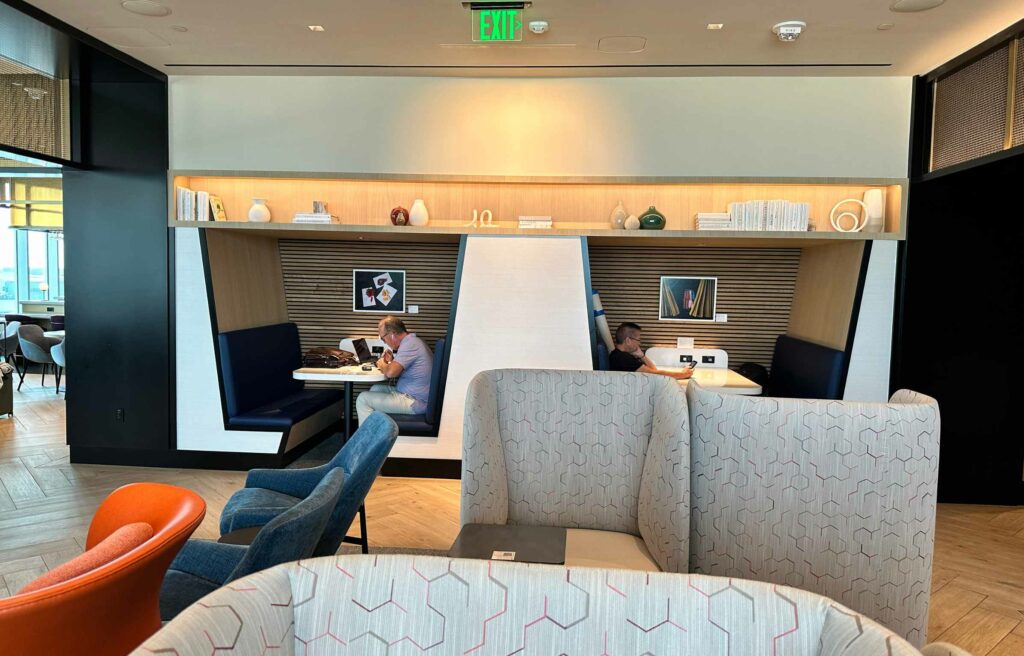 You can find a perfect balance between functionality and comfort only at the Boston Sapphire Lounge. The Boston Sapphire Lounge's dedication to providing a conducive remote work communication and environment extends beyond comfortable seating and high-speed Wi-Fi. They recognize the importance of a seamless online experience for remote workers.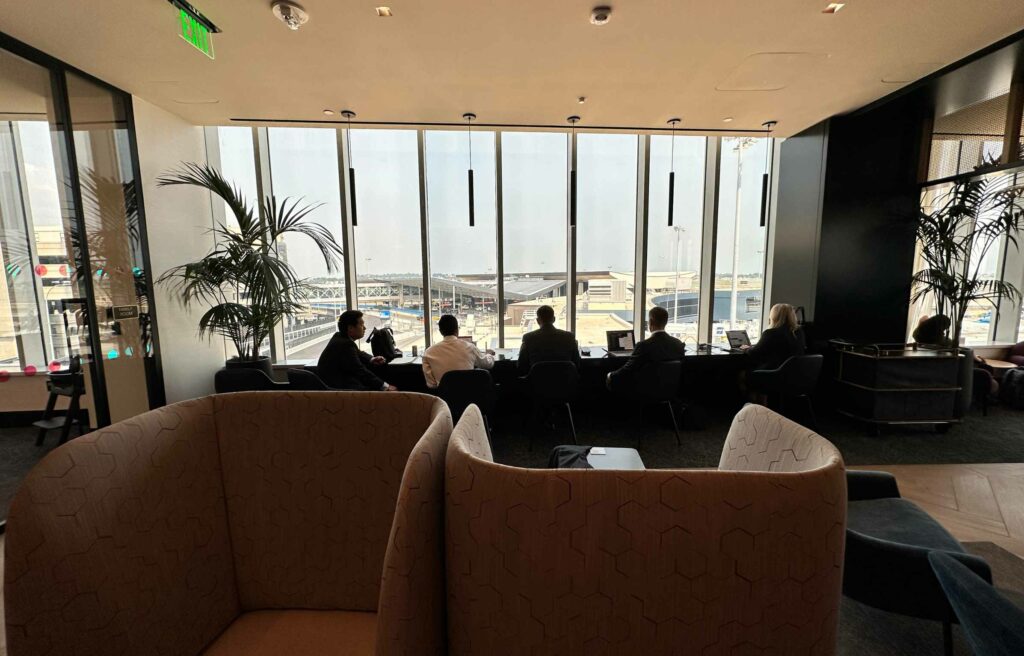 A good starting point is 100 Mbps download speed and 10 Mbps upload speed. This robust internet infrastructure ensures you can participate in video calls, seamlessly stream videos, and download large files without buffering or lag. Making the Sapphire Lounge the ideal setting for productivity and connectivity during your airport layover.
Also read: 10 Best Websites To Find Remote Jobs in 2023
Terminal Access and Airline Information at Logan International Airport
The Boston Sapphire Lounge is conveniently located in Terminal C of Logan International Airport, making it easily accessible to travelers departing from or arriving at this terminal. It's worth noting that the lounge is available to eligible cardholders regardless of the airline they're flying with, adding to its convenience and versatility.
Before your visit, it's advisable to check the lounge's operating hours, as they may vary. Confirm the specific terminal of your departure or arrival to ensure you can access this oasis of comfort. Logan International Airport offers a complimentary shuttle bus service that connects all the terminals. 
So, even if you find yourself in a different terminal, getting to the Boston Sapphire in Terminal C is hassle-free. This additional convenience ensures that eligible cardholders can enjoy the lounge's amenities without complications, regardless of their arrival or departure terminal. 
Here's a table summarizing information about the terminals at Logan International Airport:
| | | | |
| --- | --- | --- | --- |
| Terminal | Year Opened | Designers | Notable Features |
| Terminal A | 2005 | Hellmuth, Obata + Kassabaum | LEED-certified, Delta Sky Clubs, Special facility lease with Delta |
| Terminal B | 1974 | John Carl Warnecke & Associates, Desmond & Lord, Inc. | $160 million renovation, Post-security walkway, Lounges for United and American |
| Terminal C | 1967 | Perry, Shaw, Hepburn and Dean | Post-security connection to Terminal E, USO Lounge, Serves JetBlue, Cape Air, TAP Air Portugal |
| Terminal E | 1974 | Kubitz & Papi, Inc., Desmond & Lord, Inc. | International terminal, Common-use gates, Multiple airline lounges, Renovation with A380 capabilities, Recent expansion project |
These details provide an overview of the terminals at Logan International Airport, including their history, designers, and notable features.
Amenities at a Glance
It is nestled within the confines of Logan International Airport's Terminal C, the Boston Sapphire beckons weary travelers with a promise of respite and indulgence. This oasis amidst the bustling terminal offers an array of amenities that redefine the airport lounge experience. 
Let's look at what makes the Boston Sapphire a traveler's haven: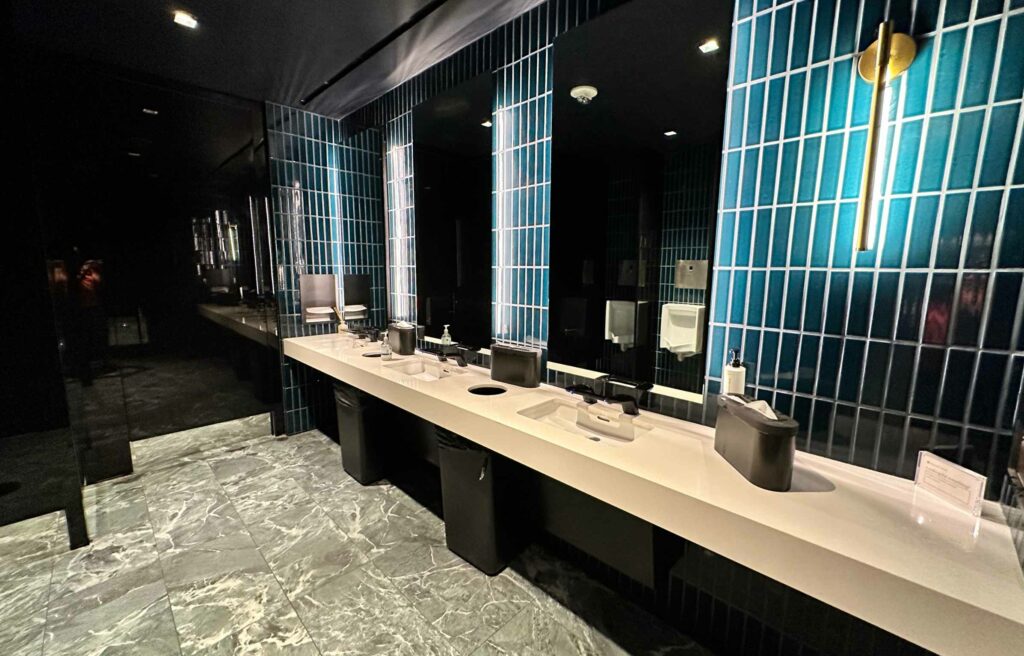 Stylish and Comfortable Seating: The Boston Sapphire Lounge offers a variety of seating options, including plush armchairs, cozy sofas, and spacious dining tables. Whether you prefer to relax or work, you'll find a comfortable spot to suit your needs.
Panoramic Airport Views: Enjoy breathtaking views of Logan International Airport's runway through large windows. Creating a serene atmosphere helps you unwind and appreciate the hustle and bustle of air travel.
A Variety of Food Options: Indulge in a culinary journey with a menu featuring diverse dishes, from hearty sandwiches to fresh and healthy salads, ensuring something satisfies every palate. You can savor gourmet creations that elevate your pre-flight dining experience.
Friendly and Attentive Staff: The lounge's staff is known for their warm hospitality and attentiveness, ensuring a pleasant and stress-free experience during your visit. Their dedication to making your stay memorable extends beyond efficiency.
Convenient Terminal Location: Located in Terminal C of Logan International Airport, the Boston Sapphire Lounge is easily accessible to travelers departing from or arriving at this terminal. Making it a convenient stopover for passengers regardless of their airline.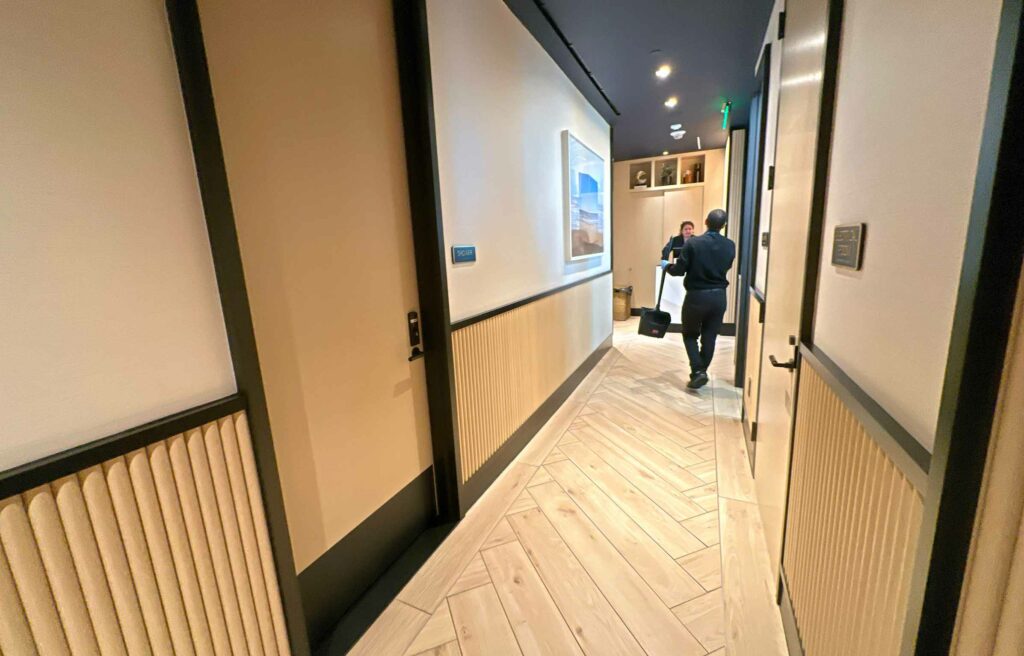 Future Plans for Chase Lounges
The Boston Sapphire Lounge represents the initial step in Chase's Sapphire Reserve's commitment to revolutionizing premium airport lounge experiences, with plans to open ten new lounges in 2023, including strategic locations like Phoenix, Las Vegas, Dulles, and Philadelphia. A yet-to-be-disclosed site, Chase aims to create an etwork of 50 lounges by 2025. 
Collaborations with esteemed airport lounge networks like Plaza Premium Lounges and Airspace Lounges and broader access for credit cardholders. Including those with the Chase Sapphire Preferred® Card, signify a promising future for travelers seeking enhanced airport amenities. 
These lounges offer many advantages, from comfortable seating and complimentary food and beverages to Wi-Fi, dedicated workspaces, showers, and spa services. An estimated $1 billion investment and locations span significant airports in the United States, Canada, and Europe. 
Elevate Your Remote Work at Boston Logan's Chase Sapphire Lounge!
At Boston Logan Airport, Chase introduces its first lounge – the Boston Sapphire Lounge – offering remote work with a touch of class. 
Don't miss this opportunity to elevate your travel experience. Visit the Boston Sapphire Lounge for an exclusive glimpse into the future of remote work and travel. To learn more, schedule a meeting with us.
Reach out to us now to discover the ultimate airport luxury and remote productivity! ✈️
The Bottom Line
Chase's first Sapphire Lounge at Boston Logan Airport is a testament to the growing demand for premium airport experiences. It provides travelers a comfortable and stylish oasis where they can relax, work remotely, and recharge before their flights. It's a welcome addition to the airport landscape, with delicious food and drink options.
Dedicated remote and virtual workspaces and a prime location in Terminal C. If you're a Chase Sapphire cardholder, take advantage of this hidden gem during your next trip through Boston Logan Airport. And keep an eye out for future expansions of the Chase lounge network, as it promises to elevate the airport experience for travelers nationwide.
As I wrap up my "flight run" adventure, I can't help but feel grateful for the unexpected discovery of the Boston Sapphire Lounge. It's a reminder that even in travel, pleasant surprises await to be uncovered, making each journey a little more enjoyable.